'The King: Eternal Monarch' Episode 16: Lee Gon opens doors to many universes to find love of his life Tae-eul 'The King: Eternal Monarch' has come to an end with an unexpected outcome. In episode 16 of the show, we saw how Tae-eul (Kim Go-eun) accompanied Lee Lim (Lee Jung-jin) with his piece of Manpasikjeok into the nomansland, while King Lee Gon (Lee Min-ho) and Jo Yeong (Woo Do-hwan) arrive on the night of treason in the Kingdom of Corea. Lee Gon still doesn't realize that Tae-eul was the one who accompanied Lee Lim, and he continues to work through his plan. With Jo Yeong's help, Lee Gon removes Prince Buyeong's son, who betrayed the royal family, from the scene, and then the two of them entered the chamber where the Manpasikjeok was kept together.
Initially, Lee Gon did not plan on taking Jo Yeong along with him, however, Jo Yeong doesn't let him go into this alone. The reason why he accompanied his King was to keep him safe as his chief of security. So when Lee Gon planned to sacrifice himself to keep everyone else safe, Jo Yeong opposes the decision and enters the chamber together to keep the young Lee Gon safe, while the Lee Gon from the future takes care of Lee Lim.
In the process, Jo Yeong gets hurt but the young Lee Gon is safeguarded by him. However, Lee Lim manages to get his hands on the whole Manpasikjeok anyway, which leads to the piece in Lee Gon and Tae-eul's hands to disappear. Lee Lim from the future, who is held captive at nomansland with Tae-eul, guesses that he got his hands on the Manpasikjeok in the past. He tries to manipulate Tae-eul into giving up hopes that Lee Gon will succeed and return to her.
What Lee Lim doesn't understand is that both Tae-eul and Lee Gon understand the worst-case scenario better than anyone. They accept that either or both of them could end up dead in the process of hunting Lee Lim down. So when Tae-eul tries to pull the trigger, it doesn't work initially, but the moment her lily plant sprouts leaves, the nomansland unfreezes and time begins to flow again. Lee Lim is killed in the present and in the past, and Lee Gon manages to catch up to Lee Lim before he goes through the obelisk and enter the Republic of Korea.
It takes Lee Lim in the past a moment to realize that the Lee Gon in front of him is from the future and the power of the flute allows him to travel through time and parallel worlds. When the Manpasikjeok was broken into two pieces, many of its attributes and characteristics were affected. It allowed Lee Gon and Lee Lim to travel between two worlds and when the two pieces of the Manpasikjeok were at the nomansland at the same time, it allowed both Lee Gon and Lee Lim to return to the time when they wanted desperately to save themselves in the past.
However, now that the Manpasikjeok is whole, its characteristics have transformed and Lee Gon now has the power to open doors of multiple verses. This also makes it extremely difficult for Lee Gon to find the right verse that Tae-eul lives in.
While Lee Gon continues to visit different worlds and meet different versions of Tae-eul -- all of whom work to protect people, except for one who is an actor -- Tae-eul continues to wait for him in a world that has changed completely. Her world now doesn't include her beloved friend Shin-jae, her lover Lee Gon - and no one remembers them either. It is a loss that she cannot grieve by sharing and it worsens when Tae-eul chances upon Lee Gon's counterpart in Korea, Lee Ji-hun.
It takes Lee Gon a year to find Tae-eul's world. When he does find her, he is, for the most part, confused because Tae-eul doesn't look happy in this world. In fact, it looks like she has been crying, and somehow, she also seems to recognize him. That's when Lee Gon realizes that Tae-eul still holds memories of him. He doesn't understand how that is possible and when he asks her why, she refuses to tell him and instead, Lee Gon explains how he had to go through different worlds to find the right one and that is why it took him as long as it did to find her again.
Also, Lee Gon did not only change his and Tae-eul's life, but also changed the lives of many people including Koo Seo-ryeong, Luna, and Min-hyeok (Shin-jae's counterpart). In the new present, Luna is saved by Seo-ryeong's mother and grows up to be Koo Seo-gyeong, who is friends with Min-hyeok. In this version, it is Luna who seems to like Min-hyeok. Seo-ryeong, on the other hand, doesn't become the Prime Minister, instead, she is serving time in jail for tax fraud and embezzlement as an assemblywoman.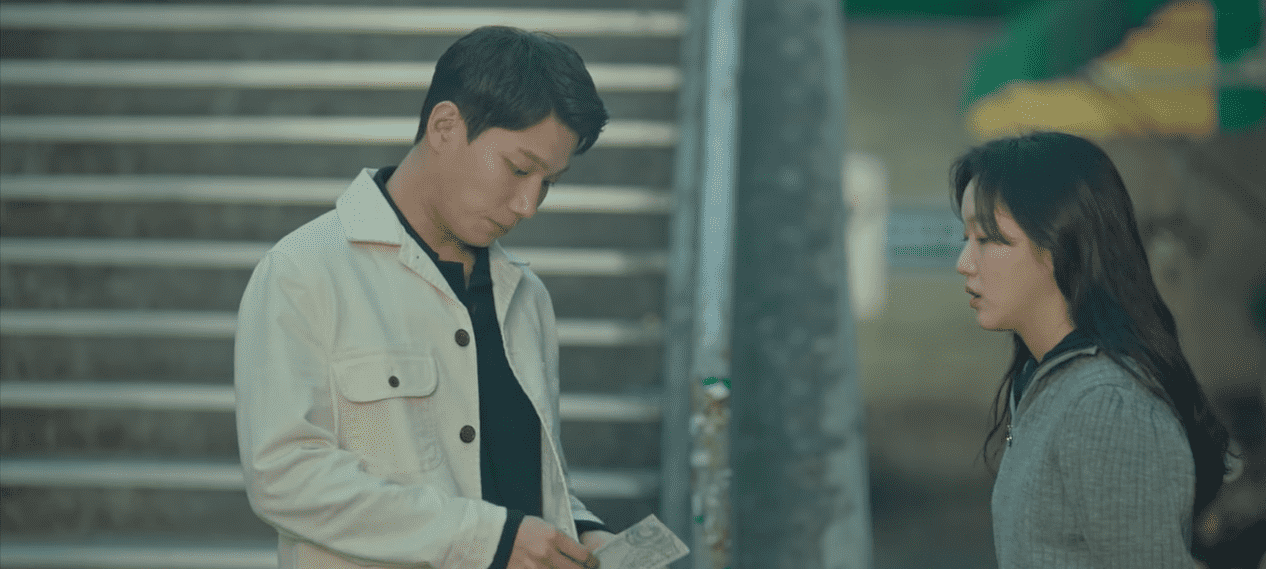 Other than Lee Gon and Tae-eul, the only one who remembers a present different than the current one is Jo Yeong. His life hasn't changed much except to include twin siblings who are born just after he returns from the past. He misses Eun-seop and the twins in Tae-eul's world, but the fact that none of them would remember him makes it impossible to meet them or even reminisce. So instead, he stays behind and continues to get frustrated over Lee Gon disappearing every weekend to meet Tae-eul.
Without Lee Lim posing any threat, the show ends on a happy note with Lee Gon and Tae-eul getting their happy ending. They do not plan a future together, but continue to live wholly in the present. They explore different worlds together to ensure that they do not meet each other's alter-ego and cause confusion and spend quality time in a nomansland that looks much different than before. The ending, compared to the last two episodes, looks rushed, especially the logic behind time unfreezing in the nomansland. So what one doesn't catch during the first watch, is something that you would notice the second time around.
'The King: Eternal Monarch' was originally aired in South Korea on SBS at 10 pm on Fridays and Saturdays. The show can now be streamed on Netflix in the US.
Share this article:
'The King: Eternal Monarch' Episode 16: Lee Gon opens doors to many universes to find love of his life Tae-eul