'The Hunt' Review: Craig Zobel's take on culture war comes with extreme violence, gory deaths and grim humor 'The Hunt' should have released last year. It made headlines when the storyline promised just what the title aptly suggested — a human hunt fest. Craig Zobel's extremely violent thriller or shall we call it psychotic horror was shot in the knee when it came under the crosshairs of experts. Add to this, the mass shootings in Ohio, Dayton, and El Paso gave film critics a chance to outline how content in recent times has found a newfound lust to splatter blood generously on screen.
Universal pulled the plug temporarily by pushing the release date by six months. And soon after the movie's premise, the theme and the views looked at for potential and rather unorthodox marketing peg. 'The Hunt' is a darker, gory and quadruply violent version of Richard Connell's 1924 novel, 'The Most Dangerous Game'. Quite recently, the theme was even adopted by Nick Santora for his Quibi project 'Most Dangerous Game' starring Liam Hemsworth and Christoph Waltz.
This one's a rather stark contrast as it sees a band of "Elites" whose trigger-finger goes haywire as they exercise their Second Amendment rights to the fullest by hunting "deplorables" who they handpick. The 90-minute affair sees a dozen victims brutally headshot, poisoned, blown up, impaled and gassed to hideous deaths. Safe to say not a single one of them would have envisaged their lives to be snuffed out in an instant and in a manner they never dreamt of.
'The Hunt' is slick. It's crisp, it's pacy and definitely packed with meme-worthy lines coupled with some intense violence. "Right to keep and bear arms" gets new meaning as the Elites kidnap these people and use that part of the rights to pull out a victim's eyeball and pull it up all the way. Zobel seems to have consciously intended the extreme savagery and that works in the film's favor. The R-Rated political satire sees sets up bloody Blue blood vs Redneck tussle.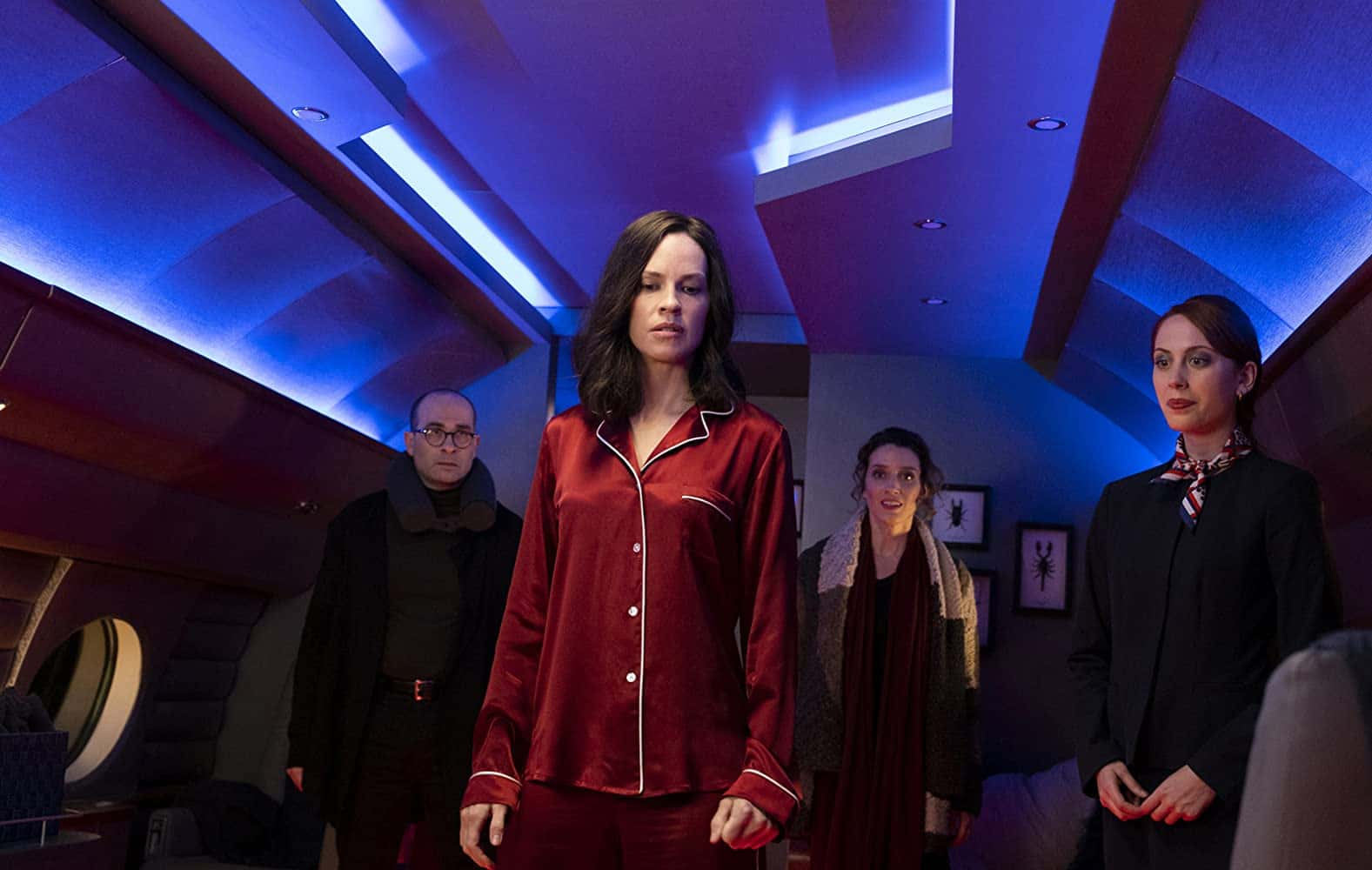 Minus all this, especially for those averse to politics, 'The Hunt' can come across as classic hunter and the hunted story. The hunted get their chance to survive, although quite bleak when they are woken up in a booby-trapped alien location. To level the playing field, they are offered weapons but get sniped to death before learning to operate a firearm. The film boasts of an ensemble cast— Hilary Swank, Justin Hartley, Betty Gilpin and Emma Roberts. It also stars Ethan Suplee ('Remember the Titans'), Macon Blair ('Blue Ruin'), JC MacKenzie ('Dark Angel'), Wayne Duvall ('A Quiet Place: Part II), Reed Birney, Teri Wyble ('The Walking Dead') and Sturgill Simpson ('High Top Mountain').
And while some of these big names have a short-lived screen presence (They die, to be precise), Swank and Gilpin provide the cheer in the form a final showdown. While Swank's Athena is introduced as a cold-hearted hunter, Gilpin's "Snowball" Crystal is a survivor. She's also the saving grace if the film tanks in the eyes of the viewers who are set to watch it on VoD on May 26. The tussle encompasses multiple emotions and the common one between the two is rage. Raw and uncontrollable as they pummel and pound for survival.
In the end, 'The Hunt' can quite simply be summed up as a tale of frustration from both parties that see them try and blow each other's brains out. But in trying to take a dig at politics, Zobel has created an effective and precise weapon. There is no question about the film's quality. It does go a little over-the-top but deftly balances the storyline in the form of some audacious, gritty violence.
'The Hunt' is available on VoD platforms.