'The Chilling Adventures of Sabrina' star Lachlan Watson on playing Susie as a 'strong, unapologetically non-binary' character Netflix's 'The Chilling Adventures Of Sabrina' hasn't even been released yet and it's already making history with one of its stars Lachlan Watson, who is currently one of the few gender queer (also known as non-binary) actors on television. Lachlan plays Susie Putnam, one of Sabrina's best friends who is the founding member of Baxter High's WICCA Club. Lachlan's identity of being gender queer is an extremely important part of not just their life, but what the actor brings to the character as well. The actor wants to be a beacon of hope to young people struggling with, bullying, as well as their own identity and the character of Susie does so with flying colors.
Meaww spoke with Lachlan at 'The Chilling Adventures of Sabrina' premiere where they expanded on kids' and Susie's struggles in this regard. "I think with playing this character the one thing that I wanted to convey to kids who are really struggling with bullying right now is that you don't have to give them the time of day, you don't have to listen to them. You don't have to just bow down and let them take over. You can be who you are, and you can be who you are unapologetically. You don't owe anyone an explanation, you can just be, and the best thing you can be is brave, whether that is inside or out."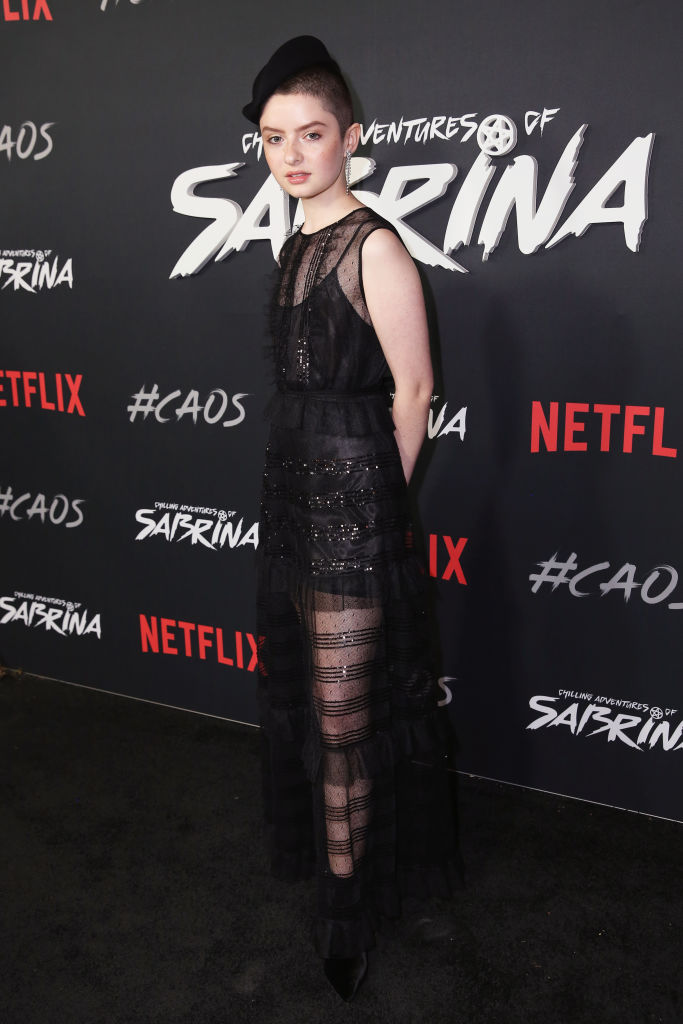 Bravery is a running theme throughout the first season of the series and can be seen not just in Sabrina's character but in the role of Susie as well. Susie is continuously fighting for what is right, just like Sabrina. However when push comes to shove, protecting oneself is something that Susie struggles with at the start of the season. That said, through the crazy twists and turns Susie is able to find their voice, just like Lachlan has.
"One of my favorite things about Susie is how brave they are, even in the face of some crazy, crazy stuff. It's just something I really admire and something I could never really find in myself, it's so incredible that I get to portray that and find that in myself through Susie."
Lachlan's life hasn't been easy and after years of real personal discovery, Lachlan is finally ready to stand up for those akin to them and to show the world that they deserve to have the same rights as everyone else. Through the character of Susie, the actor plans to show the younger generation that they can be who they are without any apologies or explanations.
"I am someone who is different in this world and has spent a lot of my time and my life fighting against what people have told me I can and cannot be and what I can and cannot wear. I think bringing that to the table and to this character just brings something that the world may have not seen before, a strong, unapologetically non-binary person and that is something that I am very, very proud to represent."
---
View this post on Instagram
---
The first season of 'The Chilling Adventures of Sabrina' will premiere on Netflix on October 26th!
Share this article:
The Chilling Adventures of Sabrina gender queer actor Lachlan Watson nonbinary character netflix