'The Boys' Season 2 Episode 6 Review: Outed and imprisoned, it's up to Hughie to help Starlight from this mess Who would have thought that Stormfront (Aya Cash) aka Liberty, who is a racist, hateful, bloodthirsty person is also a Nazi? It is of course not that big of a stretch, but that is just it. The fact that she could have been related to Homelander crossed our minds briefly, but that she could be related to the founder of Vought who is a Nazi himself is something that we didn't think was possible. Turns out, Stormfront has a hysterical, but beautiful love story that uses racism as a fuel to fire up the relationship.
We also learn that the very first successful human who was injected with Compound V is none other than Stormfront. She is supposedly the first one to have successfully transitioned into a supe after receiving the Compound V injection as an adult. Liberty had to go underground after the racist attack of hers brought on negative attention towards superheroes. However, in the current political climate, Stormfront has found the perfect way to lead a racist fan following to corner other races that have successfully settled as "parasites" in the US. In fact, it is an impassioned speech about this exact same thing that brings her close to Homelander (Antony Starr) too.
She is initially unsure of where Homelander's loyalties lie, but a bit of sex and a lot of violence in the relationship has led Stormfront to believe that only he can be her partner in the long and arduous fight that awaits her and Vought -- to unseat anyone who is not "like" them from positions of power, luxury, fame or fortune and send them packing. In this attempt, she assists Vought in research in Compound V being used on adults. The hospital facility that we saw Starlight (Erin Moriarty) find on Stormfront's laptop is a pandora's box that Billy Butcher (Karl Urban), Hughie (Jack Quaid), Starlight (Yes, she manages to remove her chip thanks to Frenchie and go on this escapade), Mother's Milk (Laz Alonzo), and Kimiko (Karen Fukuhara) unearth. The patients in this hospital are forcefully held against their wishes and it is here that The Boys find out the supe who had blasted the head of the FBI director open. Her name is Cindy and even other Supes are extremely wary of her, considering how her powers can be used to even kill Stormfront or Homelander if used right.
Frenchie, MM and Kimiko get Starlight's help in breaking and entering into the facility where they collect evidence regarding what is really happening in this facility. Their assignment was just to gauge the risk that this facility involves and return and report. However, Frenchie's past comes to haunt him. The kids who were burned dead by a supe, while Frenchie had not been at his assigned post are also working in this same facility and upon seeing them, Frenchie loses his sh**. It is very similar to how Kimiko feels upon seeing Stormfront. The fact that Kimiko is no match to the woman who killed her brother is something that Kimiko realizes, yet, the deep-seated anger wouldn't disappear overnight.
Kimiko is in fact shocked to see how uncontrolled Frenchie got on seeing this supe, but MM manages to calm Frenchie down. It is while sneaking out that the supe sees Frenchie and recognizes him leading to a confrontation in the halls of the hospital that holds psychopaths and supes. This man who is known for burning things down, ends up burning the door of the supe Cindy down and she corners all of them. Once the Boys along with the man who burns things down run away from her, she helps the other residents escape. One such resident ends up finding his way to where Hughie, Butcher, and Starlight are waiting for their mates.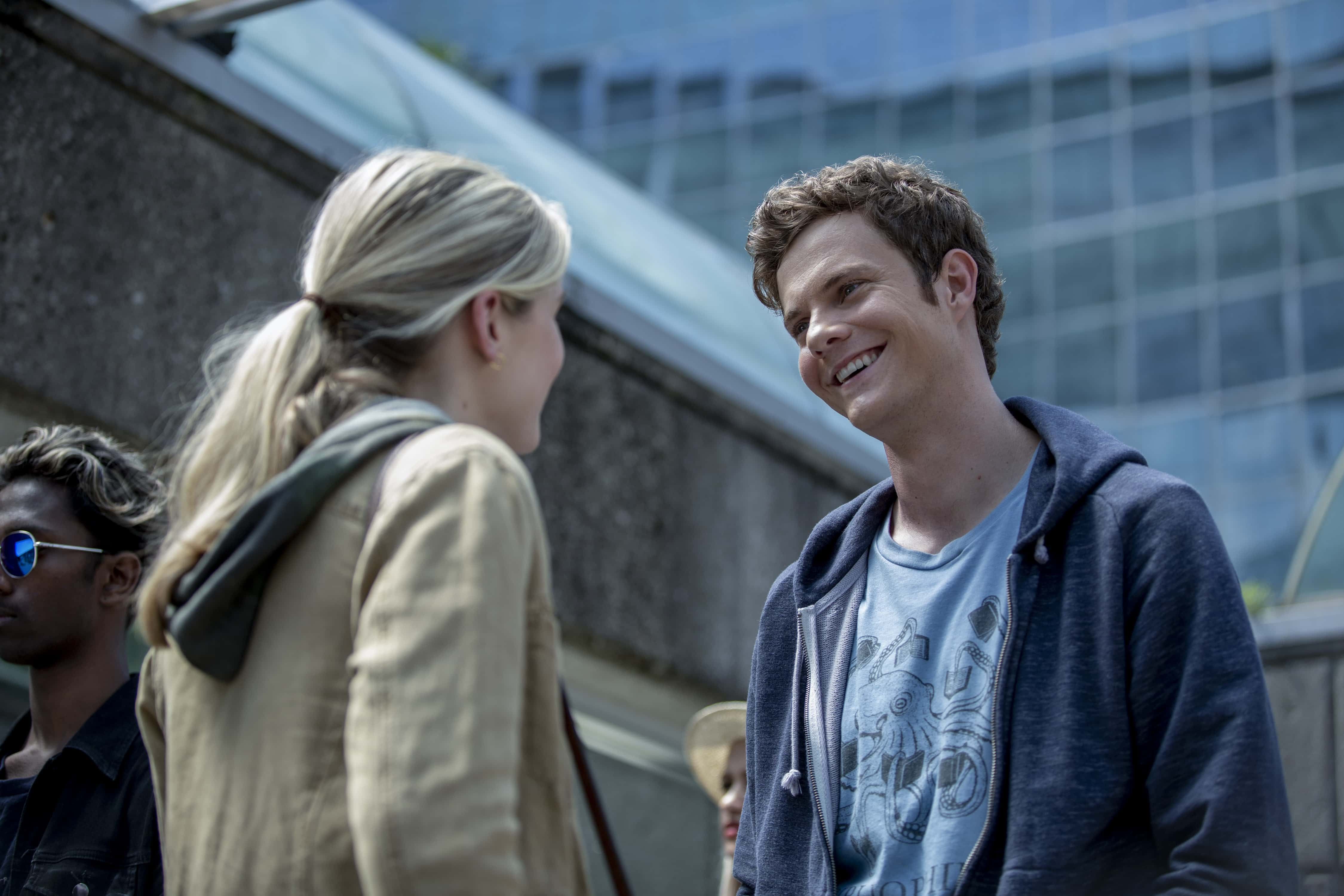 He overthrows the van that Hughie is sitting in, and pushes Butcher and Starlight off. This ends up hurting Hughie and ironically, it is Hughie's near-death experience that brings Butcher and Starlight closer. As the two recall how they met and became friends with Hughie, both of them realize that they are not good for him. Hughie, the man who is always spattered with blood -- others' more than his -- is deemed innocent by his teammates. He is even put on babysitting duty once all the Boys get themselves to safety. He is expected to keep the fire guy from creating any trouble as he is the witness who will bring the Congress on the Boys' side. However, things can never go as planned when it comes to this group of men and women. So, what happens instead is that Starlight is outed as the mole and the public turns against her.
Hughie watches all of this unfold on the television screen as Homelander and Stormfront, after a MAGA driven speech, reveal that one of their own ended up betraying them. How are the Boys going to stand up against an army of supes with just one supe on their side?
'The Boys' Season 2 new episodes will release on Fridays and can be streamed on Amazon Prime Video.