'Jump Rope Gazers': Pop-rock stars The Beths overcome their anxieties with uptempo melodies and unbridled joy As a relatively young band, the Auckland-based pop-rock outfit The Beths have already carved a name for themselves in the global music scene. Having opened for acts like The Pixies and Death Cab For Cutie, the Kiwi pop-rock quartet has won plenty of hearts with their explosive energy, lush vocal harmonies, and bright, cheery songs that stir both mind and soul. Their second studio album, 'Jump Rope Gazers', which releases on Friday, July 10, takes the sun-soaked, bubble-gum pop-rock of their debut album 'Future Me Hates Me', and ages it with their many experiences of overcoming self-doubt and separation anxieties, built over the time they spent away from their loved ones while on tour.

"It was a rough year in general, and I found myself saying the words, 'Wish you were here, wish I was there,' over and over again," says Elizabeth Stokes, the band's frontwoman. "When you're home, you miss everybody, and when you're away, you miss everybody. We were just missing people all the time."
The Beths seem more like themselves when back home in New Zealand, as the band's jam-packed worldwide tour of 2019 was the catalyst for a lot of the songs on their latest album. Being miles away from their loved ones fostered the various anxieties and emotions that come through in these new effervescent and emotive songs. The key, the band discovered, was to care for and nourish each other while doing what they could to nurture the band members' various relationships that were being stretched by time and distance. The constant personal battle of having to leave behind the things and people you love in pursuit of one's dreams is reflected in Stokes' songwriting and it's certainly a very relatable feeling.

The album opener, 'I'm Not Getting Excited' explodes with Stokes' trademark voice and energy in this upbeat punk-pop track with groovy rock 'n' roll progressions. Betraying creeping anxieties, Stokes sings, "Keep my grip on joy loose / And I wait for the news with my feet in my shoes / And I lose it all / With one foot out the door." Despite its awkward nervousness, this is a highly infectious track that is guaranteed to perk up your day.

'Dying To Believe' has an infectious and positive energy, akin to the rush one feels when love enters their lives. Lines like, "These days I'm struggling to stand my own reflection / It always looks backwards from the way that I imagine" reveal the anxieties and nerves of a person unsure of their own disassociated state. However, the saccharine vocal harmonies reaffirm this as a love song in disguise, as Stokes finally comes around with, "It burns me but I'll smile through the heat / I'm dying to believe that you won't be the death of me."

The title track, 'Jump Rope Gazers' is a gorgeous love song through and through. Slow and groovy vibes create a very romantic mood in this song about accepting and acknowledging love when it comes to us. Lyrics like, "I remember watching the waves rolling in / Numbered in the thousands / Collect, break up again / I was just waiting for the grazes on my hands to mend / I was afraid of the sting," has Stokes moving past the dark void of the past and rediscovering the light of love, a theme that will be revisited again later in the album.

'Acrid' is reminiscent of the Bryan Adams song, 'Back To You', by way of the Foo Fighters. A song about holding up one's love as a beacon, Stokes crafts a rolling punk-pop track that is as relatable as it is emotive. Laying it all on the line, Stokes sings, "Can you see me through / Do you hear me scratching at the outlines of you / I feel your heart beat from a mile away / Like it knows what I'm trying to say."

With 'Do You Want Me Now', Stokes gives us a very personal and heartbreaking meditation on the times when love has often kept us on hold. Reminiscent of The XX and Boy, this slow yet groovy track has a very raw and tender sound. Stokes shows no impatience, but the uncertainty of having her love reciprocated causes the inner conflict from which she draws lyrics like, "You take your time with your hard decisions / All of the pieces slide cleanly into place / But this is not a rocket mission / Just a question that keeps me fast awake."

'Out of Sight' is pure heartache, but still infused with Stokes's radiant positivity and ideals of love. Circumventing the melancholia with infectious energy, Stokes creates a beautiful song that has a surprising and inspiring strength to it. Her sense of nobility regarding true love shines through in the words that end the song, "If your world collapses / I'll be down in the rubble / I'd build you another." This song will have you grooving as your eyes well up and you will certainly find some solace (despite unrequited love) in the line, "I keep a flame burning inside / If you need to bum a light."
Those aforementioned anxieties of being away from loved ones come to the fore in The Beths' next track, 'Don't Go Away'. This melancholy yet groovy number has Stokes waxing nostalgic, longing for the return of a friend that they find themselves greatly distanced from. The guitar riffs follow a slightly discombobulating progression, much like the overwhelming feelings such anxieties can give rise to.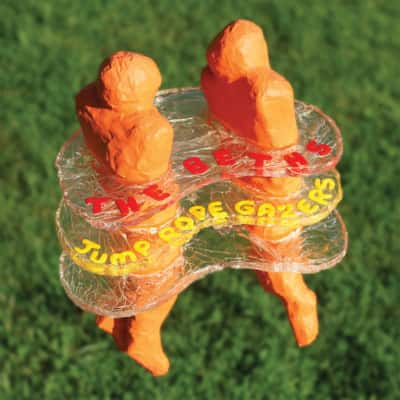 The Beths then give us 'Mars, The God Of War', a meditation on the darker limits to which love can take us to. The gloves are almost off on this bouncy yet melancholy-laden punk-pop groover, on which Stokes sings, "Tenures of regret and my good memory / Spent under tyranny / It ends tonight in quiet steam." Amid the "go to hells" and lack of sympathy, Stokes energetically defends her rights, making a stand of spirited defiance.
Love seems to have changed the way Stokes relates to the world, as is evident in the gorgeous and sublime 'You Are A Beam Of Sunlight'. While comparing one's love to the sun and stars has become somewhat cliche, Stokes is unbelievably credible and genuine when she sings, "'Cause we live in darker times / Open my eyes so I can see brighter / You are a beam of light." These are the words of someone that has truly found the light of love and is infinitely better off thanks to it. The stripped-down charm of the unprocessed guitars and vocals adds to the dream-like beauty of this track.
The album closer 'Just Shy Of Sure' revisits the nervous anxiety and uncertainties of love. It isn't uncommon for self-doubt to creep up in the face of newfound romance, but Stokes gives this niggling emotion a groovy and upbeat treatment, much like most of the songs on this album. Stokes can be heard crooning, "When do things suffice / Can you be happy all your life? / Do you think it can happen twice?"

All things considered, 'Jump Rope Gazers' is a beautiful and infectious power-pop record that muses on the many facets of love. It just might be that Stokes has rediscovered the kaleidoscopic emotions that come with falling in love, including the ups and downs and stuck-in-between feelings. The band's unbridled joy and infectious energy shine through, even in the face of mounting inner adversity, and each of these ten tracks is soaked in a tangible feeling of bright, vibrant positivity.