Ted Bundy took advantage of an obscure Florida law to marry his girlfriend Carole Boone during his trial
Ted Bundy asked Carole Boone to marry him when she was called to the stand as a character witness. She accepted, and Bundy declared to the court that they were married. In 1978, serial killer Ted Bundy was finally caught by the authorities when he was pulled over for driving a stolen vehicle in Florida. The contents of his vehicle were a bit suspicious and that's what gave him away. He was first arrested and jailed in 1975 but he had managed to escape. The media circus that followed his final arrest and subsequent trials caused a frenzy in the country. It was during this time that Bundy caught the attention of a woman who stood by him through the trials and till the day he was executed. That person was Carole Ann Boone.
Carole was fascinated with Bundy and began attending all the hearings. She soon became his number one supporter. She was his personal advocate and believed completely that her "Bunny", as she called him, was devoid of any wrongdoing.
When the Chi Omega murder trial started on July 1, 1979, Bundy had a small team of defense lawyers working on his case. He subsequently got his head attorney kicked off the case into an advisory role and Carole was made co-council by Judge Edward Cowart. Carole told reporters that she was allowed to visit Bundy in jail twice in six days since the trial began in Miami. She also described him as being "nervous, but cautiously hopeful" when she was asked how he was doing.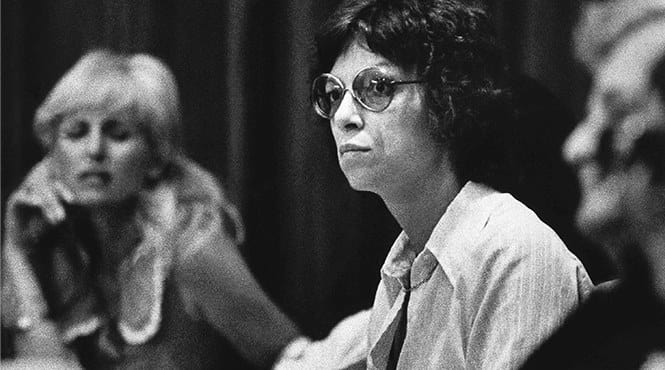 Then, on July 24 that same year, Bundy was sentenced for the murders of the sorority girls and was ultimately given the death penalty. Capital punishment in those days meant that the criminal would be put on the electric chair.
He was sent to death row and everyone believed that this was the end of Bundy. But the state of Florida was not done with him. On February 9, 1980, Bundy went to the second trial and, this time, it was for the murder of 12-year-old Kimberly Leach. Bundy was already given the death penalty so the second trial caused some controversy with the people but it went ahead anyway.
It was during this trial that Carole was put in the witness stand to answer question about his character. This was when Bundy did the most outrageous thing and proposed to her. The man had managed to find some obscure law in the Florida legal books which said that marriage in court is considered legitimate because it happens in front of a presiding judge. She said yes, and the trial continued.
The snarky serial killer never showed any remorse when he was on death row. In fact, he and Carole tried to live a "normal" life. She would smuggle marijuana for him by hiding it in her vagina and he would take it back to his cell in his anus. He got hooked onto the drug.
Carole and Bundy were able to raise some money to pay off a guard so that they could have sex in his cell. She soon got pregnant and their daughter Rosa was born. Carole, her son from a previous marriage and Rosa would visit Bundy in prison often.
Carole and Rosa faded from the media attention sometime in 1986 and their present whereabouts are unknown. 
Bundy was finally executed on January 24, 1989.
'Conversations with A Killer: The Ted Bundy Tapes' is currently on Netflix.
Share this article:
Ted Bundy took advantage of an obscure Florida law to marry his girlfriend Carole Boone during his trial