While Teairra Mari evades arrest, here's a look at her ongoing feud with 50 Cent An arrest warrant has been issued for 'Love & Hip Hop' star Teairra Mari for failing to appear at a hearing in her ongoing legal battle with rapper 50 Cent.
A judge ordered a bench warrant for the singer's arrest following her failure to show up at the hearing. Mari was ordered to appear in court on Monday (April 22), but she didn't make it. After learning of her absence from the court, the LA judge issued a warrant for an amount of $5,000. Mari will be immediately arrested if she comes in contact with law enforcement.
Following the warrant, 50 Cent took his hounding to the next level. To reiterate that he is serious about getting his money and that "the law is the law", he took to Instagram to share his reaction. The rapper demanded Mari pay him what she owes him.
The rapper had written last month on his feed, "Look I'm not playing with you, you better get me my money."
What is interesting is that just hours after the judge issued the warrant, Mari remained unfazed and posted a rather funny image to her Instagram, joking about the warrant.
Cent had obtained the hearing set by the court to examine Mari's finances as he is trying [really really hard] to collect the $30,000 she owes him in attorney fees — this is to cover part of his $161,660.15 legal bill after he maintained his stand in the revenge porn lawsuit she had filed against him in 2018.
The court granted Cent an order for Mari to provide financial records, so he can gauge which assets can be seized to pay off the debt — the rapper wanted a financial examination of her income, bank accounts, and property. Last month, Cent served her legal papers at the airport, documented it and shared it on Instagram. "You cannot run from the Law, you have been served," 50 captioned the video. "Better give me my money B*tch."
To get back at Cent, Mari decided to give him a taste of his own medicine by releasing a diss track on her YouTube titled 'I ain't Got It', where she denies having the money she owes him. In the song, she also accuses Cent of bullying her.
But Cent is a step ahead of Mari claiming to have filed a trademark for Mari's catchphrase and is selling his own merch with her tagline.
In March, when Mari took to Instagram to show off her new pink hair, she literally gave Cent the opportunity to continue going after her. "This nut thinks she's not going to pay, somebody tell her they will lock her ass up for not responding in New York... That's a new wig bitch, where is my money?" He also commented, "wait, that's a new jacket too."
Taking to Instagram, Teairra posted a series of photos trolling 50 including one of him next to his former friend Floyd Mayweather. "GREAT NEWS!!! @50cent I spoke to @floydmayweather He said you can be his belt boy again 🏆🥊 IF you behave yourself and carry his jock strap on your head..Sheriff Curtis," she wrote alongside the hashtags #GetTheStrapOn and #GetThisJockStrap.
50 returned fire on Instagram, posting a photo of Teairra with the words "Come Dumpster" written over her mouth. "The courts will get the message your sending with these antics," he wrote, adding, "You little come dumpster."
It all began in May 2017 when the 'Love & Hip Hop' star filed a lawsuit against 50 Cent for reposting a sexually explicit image of her. This legal action followed her ex-boyfriend Akbar Abdul-Ahad allegedly leaking the images to Mari's Instagram account (he apparently knew her password) after they broke up - she claimed she caught him cheating. Abdul-Ahad and 20 Cent were friends.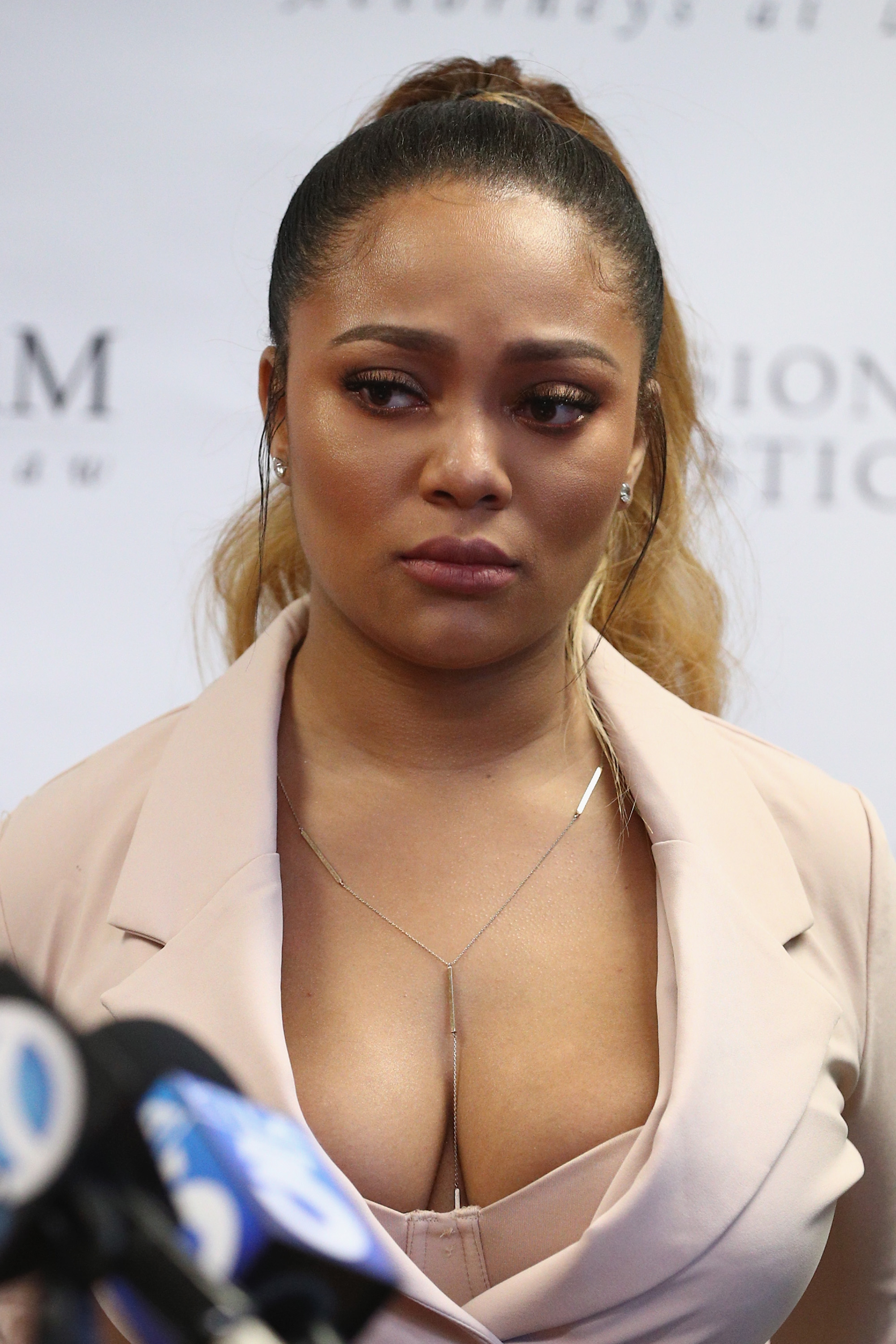 In an emotional press conference following that, Mari said that after their breakup, Abdul-Ahad posted a sex tape and an obscene photo to her Instagram account and described feeling "horrified" and "humiliated". She also said that she removed the tape, the photo and changed her password. The photo reportedly showed Mari with semen on her face. Mari said that Cent shared the image on his own Instagram account. And that she was disturbed by the caption, "Get the strap", which appeared to suggest violence.
Cent argued that he had done nothing wrong by sharing the picture, saying that the photo was not sexually explicit since there was no nudity and did not show a sex act. In addition to this, he also said that the image was shared online widely before he did it. The Los Angeles judge agreed with the rapper and dismissed the case, but not before ordering Mari to pay 50 Cent $30,000 to help pay his attorney fees.
Share this article:
teairra mari 50 cent feud arrest warrant celebrity breakup legal battle online post