Chris Hardwick denies accusations of emotional and sexual abuse by ex-girlfriend Chloe Dykstra
Hardwick in his defense has claimed that though their relationship was in no way perfect, at no time did he sexually assault her. Chris Hardwick (Getty Images)
Actress Chloe Dykstra, who dated the 'Talking Dead' host Chris Hardwick, has recently opened up about her relationship and claimed that she was emotionally and sexually abused throughout her relationship with an ex-boyfriend, who is believed to be the comedian himself. Dykstra and Hardwick dated from 2012 to 2014.
The actress published a lengthy essay on Medium on Thursday, where she claimed that she was subjected to sexual assault and controlling behavior over the course of a three-year relationship. And although she did not give out the name of her boyfriend at the time, people were quick to identify Hardwick as to being the culprit.
Hardwick founded the Nerdist podcast in 2010, which he later sold off to Legendary Entertainment in 2012. Now he has his own podcast, a brand which he has created away from the shadows of Legendary, called "ID10T."
In her essay, Dykstra claimed that she was emotionally abused by her ex-boyfriend, adding that there were times when she was coerced into having sex with him whenever he wanted. She also revealed that 'the man twenty years her senior, was extremely controlling by nature and that he laid down rules for her social interactions, isolating her from her friends and other sources of support.
When she refused sex once because of not feeling up to it, she wrote, "He responded, 'I just want to remind you, the reason my last relationship didn't work out was because of the lack of sex.' It was a veiled threat. I succumbed," adding that, "Every night, I laid there for him, occasionally in tears. He called it 'starfishing.' He thought the whole idea was funny."
In response, Hardwick released a statement saying: "Our three year relationship was not perfect—we were ultimately not a good match and argued—even shouted at each other—but I loved her and did my best to uplift and support her as a partner and companion in any way and at no time did I sexually assault her."
According to her essay, Dykstra became anorexic and had an ectopic pregnancy, which led to her seeing the dark side of her partner. Apparently, after the surgery, her ex asked the doctor, "When do you think I can have sex with her again."
The actress even claimed that when she left him after their three-year-long relationship, he got her blacklisted from the industry using whatever influence he had. "Because of my leaving him for someone else, he made calls to several companies I received regular work from to get me fired by threatening to never work with them," she wrote. "He succeeded. I was blacklisted."
Further, replying to the accusations made by Dykstra, he mentioned that these accusations had completely blindsided him and so he had to take a day to respond. He said: "When we were living together, I found out that Chloe had cheated on me, and I ended the relationship," Hardwick asserts. "For several weeks after we broke up, she asked to get back together with me and even told me she wanted to have kids with me, 'build a life' with me and told me that I was 'the one,' but I did not want to be with someone who was unfaithful," he added in his carefully worded response.
The reason Dykstra gave for penning down her struggles during her relationship in the essay format was so that she could obtain closure and offer a warning about abusive relationships.
"This kind of relationship is so common and so easy to slip into," she wrote. "Normalizing behavior happens incredibly quickly, and one can lose track of what is acceptable treatment… And when your self-worth reaches such depths after years of being treated like you're worthless, you might find you think you deserve that sort of treatment, and no one else will love you."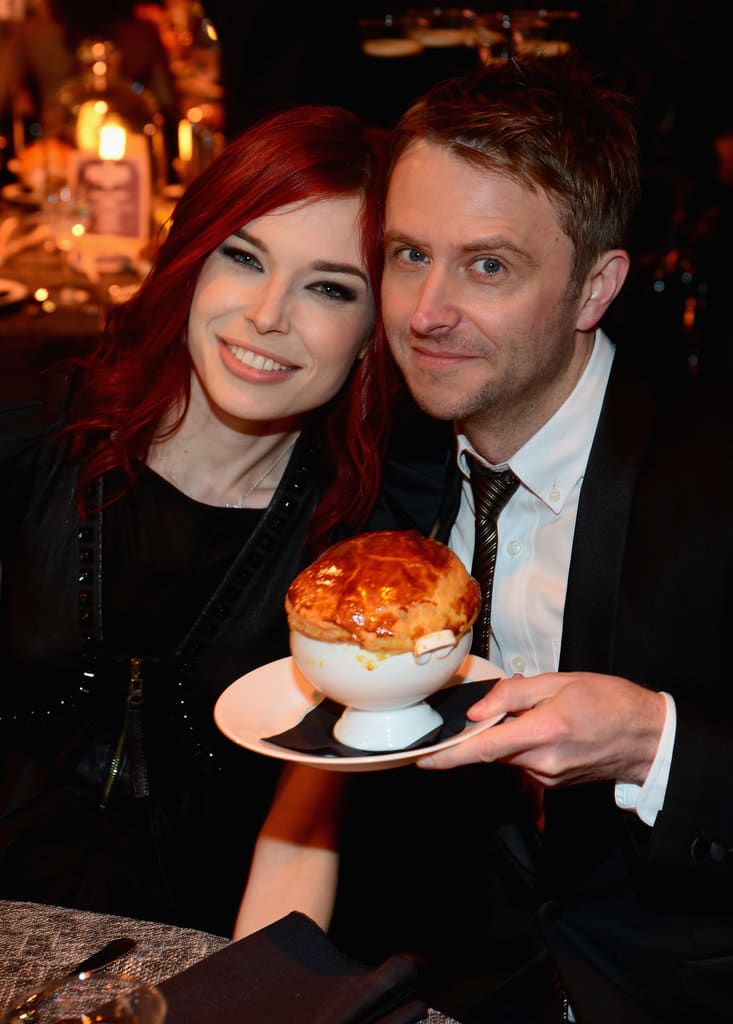 After news of the comedian's behavior with his ex-girlfriend went viral over the internet, Legendary published a statement to the media, distancing themselves from the star and all his actions.
"Chris Hardwick had no operational involvement with Nerdist for the two years preceding the expiration of his contract in December 2017. He no longer has any affiliation with Legendary Digital Networks," the company said. "The company has removed all reference to Mr. Hardwick even as the original Founder of Nerdist pending further investigation."
Nerdist responded, "Like you, we were shocked to read the news this morning. Nerdist prides itself on being an inclusive company made up of a positive, diverse community of people who come together to share and discuss the things we love. That type of behavior is contrary to everything we stand for and believe in, and we absolutely don't tolerate discrimination, harassment, and other forms of abuse."
Harwick's response statement meanwhile had a conclusion stating: "I'm devastated to read that she is now accusing me of conduct that did not occur. I was blindsided by her post and always wanted the best for her. As a husband, a son, and future father, I do not condone any kind of mistreatment of women."