'Cliffhanger': Release, cast, plot and everything you need to know about Stallone's action blockbuster reboot Sylvester Stallone's 'Cliffhanger' was one of the high-octane action adventure movies that raked in the money in 1993. The Renny-Harlin directed superhit garnered close to $255 million worldwide beating 1988's 'Rambo III' and definitely more than the $119 million that 'Rocky V' made. And now, the movie is all set for a female-fronted reboot which will be spearheaded by producer Neal Moritz ('Fast and Furious' franchise). Here's what we know about the film so far:
Release
Production is set to kick off by the middle of 2020, and the movie will be shopped for international sales at the Cannes Film Festival that will be held from May 14-25 this year.
Plot
While the official storyline is still kept under wraps, it is likely that the film will retain the original plot which sees a former mountain rescuer go up against a group of criminals who have lost $100 million dollars during a plane crash in the Rockies. After being forced to help rescue a group of stranded mountain hikers, the climber realizes that the people who he helps are thieves who need help in locating the missing loot.
Cast
While the female lead is yet to be confirmed, Jason Momoa is reportedly in talks for a key cameo in the film.
Director/Writer
According to Deadline, Ana Lily Amirpour will helm the project based on a script written by 'Creed II' writer Sascha Penn, who will reimagine Stallone's character Gabe Walker in the original film which will be played by a female lead.
Speaking to the Den of Geek, Amirpour explained her reboot plans. "We are setting out to create a thrill-ride on the mountain which taps into the primal side of an action movie, where you see what a person is capable of doing to survive in the most extreme situations, pushed to the limits. Add to that some high-stakes espionage and a badass female mountain climber as the lead and it becomes a truly epic reinvention of what made the original 'Cliffhanger' movie so fun and so thrilling."
Amirpour has had a few successful outings with 'The Bad Batch', a cannibal-horror thriller and 'A Girl Walks Home Alone at Night', a black-and-white vampire horror movie.
Poster
A poster was revealed for the movie reboot with a single tagline that reads 'Hold On' which shows a female mountain climber hanging off the edge of the cliff.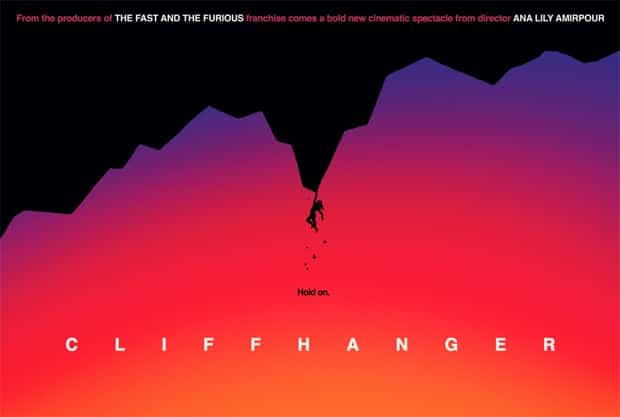 Trailer
With the film yet to go into the production phase, it is most likely that we will see a trailer coming out only by the end of next year.
Until then, watch this space for more updates.
If you have an entertainment scoop or a story for us, please reach out to us on (323) 421-7515