Swedish student who attempted to prevent deportation of a migrant by refusing to sit in plane goes on trial A Swedish student who attempted to prevented the deportation of an Afghan asylum-seeker by purchasing a plane ticket and refusing to sit down on the aircraft is scheduled to go on trial on Monday.
The woman, identified as 21-year-old Elin Ersson, has been accused of breaking aviation law after she failed to follow Turkish Airways crew's orders at Landvetter Airport in Gothenburg in July 2018 before take-off, and livestreamed her protest on Facebook.
Ersson, a student at Gothenburg University, reportedly bought a ticket for the flight from Gothenburg to Turkey after she got to know that an Afghan asylum-seeker was set to be deported on the plane.
The 21-year-old began her protest the moment she entered the plane and live-streamed the entire incident on her Facebook page in English. Reports state that the video received over half a million hits.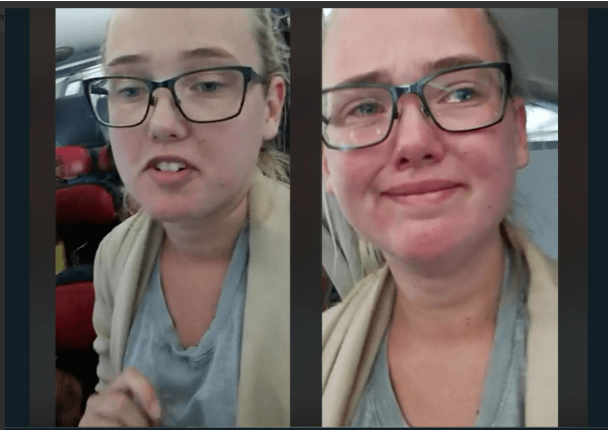 The footage of the incident showed a visibly emotional Errson struggling to maintain her composure as multiple hostile passengers slammed her actions and told her that she was affecting the rest of the passengers on the aircraft. However, there were many on the flight who applauded her efforts.
Ersson in the clip said: "I don't want a man's life to be taken away just because you don't want to miss your flight. I am not going to sit down until the person is off the plane."
The video showed the 21-year-old repeatedly being challenged by a steward, who asked her to stop filming. The student, however, continued with the live-streaming, saying: "I am doing what I can to save a person's life. As long as a person is standing up the pilot cannot take off. All I want to do is stop the deportation, and then I will comply with the rules here. This is all perfectly legal, and I have not committed a crime."
Prosecutors, however, disagreed with her stance and indicted her for breaking aviation laws last year in October. The trial is set to be held at Gothenburg District Court, and if convicted, Ersson can face a prison sentence up to six months along with additional fines, according to the Daily Mail.
Reports state that Errson had initially planned on stopping the deportation of a 21-year-old Afghan man whose asylum application had been rejected, however, when she reached the airport she was told that he had been already sent out of the country.
She then heard that another Afghan migrant, 52-year-old Bismallah S, was also set to be deported in an upcoming flight and immediately bought a ticket for it.
Bismallah, reportedly a convicted criminal, was deported to Afghanistan a few weeks later.
Ersson later said that she was unaware that the 52-year-old was a convicted criminal, but said she still felt her protest was justified, as going to Afghanistan amounted to a 'death sentence'.
Swedish authorities however said that his past crime record was not the reason why his asylum request had been rejected.
Reports state that Errson's disruption caused a severe delay in take-off and she and the Afghan were eventually removed from the flight.