'Suspiria' review: Luca Guadagnino pays homage to the horror classic in the terrifying and witchy remake Luca Guadagnino's remake of the 1977 Dario Argento cult horror classic 'Suspiria' will certainly leave a lasting impression on its audience. In Guadagnino's remake, one of the first things we see on screen is 'six acts and an epilogue set in divided Berlin'. This right-off-the-bat kickoff alerts the audience to the fact that they need to prepare themselves for a very unique form of storytelling. Before the first line is even uttered there's a sense of something dark and sinister lurking beneath the surface, which Guadagnino does masterfully through his creepy yet precise direction.
In the same vein of the 1977 original, Guadagnino's remake follows a young Amercian woman named Susie Bannion (played by Dakota Johnson) who recently disassociated herself from her Amish roots in Ohio.
After a lifelong struggle to follow her passion of dance, Susie travels to Berlin to audition for a prestigious dance company she has always admired. After blowing the faculty of the academy away with her shockingly stunning audition, Susie is immediately welcomed into the company by the leader Madame Blanc (Tilda Swinton).
As soon as Susie begins her training it's clear that she's going to be the star of the company, garnering praise from all of her superiors. That said, the audience quickly learns that the female facility is not just grooming Susie to be a dancer, but for a purpose with an evil side. Through quiet chatter and odd behavior, Madame Blanc appears to be the head of a coven of sorts, practicing some kind of dark magic that requires human sacrifices.
Speaking of sacrifices, Susie quickly learns that she is there to replace another dancer who mysteriously disappeared, Patricia (Chloe Grace Moretz). During one of Susie's first workshops, one of her fellow dancers Olga (Elena Fokina) publicly falls apart, accusing the facility of killing the missing dancer. After trying to flee the academy, Olga ends up locked in a room of mirrors, with her body somehow linked to Susie's.
In one of the most beautiful yet grotesque scenes to ever grace the big screen, Susie takes the lead of the dance and with every movement she takes, Olga's body bends and breaks accordingly. This is a scene that goes on for an uncomfortably long time, but that was the point. This scene specifically shows Guadagnino's directing chops, as he mixes sharp movements and creepy music with a perfectly choreographed supernatural torture scene.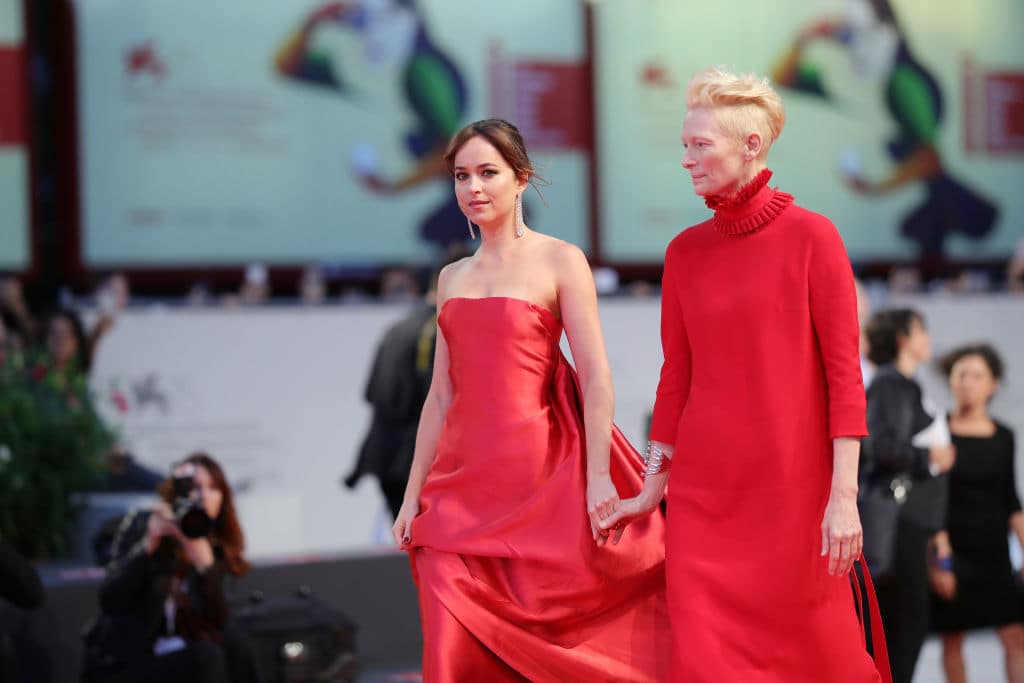 After this ceremony of sorts, Susie continues to rise but she's tortured with dark and bloody nightmares that we find out, are sent to her telepathically by Madame Blanc and the facility. Throughout the long final two acts, we see Susie change little by little, clearly becoming ready for whatever it is these women have in store for her. In an epically bloody and off-putting ritual scene where the dancers perform in the shape of a pentacle, Susie discovers her power and let's just say, it's not pretty.   
The standout performance of the film is most definitely Johnson's as she shows audiences a side of her that we have never seen before. In fact, the more sinister her character became the better her performance becomes.
Swinton is, of course, also very good in her role. However, it is nothing new for her and she doesn't really bring anything to the table we haven't seen before, except for one thing that doesn't necessarily work.  Swinton had a small second role (which they tried to keep under wraps) playing an old man that catches on to the evil doings of the company.  It was an addition that was not in the original 1977 film and was completely unnecessary. It seemed as though this character was added so Swinton and Guadagnino could fool the audience, deeming her a superb actress. Swinton is already a brilliant actress and this addition seemed a bit bizarre and self-serving.
---
 

 

View this post on Instagram

 
---
As a previous article mentions, while it can almost be considered that trying to remake something which has been the landmark in filmmaking is almost like digging your own grave, it can also be regarded as a homage. Guadagnino himself said that 'Suspiria' (2018) is more of a homage to the original masterpiece than just another remake. In fact, it is going to be a whole different story altogether. The original 'Suspiria' star, Jessica Harper who played the role of the protagonist, also commends Guadagnino's remake to be "perfect".
'Suspiria' is a film that will get people talking, without a doubt. While it may not be everyone's cup of tea, rest assured it will leave fans of the horror genre in shock and awe. The film releases nationwide on October 26 in select theatres.
Disclaimer : The views expressed in this article belong to the writer and are not necessarily shared by MEAWW.