Suspects in Colorado school shooting appear in court for the first time since the incident The two suspects who were accused of carrying out a mass shooting at a school in Denver made their first court appearances on Wednesday, May 8. Neither of the suspects - 18-year-old Devon Erickson and a 16-year-old boy- were formally charged at the hearing. 18-year-old Kendrick Ray Castillo was the one casualty in the shooting and eight other students were injured in the incident that took place at STEM School Highlands Ranch.
18th Judicial District DA George Brauchler said that first-degree murder and attempted murder charges will definitely be filed. CNN reported that he added he needs time to consider other charges.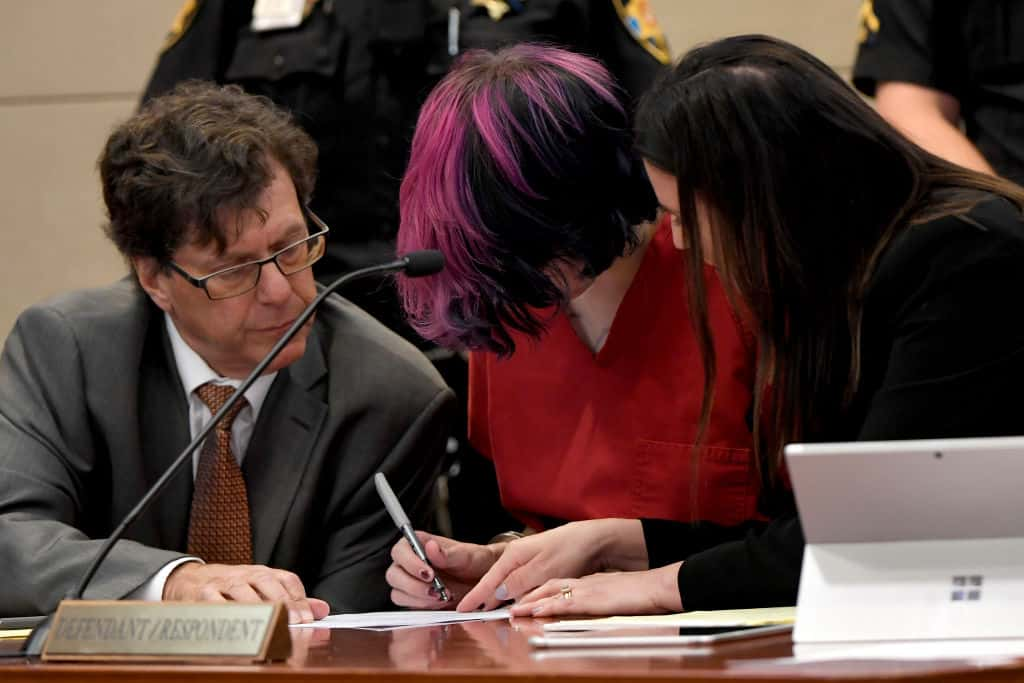 A law enforcement source with intimate knowledge of the investigation told CNN that Erickson reportedly took the two handguns he had used in the shooting from his parents. Both of the weapons were bought legally, according to the source. Erickson and the other shooter will be appearing in court again on Friday afternoon, albeit separately. Erickson will be held on 29 suspected counts of attempted murder and one count of first-degree murder after deliberation.
The older gunman spent most of his hearing on Wednesday with his head bowed, his bushy purple-streaked hair obscuring his face. He only spoke when he was spoken to by the judge directly and even signed a court document at one point. Brauchler also told reporters that prosecutors are yet to decide whether they will seek to try the juvenile as an adult.
The authorities had initially referred to the 16-year-old as female. Colorado Judicial Department spokesperson Rob McCallum stated that the suspect's lawyer said in court that he goes by the first name and also uses the pronoun "he".
One student who helped disarm one of the suspects, Brendan Bialy, said that he knows both of the alleged shooters. Erickson was a student in his class, where Castillo was killed and several others were wounded.
The two allegedly walked into the school through an entrance without metal detectors and opened fire in two classrooms. Because the attack happened only miles from Columbine High School and just weeks after the shooting's 20th anniversary, questions quickly arose about whether it was inspired by the 1999 massacre. But investigators offered no immediate motive.
More than 1,850 students attend the STEM school, which includes grades K-12, where the shooting occurred. STEM stands for science, technology, engineering and math. According to the school's website, the STEM School Highlands Ranch is a "free, public charter school".
Douglas County School Superintendent Thomas S. Tucker said in a letter to families issued on Tuesday: "Our STEM family is hurting tonight. Supporting one another in the coming days, weeks and months is critical." The school will remain closed for the rest of the week.
MEA WorldWide (MEAWW) previously reported that three hospitals reported treating eight people in connection with the attack, including two who were listed in serious condition. At least four others were released by Tuesday night. Two students were listed as stable with injuries that are not life-threatening.
A Colorado man had said his 17-year-old son was shot three times but is expected to make a full recovery. Fernando Montoya told KMGH-TV his son said one of the shooters pulled a gun from a guitar case and began firing in a classroom. Montoya says his son doesn't believe he was targeted. "Thank God he is fine," Montoya said. "Even though he got shot, he's OK. He's going to walk out on his feet, so I'm glad. We're so lucky."
Share this article:
suspects stem school shooting first court appearances not formally charged yet Devon Erickson