Sturgis Rally 2021: Will it take place? All you need to do about the controversial event In 2020, the Sturgis rally took place without any masks or social distancing, leading to 250,000 cases in at least 11 states. The rally was widely shamed and slammed for the consequences, which contributed to a massive rise in Covid-19 infections and deaths in the winter of 2020. Nonetheless, it appears as if those accusations are a distant memory for organizers.
As the US returns to "normal", with concerts, movie screenings and crowds at baseball and basketball games, the new Delta variant of Covid-19 is spreading like wildfire all over the country. As a result, the Joe Biden administration has been forced to react with draconian measures. The CDC has reimposed mask mandates, even for fully vaccinated people. Biden is considering making the vaccine mandatory for all federal employees.
RELATED ARTICLES
What is Sturgis Superspreader? How controversial motorcycle rally became epicenter for Covid-19 infections
Sturgis Motorcycle Rally: All about controversial 10-day event drawing over 250K people without mask mandate
Even private enterprises are jumping in. The NFL has issued a mandate saying games canceled due to Covid-19 outbreaks would be treated as a loss, forcing more players to get their shots. Numerous firms including Google, Facebook, Apple and Disney have all mandated vaccines for employees as well. Meanwhile, the pushback continues from conservatives and the GOP. It has also raised questions about the future of many events scheduled in the US over the coming weeks and months. Will they take place? Here's what we know about the Sturgis rally.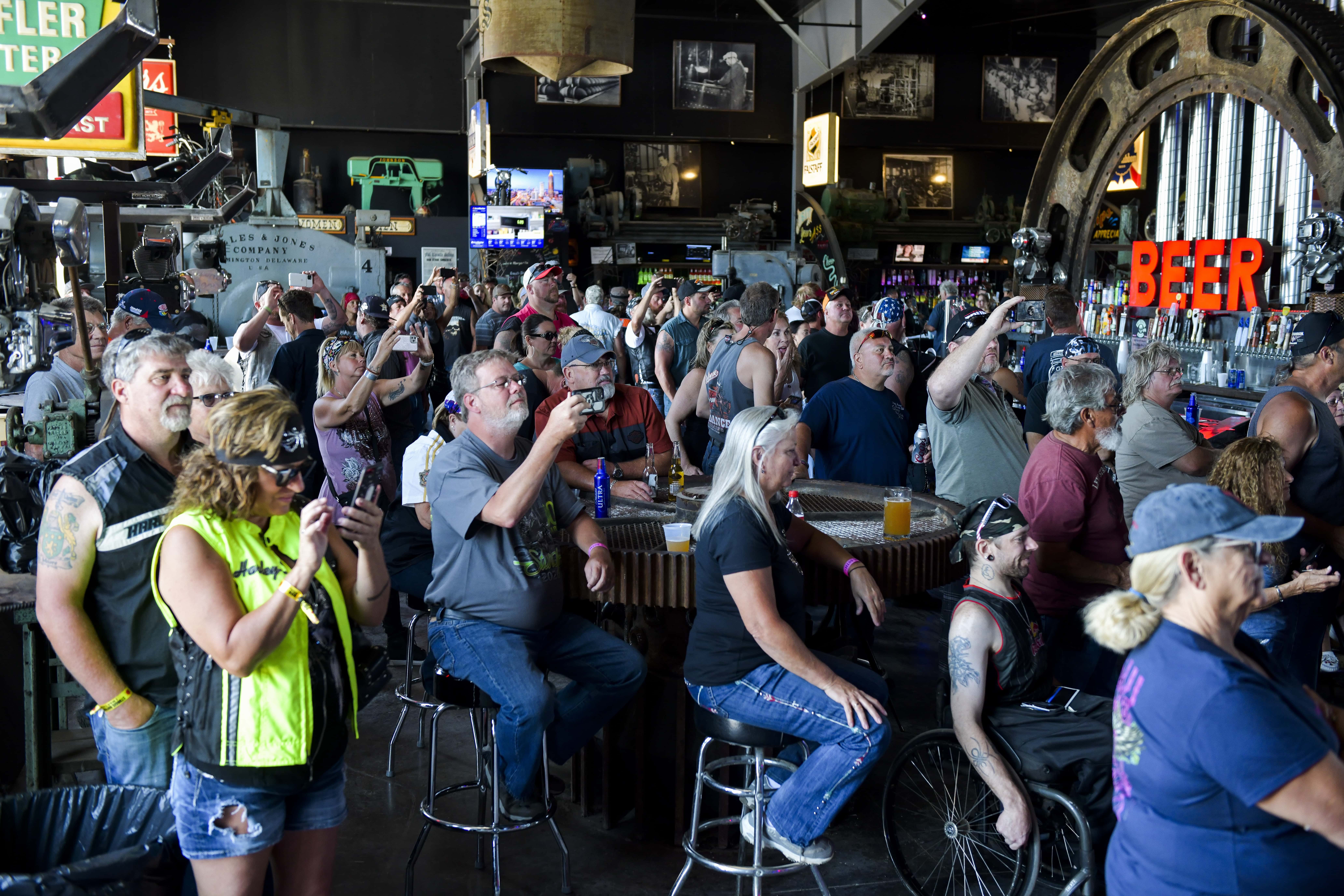 Will the Sturgis rally take place?
According to several websites affiliated with the rally, it will indeed go ahead this year. By all indications, the rally won't be toned down because of Covid-19, but go ahead as if everything is perfectly normal. Marking the 81st year of the biker parade, the Sturgis rally will take place from August 6 to August 15, with a full list of events, and concerts to keep participants entertained. The Sturgis website encourages attendees to sign up and is offering pins, patches and welcome packets to those that do. So if you love to ride, it looks like you are in luck!
The website not only lists out all the events, concerts and rides available but also offers attendees details on places to stay and eat. There's a large list of campsites, hotels, motels, and even packages to help you plan your visit. The website also has a comprehensive list of bars and restaurants near event locations and ride destinations, so planning should be a breeze.
What is the route of the 2021 rally?
Like in previous years, the 2021 rally is offering multiple ride routes for attendees. There's a 100-mile loop to Spearfish Canyon, Boulder Canyon, and Vanocker Canyon. There are also rides to Mt Rushmore, Custer Park, The Badlands, and Devils Tower. For the really adventurous, Sturgis is also offering a tri-state ride between South Dakota, Montanna, and Wyoming.
For those less familiar with the landscape, Sturgis has also organized a series of guided tours. You can pick between Custer Mayor's ride, Sturgis Mayor's ride, and Pappy Hoel ride. There's also an exclusive 'Biker Belles Morning Ride' which appears to be targeted towards female bikers. There are quite a lot of options to pick from, so you should check out the website to see what catches your eye the most.
List of events at Sturgis 2021
While Sturgis is well known for its biker rides, that's not all it's about. Organizers have planned a series of events for participants on all days of the rally, and even before. Between August 2 and 5, there are a series of pre-rally parties at the Loud American Roadhouse and the city of Sturgis. Once the rally gets underway, you have plenty to do as well. There's off-road racing, hard rock music, a chopper show, and even an art exhibit! Each day is packed with numerous events, so you'll definitely have something to look forward to when you attend. There's also a bike show, a history trip, and plenty of live music to keep you company.
Speaking of live music, you are in luck if you love concerts. Numerous bands and artists are scheduled to perform at Sturgis, with shows planned every day. Puddle of Mud is scheduled for August 6, 10 Years for August 7, Kid Rock on August 8, and Colt Ford the same day. Other artists like Vince Neil, Tesla, Black Heart Saints, and Black Label Society are all lined up to take the stage, so you'll have plenty of rock and roll to keep you entertained.
Covid-19 mitigation
Back in 2020, Sturgis was widely slammed for its lack of Covid-19 mitigation measures. It appears as if organizers have not learned from that. The website does not list any details about Covid-19, or precautions to be taken. There's no guidance on social distancing, or if it will even apply to events at Sturgis. Attendees who sign up can get pins, badges, and packets, but not masks it seems.
The only mention of Covid-19 is from a May 2020 blog, where Sturgis confirmed its 2020 rally would take place. The blog has not been updated with information about 2021. The website also lists numerous hotels, motels, and camping sites for the rally, but doesn't provide any information on measures to combat Covid-19. The website could be updated later with guidance, but at the time of publication, there is no reference to Covid-19.