'He chose to go up there': Slain Kaylee Goncalves' dad Steve thinks killer went upstairs to target victims This article is based on sources, and MEAWW cannot verify this information independently.
MOSCOW, IDAHO: Steve Goncalves, father of one of the victims of the Idaho murder, claims that his daughter, Kaylee Goncalves and her best friend, Madison Mogen may have been targeted by the suspect assessing their entry and exit point.
In an interview with Fox News, Steve claimed, "I'm not a professional, so I want to specify that, but they've said the entry point was the slider or the window. It was the middle floor. So, to me, he doesn't have to go upstairs."
ALSO READ
'I'm not going nowhere': Idaho murders victim Kaylee Goncalves' dad Steve wants killer to be 'scared' of him
'They were with their best friend in the whole world': Kaylee Goncalves's dad Steve's heartbreaking tribute
Further, he added, "His entry and exit are available without having to go upstairs or downstairs. Looks like he probably may have not gone downstairs. We don't know that for sure, but he obviously went upstairs. So I'm using logic that he chose to go up there when he didn't have to." Both Kaylee and Mogen were found dead on the third floor of the house whereas Xana Kernodle, 20, and her boyfriend, 20-year-old Ethan Chapin, were found on the second floor.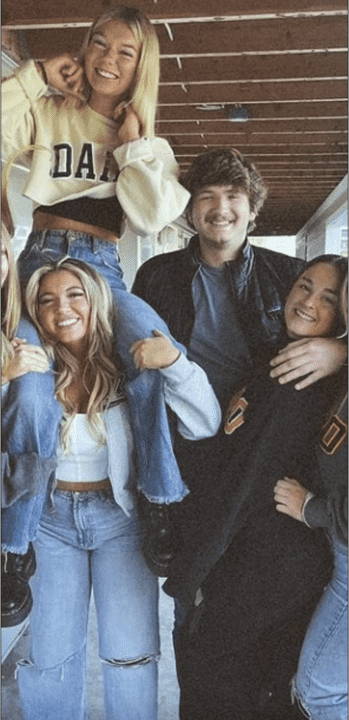 Steve stated, "So, I'm just putting the dots together. As far as the investigators, they're very tight-lipped, and they're keeping everything close to their vest, and I understand that, and I'm probably not the right person to share all these things with." Further, he added, "So, I'm just trusting … that their case is super tight, and they don't really need to reach out to the community, and … all the evidence is right there in that home."
The grieving father also claimed, "I probably over-disclosed information to the police that they wish I wouldn't have said, but the story's going cold. There's less people coming to Moscow. I'm not going to go sleep in my bed knowing that I could get up and I could go to town and I could do something, and I'm not going to go away. I hate to be a pain, but as a father, I just can't even sleep thinking that I could be doing something." He also added, "Just share the alibi, If you're not sharing an alibi, to me, it tells me that you're not 100% confident that it's going to stick." While speaking about his daughter, he claimed, Kaylee was a "hard worker" and a "Punky Brewster-type girl." Further, he stated, "We missed out on a really smart person."
Meanwhile, Steve has previously stated to Lawrence Jones Cross Country that the deaths of his daughter and Mogen "do not match," He added, "Their points of damage don't match. I'm just going to say it. It wasn't leaked to me. I earned that. I paid for that funeral. … I sent my daughter to college. She came back in a box, and I can speak on that." Meanwhile, Kristi Goncalves, Kaylee's mother also explained, "We just have no information as a family. And it's tough, day after day after day. I mean, every day you just wake up and think, Today's the day we're going to hear something, and you see these, 'Oh, there's a break in the case,' and it'll just be something stupid." However, the police still describe the case as "an isolated, targeted attack," reported Fox News.
'He's going to scare the killer with all this talk'
The Internet sleuths have made some speculations about the father's revelations on Reddit. A user claimed, "He's totally right that there are other powerful interests at play here in the school and the town. The school is the town basically and this crime is going to hurt enrollment of endowment. He doesn't want his interests in solving this case to get overshadowed by the other interests. Also much easier to hold on to media attention than to try to get it back after it's fizzled."
Further, the user stated, "Why does it matter that the public knows that K and M were in the same bed? Obviously the investigators know what the crime scene looked like so this isn't something that will scare the person who did this. I personally don't think he's said anything that is damaging to the case."
Another user added, "What he is saying is that, if the target were on the second floor, the killer didn't have to go to the third. The killer went to the third. Therefore, target wasn't on the second floor. Just implying rather than spelling out those premises. Clear if you watch whole interview."
A comment read, "The dad is frustrated.. he wants answers.. so he is spilling the beans to force LE to leak what they know. It's too early for that, I believe they want to hold back so they can catch this murder." Another comment read, "Not necessarily. Killer could have gone to top floor and made too much noise and awoken second floor upon departure and killed X & E to escape." A user stated, "He's going to scare the killer with all this talk. I think LE "cleared" people to prevent that from happening. I really hope they have enough to make an arrest soon. This family knows enough that it's tearing them up not seeing movement." Another user explained, "As a dad of two teenage girls seeing the pain in his eyes is literally heartbreaking...."
This article contains remarks made on the Internet by individual people and organizations. MEAWW cannot confirm them independently and does not support claims or opinions being made online.
Disclaimer : This is based on sources and we have been unable to verify this information independently.
Share this article:
Steve Goncalves, Kaylee Goncalves' father claims suspect 'chose to go' upstairs to target victims