'Station 19' fans can't believe 'cheater' Teddy from 'Grey's Anatomy' gave relationship advice to Maya-Carina It is hard to predict the outcome of relationships on 'Station 19' — much like ABC's 'Grey's Anatomy'. And when characters from both shows mingle, it makes it all the more scandalous. Last week, Maya Bishop (Danielle Savre) and Carina DeLuca (Stefania Spampinato) had a major fallout after the former cheated on her with her ex-boyfriend Jack Gibson (Grey Damon) and announced it to Carina with no regrets at all. "I just slept with Jack an hour ago, so be mad at that."
In the season finale 'Louder Than A Bomb', Maya finally realizes her mistake after her eye-opening encounter with her abusive dad and goes back to Carina. At Grey Sloan, Carina is with Teddy Altman (Kim Raver) when she approaches her and says, "You were right, my dad was abusive and I was abusive too." She added, "Please take me back. I love you, and I've never said that about anyone before except my brother."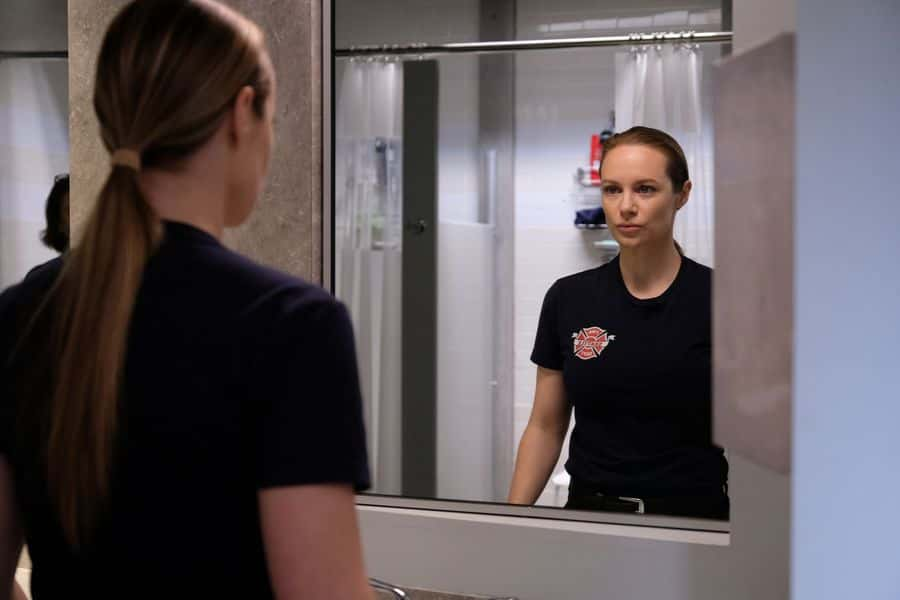 Carina calls her out for being a b***h and tells Teddy, "She cheated on me with her ex-boyfriend and throws it on my face and now, wants me to forget it all." But Teddy (who is a cheater herself) tells her, "Forgive her if you love her." The two girls patch up and kiss. Moreover, they also compliment her for her chopped hair.
It's utterly confusing, especially after Maya's action left fans riling with anger, and it's shocking how someone can forgive another for cheating in a moment. Anyway, who doesn't love the hot lesbian couple? And for #Marina fans, it's time to raise a toast! But, what's troubling most fans is that Teddy — who is a cheater herself — gives them relationship advice, possibly hinting that Owen Hunt (Kevin McKidd) should do the same.
"Did you all forget that Teddy is a cheater too or...? Because it's so funny that you all stan a cheater who gives f**king relationship advice to Carina who wasn't ready to forgive Maya whereas she can't even fix her relationship with Owen," one fan said. Another posted, "You feel Teddy Altman of all people could give me relationship advice?? #Station19."
"Me going to bed like SO pissed because of Teddy Cheater Altman. HER AUDACITY SO UNBELIEVABLE," a viewer wrote. One fan posted, "Teddy telling Carina to forgive Maya if she loves her had me wondering if that's how it will play out for her and Owen," while another said, "Teddy: Forgive her! Me: I HOPE OWEN DON'T FORGIVE YOU!"
Some fans felt it was an act of redemption. "Teddy Altman slightly redeeming herself there #station19," one tweet read and another said, "Teddy was so adamant about Carina forgiving Maya because Teddy was feeling guilty about cheating on Owen with Tom — that was so obvious."
Some LGBTQ and bisexual relationship supporters celebrated Teddy's action though. "Teddy didn't get to live her happy ending with the woman she loved, so she assumed as her job to be the savior of lesbians and we thank her for that. Teddy, after today, we will forever support you!" one said and another posted, "Teddy is now the captain of Marina ship."
One fan even asked for forgiveness for her character. "Me and Teddy made the same comments at the same time, hug her, forgive her, she's never known real love until you came along." As 'Station 19' and 'Grey's Anatomy' come back for the next season, it will be interesting to see what happens to Maya and Carina and whether Owen forgives Teddy or not.
Share this article:
Station 19 Season 3 finale Greys Anatomy fans cheater Teddy Altman Maya Carina bisexual LGBTQ