'Station 19' Season 3 Episode 16 Finale Review: Andy's mother is alive, so why did her father keep it a secret? Spoiler Alert for 'Station 19' Season 3 Episode 16 'Louder Than A Bomb'
It's time to say goodbye to the firefighters of the Seattle Fire Department at Station 19. But before that, a lot happens in the final episode and you may need to catch a breath to keep a track of all the major shocks and surprises in the final episode.
As the episode begins, the firefighters are all crammed up in a houseboat for a party until a five-alarm fire alert calls them for an emergency. The focus goes on to Andy Herrera (Jaina Lee Ortiz) who is hellbent on hunting down the truth about her mother. Even as her husband Robert Sullivan (Boris Kodjoe) is undergoing surgery, she is concerned about her father's death and the secrets he held from her. "The body remembers the event, the brain remembers the trauma," Meredith Grey (Ellen Pompeo) tells Andy and helps her calm down.
Living up to its name, 'Louder Than A Bomb,' drops one too many bombshells in the emotional hour-long ordeal. Get set for a breakup, a makeup, a much-needed exit, a blast from the past, and a shocking revelation! Oh, and those 'Grey's Anatomy' cameos will keep your eyes glued to the screen.
Trouble in paradise: No gay day
The last episode ended with a major revelation. Emmett Dixon (Lachlan Buchanan) came out of the closet, officially to his dad, Fire Chief Albert Dixon (Pat Healy), and quit Station 19. When he told Travis Montgomery (Jay Hayden), the two embraced with a kiss. But in this episode, Travis confesses he didn't have any feelings for Emmett.
A man gets stuck in an MRI machine and expresses his guilt for cheating on his wife before they were married. To ease his conscience, Travis confesses he slept with an engaged friend knowing about the truth. "Do you love him?" the man asks and pat comes the answer, "No!" "That's cold!" he replies. So, Travis doesn't really love Emmett and it's breaking all LGBTQ hearts. By the end of the episode, when Emmett confesses his love, Travis tells him, "I am really sorry that I don't love you back." The two kiss and break up. So is this an end for them? Relationship dynamics can change within a split second in the world of 'Station 19', so you never know. Maybe they'll be back together next season.
Truth comes out: Bye-bye, Dixon!
And if that crushes your soul, wait for the good news. After Sullivan admits to the Civil Service Commission that he took drugs and Fire Chief Albert Dixon (Pat Healy) knew about it, the latter comes under fire. While he initially shrugs it under the carpet, he is arrested for all his crimes by the end of the episode.
Once he is fired in full view of media attention, all the firefighters celebrate!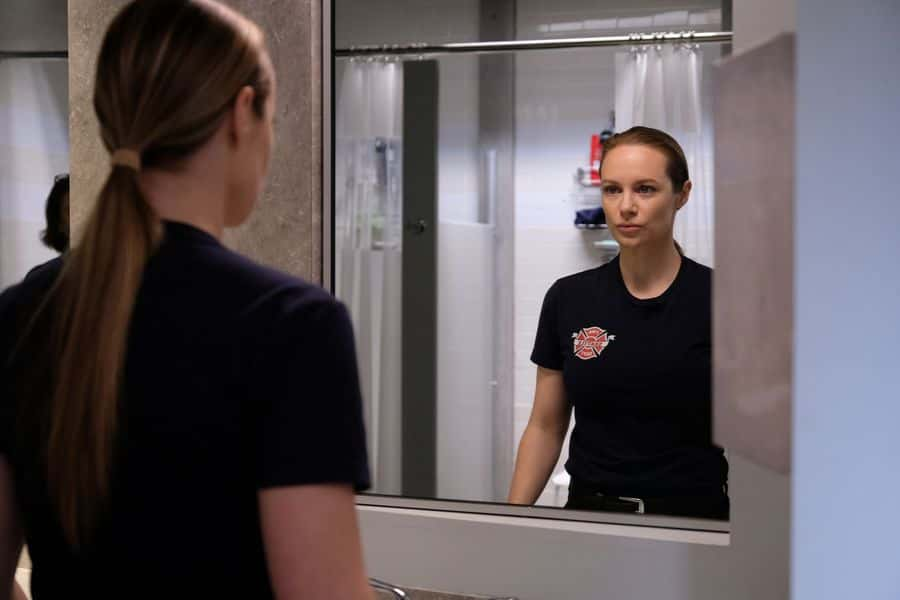 A reality check: Maya and her abusive dad
In the last two episodes, Maya Bishop (Danielle Savre) couldn't help but defend her dad's abusive nature. When her mother, Katherine (Ivana Shein) came to tell her about her dad's doings, she shunned her struggle and even had a major fallout with her girlfriend, Carina DeLuca (Stefania Spampinato) after cheating on her with Jack Gibson (Grey Damon).
In this episode, as she comes face-to-face with her dad, she gets a big reality check. During the scene, when she refuses to listen to him, he yells at her saying, "Don't raise your voice at me, young lady!" and pulls her ponytail. It is an eye-opener for her and she finally realizes how wrong she was. Loathsome of her actions, she goes to see her reflection in the mirror and chops off all her hair. "Everyone saw the truth about my dad but me," she says to Jack and repents her action.
A lasting love: Does Carina forgive Maya?
After realizing how wrong Maya is, she goes back to Carina. At Grey Sloan, Carina is with Teddy Altman (Kim Raver) when she approaches her and says, "You were right, my dad was abusive and I was abusive too." She added, "Please take me back. I love you, and I've never said that about anyone before except my brother."
Carina calls her out for being a b***h and tells Teddy, "She cheated on me with her ex-boyfriend and throws it on my face and now, wants me to forget it all." But Teddy (who is a cheater herself) tells her, "Oh my God, forgive her." The two girls patch up and kiss. Awww, #Marina fans, it's time to raise a toast!
Dead or alive? Andy's search for truth
As Sullivan lies in the hospital, Andy cares less about him and more about her dead mother. Meredith meets her and helps her deal with her emotional trauma. "The people who love me keep telling me I sound crazy," Andy confesses and Meredith encourages her to follow her gut.

In a flashback, she remembers hugging her mommy, and later, her dad telling her that her mom is "sick." To unravel the mystery, she goes back to her aunt's house to learn more about her mum's death. Guess what? She runs into her mother, who is alive. Wait, what? How is she alive? And she was alive, why did Pruitt keep it a secret all these years? Was she suffering from a mental disease?
As 'Station 19' comes back with Season 4, all the mysteries will be unlocked. Until then, we can only wait. Directed by Paris Barclay and written by Emmylou Diaz, the episode wraps all the loose ends with a shocking twist and gives a major cliffhanger to mull around. While we join Andy is her search for truth, all we hope is that the suspenseful plotline in the next season is worthwhile.