Stan Lee accuses daughter and three others of trying to gain control of assets and property, claims 'elder abuse' Stan Lee, comic-book writer, editor, film executive producer, and publisher extraordinaire, has given life to characters such as Spider-man, the Hulk, Doctor Strange, Daredevil, and Black Panther, but in his advanced age, has found himself needing a superhero himself.
According to a recent piece by Hollywood Reporter, Lee's 67-year-old daughter Joan Celia Lee, or J.C for short, physically and psychologically abuses her 95-year-old father, resulting in the Marvel supremo signing a declaration on February 13 this year which accused J.C as well as three others in being complicit to the abuse.
The declaration names 'three bad men': Jerardo 'Jerry' Olivarez, who used to be a business associate of J.C, Keya Morgan, who is Lee's guardian and caretaker, and Kirk Schneck, who serves as J.C's attorney, and claims they improperly influenced his daughter who has 'very few adult friends.'
Lee, who is worth anywhere between $50 million and $70 million and receives $1 million a year in Marvel royalties, claimed that the trio had 'insinuated themselves into relationships with J.C. for an ulterior motive and purpose,' which was to take advantage of his old age and 'gain control over my assets, property, and money.'
He doesn't pull back the punches when it concerns his daughter either. The shocking declaration was reportedly signed after the 95-year-out had a falling out with J.C when he was fighting 'a little bout of pneumonia' and details his turbulent relationship with her.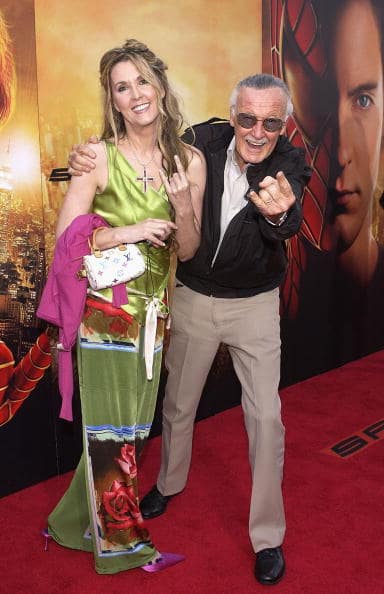 Lee wrote that he and his late wife of 70-odd years, Joan, arranged for a trust for their daughter because she had trouble supporting herself and overspent, regularly billing between $20,000 to $40,000 on her credit cards. It was also described how, when he and his daughter disagreed - which was apparently a common sight - she 'typically yells and screams at me and cries hysterically if I do not capitulate.'
Lee also explained that J.C demanded changes in her trust from time-to-time, including a transfer of properties to her. But such is his distrust for her financial acumen that he never once gave in to her demands, as it 'would greatly increase the likelihood of her greatest fear: that after my death, she will become homeless and destitute.'
There is, however, a twist in the tale. That declaration was signed under the guidance of lawyer Tom Lallas, who was soon after removed from his post but not before a tense confrontation that required LAPD to intervene at his Hollywood Hills home.
Soon after, Morgan and J.C began asserting more influence on the nonagenarian. They chose Jonathan Freud to replace Lallas and the lawyer was given control over all matters concerning Lee. They limited Mike Kelly, Lee's assistant of almost 25 years, to weekly pre-approved and supervised meetings; the pair normally met in private and one-on-one. They also fired his housekeeper and gardener, who had also been with Lee for decades and hired a new accountant in Vince Maguire, who conveniently happens to be a friend of Morgan's.
All of Lee's communication is also now controlled by Morgan, and Olivarez has been said to be directly involved in multiple business deals and transactions that have led to the 95-year-old spending hundreds of thousands of dollars, including buying a condo for $850,000.
When Morgan realized that a copy of the declaration was in the hands of the Hollywood Reporter, he made a video of Lee distancing himself from the document. While the 95-year-old does not deny signing it, he states that it is "totally incorrect, inaccurate, misleading and insulting."
He said: "I want to say as desperately as I can my relationship with my lovely daughter J.C. is wonderful. My relationship with my good friend Keya Morgan is great. We're best friends," adding that 'my relationship with my daughter has never been better, and my friend Keya Morgan and I also have a great relationship … anybody who is saying anything [else] … is just spreading lies.'
But following those saddening reports, fellow comic booker writer and fan Kevin Smith invited Lee to live with him at his house, tweeting: "This is heartbreaking. We love you, @TheRealStanLee. You are always welcome to come live with me — or please let us fans buy you a new place to live."