Six reasons why History's 'Six' is the series to watch this month
'Six' features missions that are based partly in reality and events that some special operations soldiers have genuinely lived through History channel's 'Six' states that its stories are based in truth and chronicle the highly-classified operations of the men who are a part of the US Naval Special Warfare Development Group (DEVGRU), more commonly referred to as SEAL Team Six. The show premiered in January 2017 and was received well by critics as well as audiences and was renewed for a second season that aired a little over two weeks ago.
The first season revolves around a tightly-knit pack of special soldiers: Senior Chief Special Warfare Operator Richard 'Rip' Taggart (Walton Goggins), Senior Chief Special Warfare Operator Joe 'Bear' Graves (Barry Sloane), Chief Special Warfare Operator Alex Caulder (Kyle Schmid), Senior Chief Special Warfare Operator Ricky 'Buddha' Ortiz (Juan Pablo Raba), Chief Special Warfare Operator Armin 'Fishbait' Khan (Jaylen Moore), Special Warfare Operator First Class Robert Chase (Edwin Hodge), and Special Warfare Operator First Class Beauregard 'Buck' Buckley (Danny Boaz).
Season 2 sees the addition of Special Warfare Operator First Class Trevor Wozniak (Eric Ladin), who joins the team, and Gina Cline (Olivia Munn), a high-level CIA Operations Officer who, much to the ire of the SEALS, finds herself in their crosshairs.
The concept has been explored umpteen times, sometimes to great success, others to devastating failure, and has arguably reached a point of saturation. There's nothing new to be seen anymore and you can equate it to how the topics of World War II and Nazi Germany have been exploited to the point of exasperation over the years. So, the question becomes: "Can you teach an old dog new tricks?" 
Season 2 of 'Six' answers with a resounding YES.
#6 Great action sequences rooted in reality
With the millions of dollars that are pumped into costume and set design these days, it's not surprising to see very well-polished shows with high production value hit even the small screens. 'Six' most definitely is not unique in this regard, but because of how the missions we see are based partly in reality and events that some special operations soldiers have genuinely lived through, the viewer gets to vicariously experience the urgency and tension they feel at any given moment. And while the characters regularly proclaim that they're invincible, 'Six' avoids the pitfalls of its peers where the protagonists are seemingly bulletproof. The healthy sprinkling of tragedies means that the highest of highs are often followed with the lowest of lows. 
In a similar vein, 'Six' ensures that its characters are not one-dimensional robotic killers. The emotional toll and scarring that accompanies their stressful life are made apparent — their families in a constant state of limbo, never able to plan for anything more than a few months at a time, the PTSD, the guilt, the jealousy, and politics within the team, no stone is left unturned. 
#5 A larger-than-life villain who isn't laughably transparent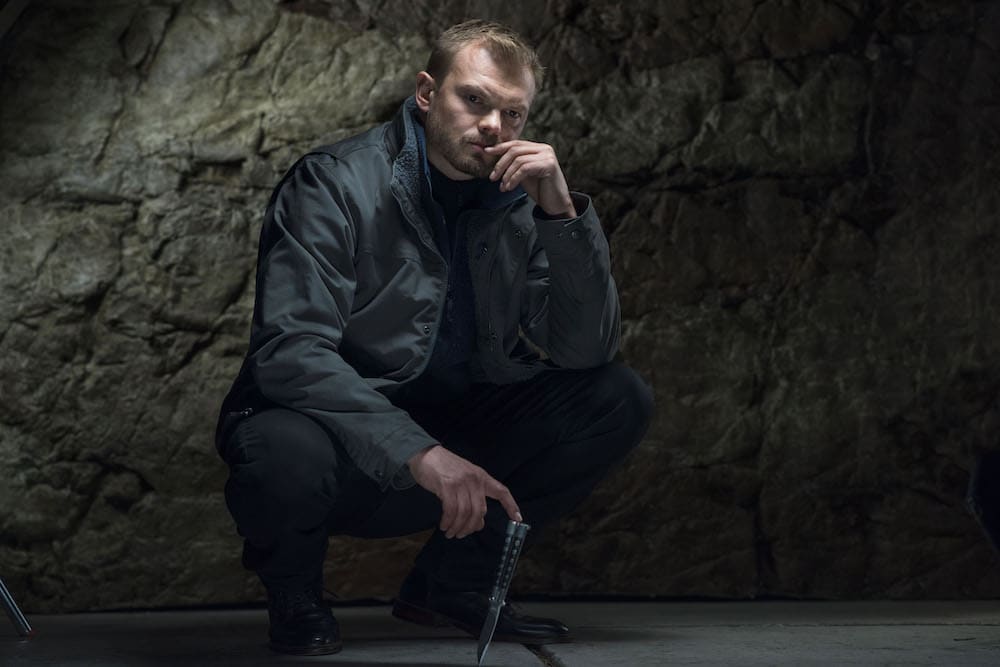 Hollywood has come a long way as far as its villains are concerned. Gone are those days where the antagonist's ploys are laughably transparent and deeply rooted in propaganda (that is, if you ignore the fact that they still inevitably seem to be Russian or Eastern European, but we can give that a pass). Instead, there is a new and equally maddening trend; one of overcompensation.
Now, the so-called bad guy is on the opposite end of the spectrum. Yes, he's lean, he's mean, and he's a killing machine, but not without a tragic backstory that pushed him to his breaking point and made him into more of an antihero. It has reached a stage where it's difficult to even pick a side. 
'Six' manages to strike a reasonable balance between the two.
Season 2 sees Tamerlin Shishoni, aka The Prince, take center stage and become the CIA's, as well as SEAL Team Six's primary target. He too has the tragic backstory we mentioned — he was betrayed by the CIA and saw his wife and child brutally murdered. But that's as far as your empathy goes. There is no grey area with Shishoni. He bombs innocent people and orders executions on a whim. He is what a bad guy should be: Bad.
#4 Excellent character development
What's immediately noticeable with 'Six' is how it goes into intricate detail about every SEAL's life. It differentiates itself from the rest of pack by ensuring that all the screentime isn't hogged by one person; after all, it is supposed to be about the team, not an individual. Season 1 sets the tone by explaining to the viewer why every SEAL is the way he is — his background, his thought processes, his purpose, his aspirations. It's refreshing to see a series give every character a purpose and receive his or her due, even the 'terrorists.' 
And by ensuring that these little tidbits of information are interspersed through the episodes in both seasons and not shoved down your throat in one fell swoop, it engages the viewer's natural curiosity. That empathy for the team that you begin to experience is carefully constructed, piece by piece, to prevent any emotional overload in a show that is primarily looking to fulfill your taste for action.  
#3 No filler episodes
As a consequence of the nature of the topic that it attempts to cover, a lot of series have to spend time constructing their premise, and that is not necessarily a bad thing; look no farther than 'Breaking Bad' or 'The Wire' for proof. However, it's not everyone's cup of tea either, especially if done poorly. What start off as episodes that build on the story turn out to be fillers that do little more than annoy and frustrate.
'Six' could quite easily have fallen into the trap by packing episode by episode with mindless action sequences; a different, but nonetheless equally aggravating type of filler. But, instead, it navigates these pitfalls quite flawlessly. An argument can be made that some of the missions did feel rushed and haphazard, but in retrospect, at least there was almost no point in the show where you, as a viewer, have to sit twiddling your thumbs, waiting for something to happen.  
#2 It's heading towards an explosive conclusion
In reality, there is no actual evidence that season 2 will end with a cliffhanger but, if its predecessor is anything to go by, there is a sense of inevitability about an explosive conclusion. Take into consideration that Tamerlin Shishoni is like an advanced, more sociopathic version of Emir Hatim Al-Muttaqi (Jarreth J Merz) and Boko Haram — in fact, while it was not obvious in season 1, he was the one pulling all the strings.
In its debut season, just when you thought that Rip had made it home safe and sound, and the series even began hinting towards its mental anguish, the showmakers decided to pull the rug from underneath your feet; in quite some dramatic fashion, too. And though just four episodes of season 2 are out, one gets the feeling that the groundwork for a dramatic finish has already been laid.
My prediction is that we see a confrontation between SEAL Team Six and Shishoni (not a very ambitious prediction, I know) but with the added factors of Agent Cline and Michael Nasry (Dominic Adams) thrown into the mix. Someone is going to be caught in the crossfire, but who? 
#1 Addresses the controversial topic of domestic terrorism
Ask any second grader in the United States what the country's worst-ever tragedy is and the most likely answer will be '9/11,' and understandably so. The Osama bin Laden-perpetrated attack on the Twin Towers as well as four other locations across the country led to the deaths of 2,996 people and is the most devastating terrorist attack in the planet's history. While a systematic and pervasive propaganda has ensured that citizens' are focused on what's happening in the Middle East, whereas in reality, domestic terrorism is just as pressing an issue.
What about the second-deadliest terror attacks on US soil? The Oklahoma City bombing on the Alfred P Murrah Federal Building orchestrated by Timothy McVeigh and Terry Nichols that killed 168 people and injured another 168. Two of the primary antagonists on 'Six' are Nasry and Marissa (Katherine Evans), both homegrown terrorists who were influenced and disillusioned by how their country treated them as outsiders. It's a feeling that is surprisingly prevalent in the country and, in addressing it on such a visible platform, the hope is that more attention is drawn towards an issue that could prove to be very problematic in the years to come.