'Shark Tank': Kudos bags $250K joint deal from Mark Cuban and Gwyneth Paltrow LOS ANGELES, CALIFORNIA: What's better than bagging a deal with one Shark? Getting two Sharks on board to invest in your business! Eco-friendly disposable diapers brand Kudos' pitch managed to accomplish this enviable feat on the recently aired episode 10 of 'Shark Tank' Season 14.
Kudos founder Amrita Saigal stepped into the tank seeking an investment of $250,000 in exchange for a 5% stake in her eco-friendly disposable diapers brand. The MIT graduate impressed the Sharks with her impressive educational and work background, as well as her enthusiasm and passion for "elegant sustainability." By the end of her pitch, Amrita made it very clear that she was all in for disrupting the diaper business world. So, it came as no surprise when Mark Cuban showed an interest in making an offer. But before Mark could roll out his offer, Amrita casually pointed out how her product was strongly aligned with guest Shark Gwyneth Paltrow's Goop. This prompted Mark to ask if Gwyneth too was interested in Kudos.
RELATED ARTICLES
'Shark Tank': Why did VoChill founders walk away from Kevin O'Leary's $300K deal?
'Shark Tank' fans slam David Schwimmer for failing to support his friend's business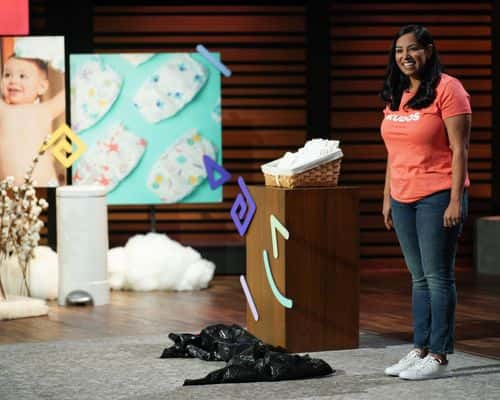 The guest Shark immediately said yes, while recounting her own struggles with using eco-friendly reusable diapers with her kids. She felt that an eco-friendly disposable diapers brand was the need of the hour, and declared that Kudos had a strong potential of making it big. This led to Mark and Gwyneth's teaming up to make a joint offer. The duo rolled out an offer of investing the $250K but in return, they demanded a 12% equity. They pointed out how Amrita was getting two Sharks who had the expertise she was seeking.
While Amrita was flattered to see Mark and Gwyneth's interest, she however felt that 12% equity was too high, and made a counteroffer to see if the sharks would bring down the equity to 8%. Mark and Gwyneth declared that they wouldn't budge beyond 10%, but hinted at being open to taking up advisory shares as well. So, Amrita made her final counteroffer of offering the duo 3% in advisory shares and 7% as equity. The Sharks agreed, and the deal was closed!
As Amrita left the tank in disbelief over closing the deal with two Sharks, Gwyneth and Mark predicted that Kudos would soon become a huge success owing to Amrita's expertise and passion.
'Shark Tank' Season 14 airs every Friday at 8/7c on ABC. Missed an episode? Been wanting to catch up? Episodes can also be viewed the next day on demand and on Hulu. Not just that, you can also watch old seasons and episodes on Amazon Prime Video and iTunes.