Senate Majority Leader Mitch McConnell gives it back to ex-con Don Blankenship in clever tweet
Senate Majority Leader Mitch McConnell's team tweeted its own spin on the poster for the Netflix series' "Narcos" taunting third-place GOP candidate Don Blankenship. Senate Majority Leader Mitch McConnell (Source: Getty Images)
Senate Majority Leader Mitch McConnell, (R-Ky.) is famous for being a Washington power player who means business. However, his campaign conjured up a humorous gag at the expense of a GOP candidate who has been constantly attacking McConnell in the run-up to the primary.
While it was a day for West Virginia voters to cast their precious vote for the Republican U.S. Senate primary, the three contestants running the race were scrutinized throughout their respective campaigns. When the results came in, state Attorney General Patrick Morrisey won the chance to run against the incumbent Democrat Joe Manchin. However, the candidate who was constantly in the spotlight was Don Blankenship.
Blankenship, a multi-millionaire coal magnate who clinched the third spot in the race for the West Virginia GOP Senate nomination on Tuesday, was bid farewell by Senate Majority Leader McConnell, the Republican heavyweight from Kentucky.
McConnell's social media team posted a tweet which had a graphic featuring a smirking Senate Republican saying goodbye to the GOP candidate who is an ex-convict, losing to Patrick Morrisey, the West Virginia Attorney General.
In the aforementioned graphic, McConnell says "Thanks for playing, Don." The artwork is a swing on the "Narcos", the famous Netflix show and it features "Cocaine Mitch", the nickname coined by Blankenship for McConnell. The campaign's meme superimposed McConnell's face onto the figure of Pablo Escobar covered in white powder.
The tweet was posted after it was projected that ex-con Blankenship had lost the West Virginia Republican primary election for a US Senate seat.
Right from the start of the campaign, Blankenship had led a slew of increasingly personal attacks against the Senate Republican leader and his immediate family. He also attacked the family of McConnell's wife, Transportation Secretary Elaine Chao, by calling them "China-persons," along with constantly labeling him "Cocaine Mitch."
---
Blankenship made McConnell the sole target of his campaign speeches and ads, coming in the guise of an "anti-swamp attack on the GOP establishment" similar to Trump. The controversy surrounding Blankenship started right from his conviction for his role in an ill-handled West Virginia mine explosion.
"His father-in-law who founded and owns a large Chinese shipping company has given Mitch and his wife millions of dollars over the years," the Blankenship campaign alleged in a news release defending the ad last week. "The company was implicated recently in smuggling cocaine from Colombia to Europe, hidden aboard a company ship carrying foreign coal was $7 million dollars of cocaine and that is why we've deemed him 'Cocaine Mitch.'"
Having said that, this is not the first time McConnell has played mischief on his political opponents who were beaten. After the firing of former White House Chief Advisor Steve Bannon by President Trump, McConnell's social media team had tweeted a gif of McConnell smirking widely. Bannon was ousted for the comments he made against Donald Trump Jr.
McConnell's humorous trolling was an immediate hit on Twitter. One user cracked, "When Don goes low, Mitch gets high."
---
"This is the first funny thing a conservative has ever made," another wrote.
As of now, Morrisey will run against Senator Joe Manchin, the Democrat from West Virginia, in the November general election. Voicing their support for Morrisey, McConnell's PAC, the Senate Leadership Fund released a statement on Tuesday saying that they intend to stand "shoulder-to-shoulder" with the attorney general in the general election.
"General Morrissey was a champion for West Virginia coal when Barack Obama was trying to run it out of business and Joe Manchin was busy unsuccessfully peddling Hillary Clinton to West Virginia voters," said Steven Law, the head of SLF. "We look forward to standing shoulder to shoulder with Patrick Morrisey to defeat Joe Manchin this November."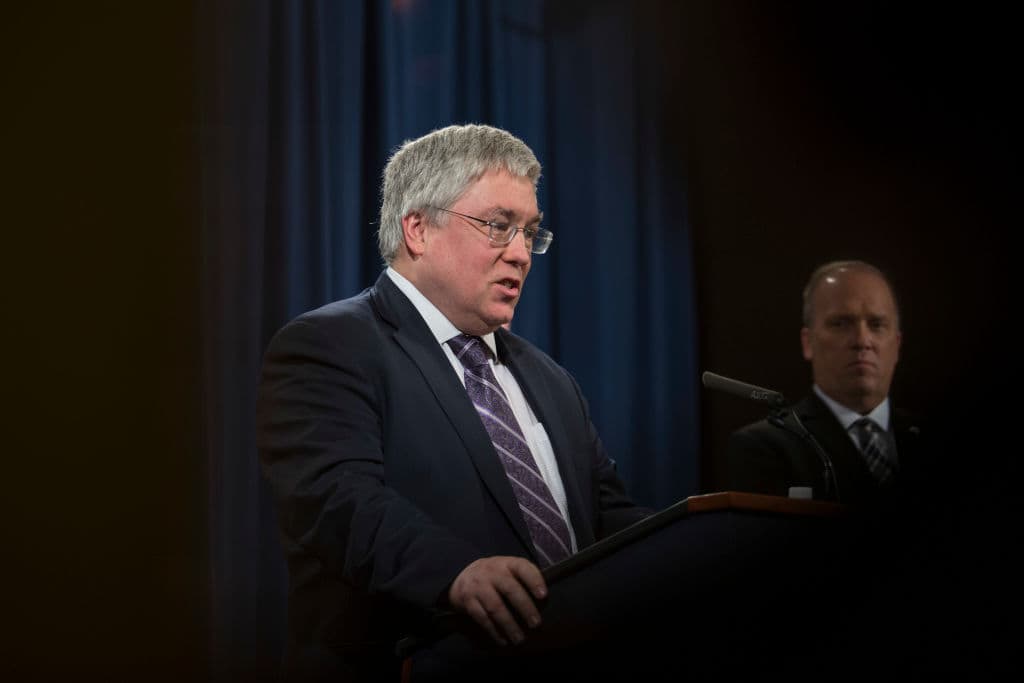 McConnell's play on the Netflix blockbuster even drew a reaction from the show's official Twitter account. The verified "Narcos" account retweeted Mitch's creative piece saying "Low blow, Mitch."
---
According to the show's description on Netflix, "Narcos" is "the true story of Colombia's infamously violent and powerful drug cartels."