Selena Gomez: 5 times the singer was dragged into drama by her 'friends' but still took the high road Selena Gomez celebrates her 29th birthday this year, and much can be said about her journey from a Disney starlet to a mature pop star. Even more can be said, however, about her growth as a person, beginning from a child star with a highly polished image to a teen learning to navigate conversations about everything from relationships to race to health, to an adult that speaks vocally about her own struggles with the same topics as well as lending her support to various causes including producing shows like '13 Reasons Why'.
But Selena's growth has, rather unfortunately, been undercut by some of the drama in her life. No, we don't mean her on-again-off-again and often controversial romance with Justin Bieber. Selena has also had the misfortune of having some questionable friends and acquaintances in her sphere, several of whom have gone on to make statements that dragged the singer into the spotlight despite her best efforts to steer clear of drama.
Here are five times celebrities tried to start drama with Selena Gomez.
Miley Cyrus: 'FU'
Miley and Selena's feud famously stemmed from both having dated Nick Jonas during their teenage years. But things really came to a head when Miley and her friend Mandy Jiroux parodied Selena and her friend at the time, Demi Lovato. Miley would later address the incident via a rather half-hearted apology, claiming they were "just having fun."
Their beef would continue after Selena began dating Miley's good friend Justin Bieber. In 2013, Miley infamously tweeted at Selena during Jingle Ball, asking her, "Where you at," but Selena never responded. And in 2014, in the middle of her 'Bangerz' tour, Miley whipped out a cardboard cutout of Selena as she sang her song, 'FU', tossing it on the stage, much to the delight of the audience. The same year, she would claim that Selena beating her to win the Favorite International Award was because the award was rigged. Throughout this alleged beef, Selena steered clear of adding fuel to the fire.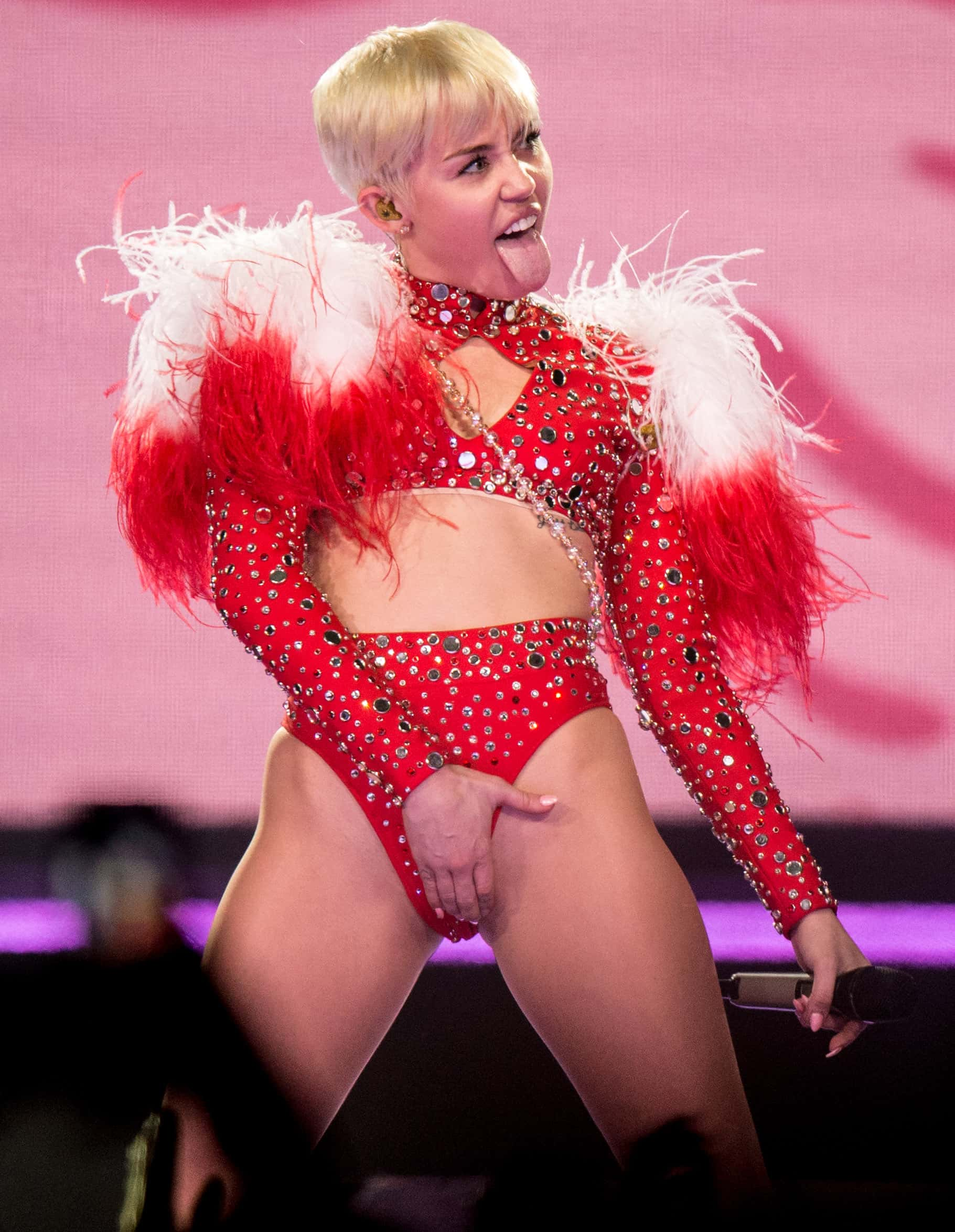 Come 2019, however, it appeared the two stars had finally buried the hatchet after they began interacting on social media again. Miley would also later quash any rumors of ongoing feuds in an interview with Capital FM, indicating both women have matured and moved on.
Demi Lovato: 'People change and people grow apart'
While Miley and Selena were beefing, Demi and Selena were the best of friends. Their relationship went all the way back to their time working together on 'Barney and Friends' in 2002. Throughout their childhood and teenage years, the two seemed inseparable. So when Demi recently revealed the two weren't friends anymore, it broke several hearts.
The two's friendship was most evident on their YouTube vlogs - the same ones Miley would later parody. They were vocally supportive of one another's music and acting careers and repeatedly spoke about how close they were. But when 2010 rolled around, something seemed amiss. While signing a few autographs, Demi was asked how Selena was doing by a fan. Her response? "Ask Taylor."
As it turned out, Selena had a new BFF in her life, Taylor Swift. And that, evidently, did not sit too well with Demi. The singer would later state in an interview with Girls' Life, "We're both busy, and I wish the best for her," which was a far cry from how she previously gushed about her friendship with Selena. She also seemingly shaded Selena, stating, "True friends don't let their friends or family be mean to you. If you can't trust somebody, you can't be friends with them." The two mended their bond in 2010 after Demi checked into rehab and Selena called her to see how she was doing.
Cut to 2014, however, and things seemed rocky again. Speaking to Andy Cohen, Demi shared that unfollowed Selena on Instagram because "people change, and people grow apart." The two continued to interact online, sharing selfies and heartfelt messages, and in 2015, Selena referred to Demi as her "family." As of 2020, the two are seemingly no longer friends - again - having both unfollowed one another, with Demi sharing in a Harper's Bazaar interview that while she would always love Selena, "I'm not friends with her." A fake anti-Selena Instagram account allegedly belonging to Demi would also surface in 2020, further fueling those who believe Demi was not particularly a fan of her former friend.
Lorde: 'I'm sick of women being portrayed this way'
Back in 2013, Lorde was a teenage superstar, steadily climbing her way to global stardom. She was also known to be an extremely outspoken artiste, one who had no issue calling out what she deemed unacceptable. And while her Taylor Swift "diss", which saw Lorde claim Swift was so perfect she was setting an unrealistic expectation for young girls and women, was later clarified by the singer, she stuck by her attack on Selena's 'Come & Get It', which she claimed had some anti-feminist themes. Her comments earned her criticism from several corners, including fellow artiste Cher Lloyd.
Selena, not one to address feuds publicly, had this to say about Lorde in her The TJ Show appearance: "I appreciate everybody's opinion." She added, "...in my opinion, it's not feminism if you're tearing down another artiste," before concluding by saying, "...but you know, she's young. She's got so much talent, she's gonna take over; she gets it, so I don't take it to heart."
The Weeknd: 'Thought I Knew You'
It's no secret that Selena and The Weeknd dated in 2017, following the latter's split from Bella Hadid and preceding the former rekindling her romance with Justin Bieber. The Weeknd, following their breakup, would address his apparent heartbreak in multiple songs, most notably the Nicki Minaj track 'Thought I Knew You', which many thought was him taking shots at his ex.
The song addresses a complicated relationship, as well as recognizing someone has been lying to you about who they were. He also sang about the breakup on 'Call Out My Name', which included the lyrics "I almost cut a piece of myself for your life," which many presumed referred to Selena's kidney transplant. The song also asks, "Girl, why can't you wait 'til I fall out of love?" and additionally states, "Guess I was just another pit stop / 'Til you made up your mind," which were thought to be references to Selena going back to Justin almost immediately after breaking up with The Weeknd.
Chris Rock: 'A poor man's Beyoncé'
In 2016, Chris Rock decided that comparing Selena to Beyoncé was a good idea. Unfortunately for him, both women have extremely dedicated fanbases that were more than happy to drag him for what he had to say.
Chris shared a meme via Twitter that included a picture of Selena in a glittery ensemble during a performance with the caption, "When you buy your Formation tickets on Craigslist." He added, "This is true." A swarm of Selenators instantly descended on the comedian for his "joke", which was described by many as him calling Selena "a poor man's version of Beyoncé". Some accused him of misogyny, others claimed he was not talented enough to be coming for Selena. Some even called him out for dissing Selena after she happily posed for photos with Chris and his daughters, who were Selena fans, back in 2010.
Selena herself, as always, remained silent on the matter, choosing to take the high road and ignore the drama.