'SEAL Team' Season 3 Episode 13 Review: Ray almost took the fall for Bravo brothers, why couldn't [spoiler]? Spoiler alert for 'SEAL Team' Season 3 Episode 13 'Fog of War'
What are the three words Bravo Team never wants to hear? "Total mission failure." After the tragic death of Dr Issac Craig (Paul Fox), those words have been haunting the Navy SEALs' minds. The map has been laid. Tiny figurines have been set up. The Bravo Team is set to assess what went wrong.
On a mission in Venezuela, the Bravo Team went to save Dr Craig and a colleague who were being held hostage by Hezbollah operatives. But since the team was split up into several smaller groups, they need to put the missing pieces of the puzzle to get a clear picture of the events of the mission. Reflecting back at the past, Jason Hayes (David Boreanaz) and all his team members wrack their brains and conduct a review to identify who is responsible for a career-ending mistake.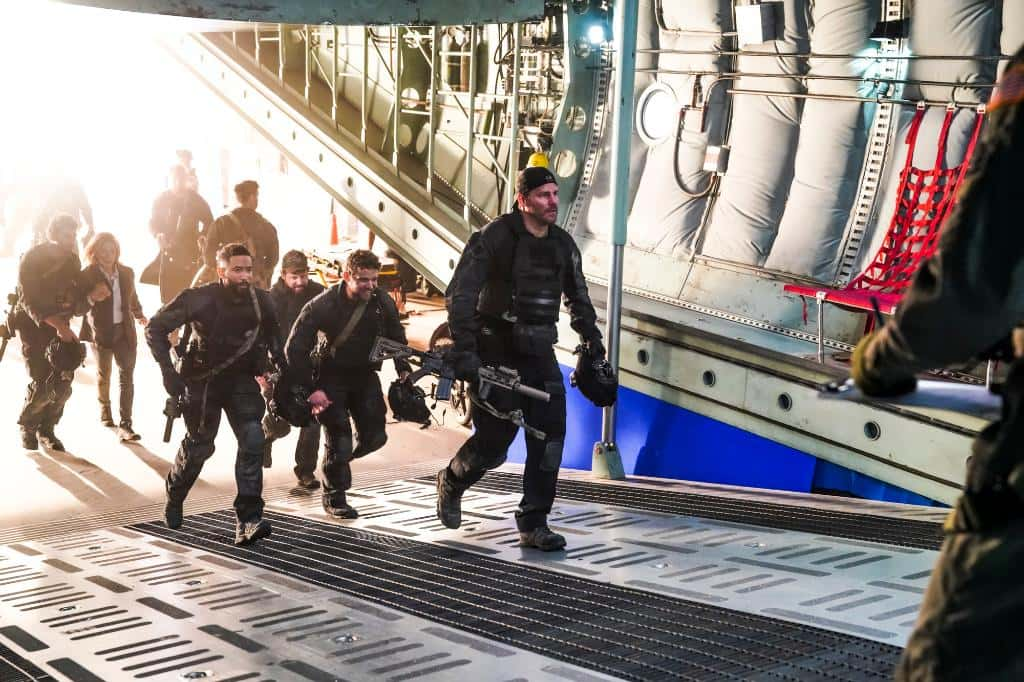 Framing it with the classic Rashomon effect, 'SEAL Team' brings one of its best episodes and proves that brotherhood comes before anything else in the world. There may be testing times but in the end, the team will stick together through all the turbulence and trauma.
Shaken after the mission, Mandy Ellis (Jessica Paré) and Lisa Davis (Toni Trucks) have a heartfelt conversation. "I'm sorry about Dr Craig," Lisa tells Mandy. Checking up on her, Mandy replies, "You were a heartbeat away from being killed." The team can't stop wondering if a felony was committed after Eric Blackburn (Judd Lormand) asks Jason if it was a clean mission. "What the hell happened?" Jason asks in a stern tone. How did the bomb explode? Was it a clean operation? These questions have been hovering in everyone's minds.
Amid flashes of heavy gunfire and warfare, Ray Perry (Neil Brown Jr) recalls how he was on the second floor when a man with a machine gun pinned them down. To stun the shooter, Ray tossed a grenade but the room exploded. No one has a clue how that happened. Clay Spenser (Max Thieriot) then narrates the same tale from his point of view. He was on the third floor when he saw an invader wearing an S-vest. Sonny Quinn (AJ Buckley) has a similar story to tell. So, did the man blow himself up?
Ray is not convinced. When he sees Sonny and Lisa "trying to clear out things that are not on track," he barges in the middle of the conversation. "What's not on track?" he asks. Later, he gets the team together for another After Action Report, and things seem to be a tad bit more clear. Sonny finally admits that he didn't necessarily see the S-vest and adds the other men with Dr Craig were only in tees. Moreover, he tells the team that he saw drums of fuels at the location. Is he being totally honest now? The story still needs to be set straight.
When nothing works out, Ray plans to take the fall on everyone's behalf. "If I have to leave, to preserve Bravo's dignity, young brother, so be it," he says, filling Jason's heart with a hole. Jason gets the team together to place all the cards right, or else, Ray — and his dreams of being a Warrant Officer — could be smashed into smithereens. Meanwhile, Jason and Mandy finally get a chance to talk about the incident. She is remorseful of putting the entire team in danger and forcing them to go after the doctor.
Amid all the chaos, Mandy and Lisa discover that the Intelligence, Surveillance, and Reconnaissance (ISR) Operator was running all throughout. In the video footage, they discover that someone actually flung the bomb from outside. That is a major plot twist... isn't it? The guy is found to be Vic Lopez (Lucca De Oliveira). What's more shocking is that he stayed mum even after the theory about the S-vest was knocked off. Not just that, he didn't even come clean when Ray planned to take the blame.
Well, he does confess that he didn't know the doctor was in the room, but the fault still lies on his shoulder. Of course, Ray forgives Vic but he cannot trust him any longer. In an emotional speech, he says, "Bravo has given me my family. I figured I'd lose my brothers too if I took the fall." In a split-second, Ray cuts off Vic's trident badge.
Thanks to the poignant ending, the episode, titled 'Fog of War', melts hearts and leaves viewers with a lesson learned for life. Real brothers stand by each other, even if it means sabotaging their own dreams and career. And the ones who don't are cut off from the squad. As new episodes of 'SEAL Team' air every Wednesday, it might delve deeper into the unbreakable bond of the Bravo fam.