SDCC 2019: Marvel's 'The Eternals' set to star Angelina Jolie, Richard Madden and Salma Hayek among others; full cast and release date revealed Marvel made a huge splash with its announcement for 'The Eternals' during their Hall H panel at San Diego Comic-Con 2019. After the Avengers, Marvel Studios is all set to introduce the world to a whole new team of superheroes and these guys are like nothing you've seen before. Say hello to the Eternals, a race of god-like beings that have been kicking around for thousands of years in the MCU, though we're only now getting to see them.
"They've been there amongst the MCU, we haven't met them before," studio president Kevin Feige said. The movie will be directed by Chloe Zao.
The cast of 'The Eternals' was certainly a pleasant surprise at the SDCC 2019 Marvel Studios panel. The cast includes Richard Madden as Icarus, Kumail Nanjiani as Kingo, Lauren Ridloff as Makkari, Bryan Tyree Henry as Phastos, Salma Hayek as Ajax, Lia McHugh as Sprite, Don Lee as Gilgamesh, and Angelina Jolie as Thena.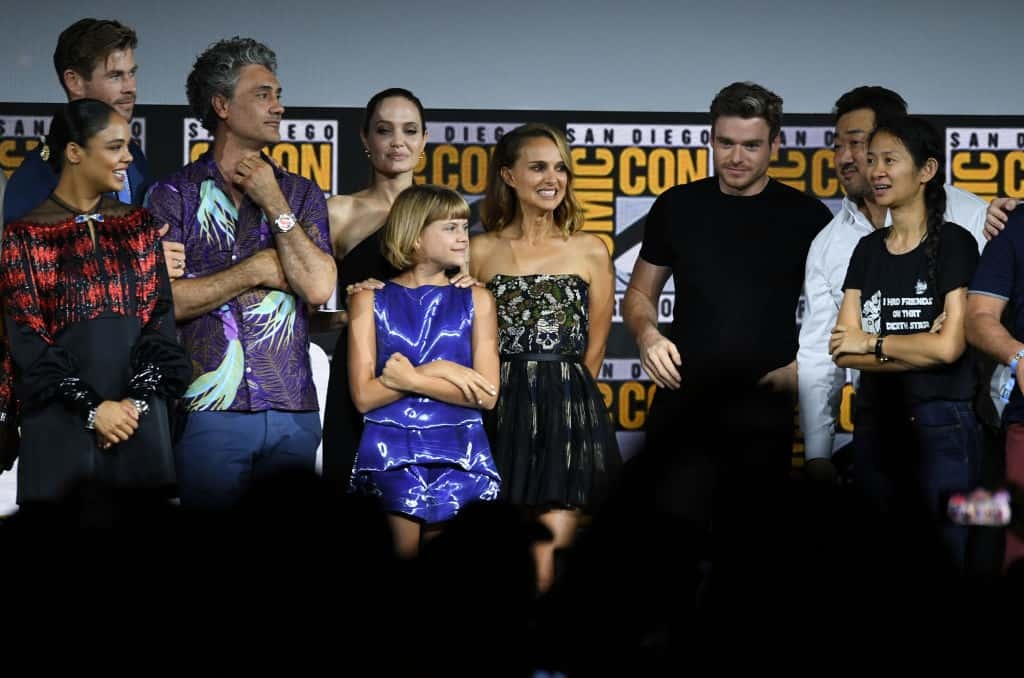 "The Eternals are a race of immortal aliens," Madden said explaining the story. "Sent here by the Celestials to protect mankind from the Deviants. I play Icarus, who is the sexiest of them." Now we know who to root for.
Along with the cast announcement, the makers also announced a release date of November 6, 2020.
---
Just announced in Hall H at #SDCC, Marvel Studios' THE ETERNALS with Angelina Jolie, Richard Madden, Kumail Nanjiani, Lauren Ridloff, Brian Tyree Henry, Salma Hayek, Lia McHugh and Don Lee. Directed by Chloé Zhao. In theaters November 6, 2020. pic.twitter.com/k6ZgfX38VW

— Marvel Studios (@MarvelStudios) July 21, 2019
---
"We really get to explore what it means to be human and humanity in our time on this planet," Zhao said. "It feels great [to portray a strong female hero in the MCU]," Hayek said. "It takes a strong woman to do a movie like this," she added, speaking about the movie's director.
"I am proud to have a diverse family," Hayek concluded. The surprise factor of the panel, Jolie, had all eyes on her. "I am gonna work ten times harder," Jolie said. "We are all going to be working very, very hard. I am in training. Thank you very, very much." We had last seen Jolie at Comic-Con in 2010 for 'Salt' panel discussion.
Henry, meanwhile, talked about bringing 'a whole new flavor to Phastos' and McHugh said she couldn't believe she's was playing one of the oldest MCU characters. It's incredible to know that McHugh, a Marvel movie buff, was the youngest person on the stage.
The panel was lively as the actors fielded questions related to their respective roles. Answering a question about who would win in a fight between Gilgamesh and the Hulk, Don Lee said, "Is Mark Ruffalo here? No? Then I would say Gilgamesh."
As previously reported, 'The Eternals' is a feature adaptation of a comic by Jack Kirby which deals with the superpowered near-god like beings called The Celestials and their adversaries The Deviants in a war set millions of years ago. The Celestials experimented on humans creating both races of immortal spinoffs.
Since Phase Three of the Marvel Cinematic Universe ended this summer with "Spider-Man: Far From Home" and "Avengers: Endgame." MCU's Phase 4 which has 'The Eternals' in its list' looks pretty promising already.