'RIP Original Tiger King': Fans mourn Roy Horn who survived a tiger attack but died at 75 due to coronavirus
Talking about his partner, Seigfried said, 'Roy was always bigger than life' Roy Horn, the dark-haired one-half of the popular German magician duo Seigfried and Roy, died at 75. The showman captivated the Las Vegas strip for more than 25 years and lost his life due to COVID-19 complications.
"Today, the world has lost one of the greats of magic, but I have lost my best friend," his partner, Siegfried Fischbacher, said in a statement. "From the moment we met, I knew Roy and I, together, would change the world. There could be no Siegfried without Roy, and no Roy without Siegfried. Roy was a fighter his whole life, including during these final days. I give my heartfelt appreciation to the team of doctors, nurses, and staff at Mountain View Hospital who worked heroically against this insidious virus that ultimately took Roy's life."
The illusionists were known as big-cat lovers and were popular for making tigers and lions appear and disappear during their shows. The danger of bringing a wild animal onstage and controlling it thrilled viewers and they reportedly earned a whopping $45 million a year with the act.
Talking about his partner, Seigfried said in the ABC 20/20 special 'Siegfried & Roy: Behind the Magic', "Roy was always bigger than life. Roy had these dreams, and I had the ideas. His dreams were always so big, but we made the dreams become a reality."
A tragic incident scarred his life. On his 59th birthday in 2003, he was leading a 400-pound, seven-foot-long striped white male tiger Mantecore, when he stumbled and fell. The tiger sunk his teeth into Horn's neck and the wounds led to heavy bleeding and a stroke. A bighearted man, Roy presented the story: "Mantecore saved my life." He told People magazine in 2004, "He instinctively saw that I needed help, and he helped me."
After his death, fans took to Twitter to mourn the loss. "#RoyHorn I've had the honor to meet Siegfried, but I've always wanted to meet Roy, may you Rest In Peace Roy. I know this is a difficult time for everybody... #SiegfriedandRoy," one said and another said, "Survived being bit in the neck by a 380-pound tiger... but coronavirus takes Roy Horn from us. rest easy, we love you."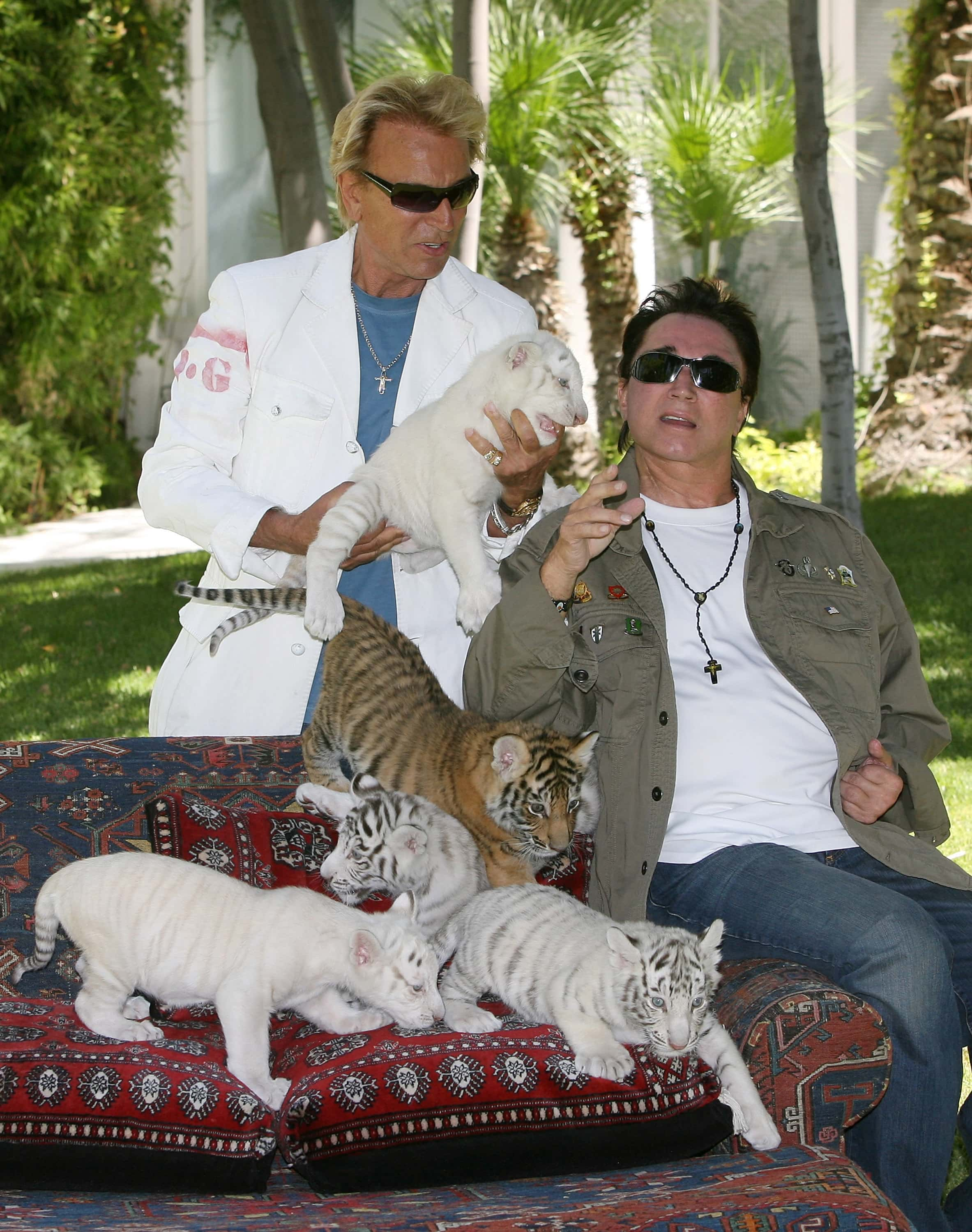 One fan wrote, "Roy Horn. I don't know much about the Siegfried & Roy act, per se. But I know Roy never let any harm come to Mantecore the white tiger, after it attacked him onstage in '03. And I've respected him ever since. I'm sorry we have lost him."
Another posted, "RIP to half of a historical duo!!! Vegas will never be the same."
Another said, "Woooo Lord! Roy survived the tiger incident, but passed away from Covid-19!"
Sharing old memories, one posted, "So sad to read about #RoyHorn First show I ever went to & they completely mesmerised me! Amazing entertainers! Will always be 1 of the best shows I've ever seen! Always cherished the signed book & cuddly tiger they kindly gave me. RIP #SiegfriedandRoy #Sarmoti #Vegas," and another wrote, "Roy was and is my great HERO RIP my tiger."
"2020 the endless year of the tiger king. #royhorn," one said and another wrote, "The original Tiger King has died. RIP Roy Horn." The final performance of Siegfried & Roy was at a 2009 charity event to benefit Las Vegas' Cleveland Clinic Lou Ruvo Center for Brain Health.
Share this article:
'RIP Original Tiger King': Fans mourn Roy Horn who survived a tiger attack but died at 75 due to coronavirus