Where is Rosemarie Fritzl now? Elizabeth Fritzl's mom didn't know husband abused daughter in basement for years Elisabeth Fritzl was held captive for 24 years by her father, Josef Fritzl. The girl was assaulted, sexually abused and raped numerous times during her imprisonment in the basement of their home in Austria.
Elisabeth gave birth to seven children and three of them remained in captivity with their mother. One of them died just days after birth at the hands of Josef and the other three were brought up by Fritzl and his wife, Rosemarie, having been reported as abandoned babies. He was later arrested, but his wife, however, claimed she had no knowledge at all about her daughter's imprisonment of 24 years in their own basement.
READ MORE
'Girl in the Basement' Review: Disturbing film inspired by real-life sexual assault is not for the faint-hearted
Where is Elisabeth Fritzl now? Chilling true story of 24 years of rape and captivity of 'Girl in The Basement'
Josef pleaded guilty to charges of murder by negligence of his infant son (and grandson) Michael, as well as the decades of enslavement, incest, rape, coercion and false imprisonment of his daughter Elisabeth and was sentenced to life imprisonment.
However, one of the most suspicious things to have come out from this gut-wrenching case is Elisabeth's mother's reaction to the entire scenario. According to various reports, Rosemarie Fritzl did not know what was happening in the basement of their house. She was unaware of all the abuse that her daughter endured over the span of 24 years.
Many speculations have been made about her involvement in the case. Police never charged Rosemarie regarding the cases and quickly cleared her after conducting an interview in 2011. However, there were a lot of suspicions about her involvement because Rosemarie and Josef were seen in supermarkets buying diapers and baby food with her husband.
What did the police say about her involvement?
Police quickly ruled out the possibility that Rosemarie knew about her husband's actions. She was never allowed in the basement and her husband won't even allow her to enter it. But how can she not enter the basement for 24 years? That's something the police still feel is really illogical and hard to believe that no one knew anything about Elisabeth's disappearance.
Franz Pölzer, the head of the criminal investigations unit in the province of Lower Austria, noted: "It defies logical thinking that a woman who has had seven children with her husband would make it possible for him to have another relationship with his daughter and have another seven children. We still find it hard to believe that no one – no neighbor, family member, or acquaintance – noticed anything."
However, she still said that she did not have an idea of what was happening in the basement of their house.
Did Rosemarie also face abuse at the hands of Josef?
Josef was already a convicted rapist before she held his daughter captive and sexually abused her. In 1967, Josef raped a sleeping nurse at gunpoint in the nearby area and told her that he would kill her if she went to the police.
So, it is possible that Rosemarie also endured a lot of abuse after her marriage to Josef. In an interview with Daily Mail, one of Elisabeth's carers revealed that Rosemarie was as "brutalized as anyone" by his husband's tyrannical rule.
On the other hand, Christine R, one of Rosemarie's sisters, noted he took "sadistic pleasure in humiliating his wife" in front of others. She added: "He used to tell her off in front of the others. The worst things were his crude, dirty jokes, which he used to laugh loudly about. This was embarrassing for everyone because we all knew they hadn't had sex with each other for years." He would also beat his children for his pleasure. He would beat them for even playing outdoors.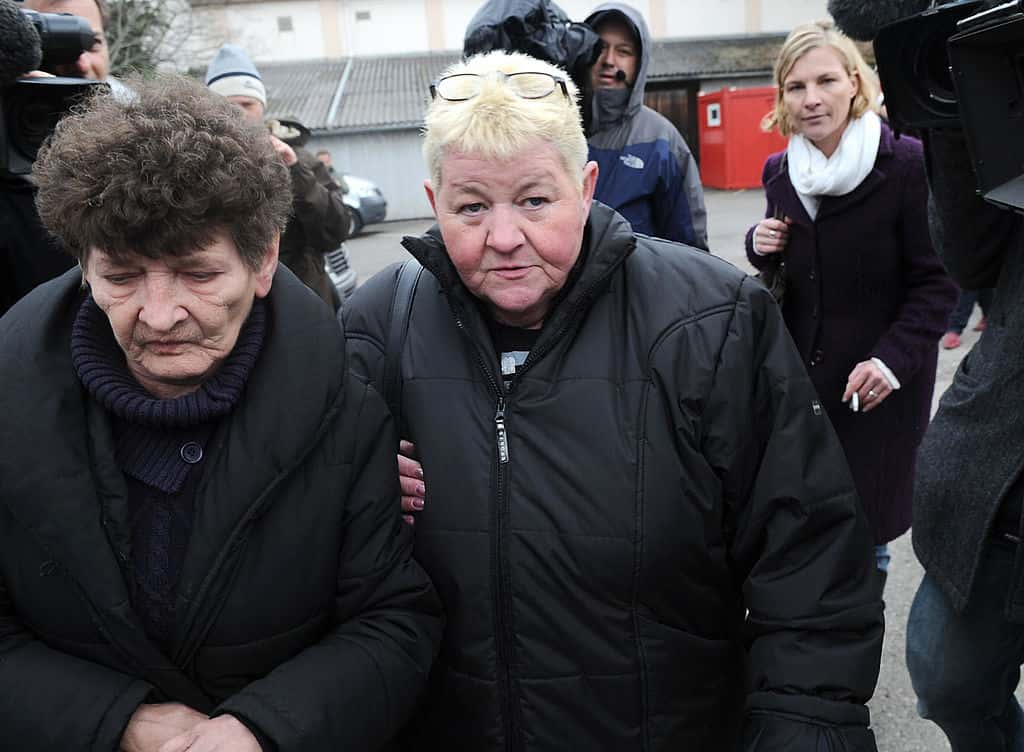 The comments made by Rosemarie's sister reflect what kind of man he was and how he terrorized the entire family through his actions.
Rosemarie's life is "even worse" now
The entire scenario has left Rosemarie in an awful situation. Elisabeth feels her mother knew about the abuse and kept quiet. It is this doubt which has caused a division that will probably never heal. Meanwhile, Christine believes that her sister's condition is even worse now than she was with Josef.
She said: "My sister Rosemarie has really been destroyed by this whole business. She's had a terrible life and I never thought I would say it but I think her life is even worse now than it was when she was with him."
Where is Rosemarie Fritzl now?
In 2012, it was reported that Rosemarie quickly moved out of her husband's house and changed her name. She lives on a modest pension in a rented first-floor flat in Linz, northern Austria. Meanwhile, in 2019, The Mirror reported that she still lives on her pension and tries to make some extra money by selling homemade bags and paintings. Her sister also claimed that Rosemarie's relationship with Elisabeth is now better, claiming "whatever suspicion there was has gone."
The theme of Lifetime's new movie 'Girl in the Basement' has drawn many parallels to Elizabeth's real-life story. The film, however, shifts the appalling Fritzl story to the American suburbs, giving it a different treatment in narration while altering, omitting and expanding upon details of what actually happened between 1984 and 2008 in the quiet town of Amstetten, according to Oxygen.
Share this article:
rosemarie fritzl elisabeth mother josef sexual abuse daughter unaware actions case children raise