Historian Ron Chernow calls on journalists at White House correspondents' dinner to 'fight hard' for basic truths
President Donald Trump decided to snub the event for the third year in a row and had also instructed administration officials and aides to not attend the event Ron Chernow (Source : Getty Images)
Historian Ron Chernow captured and summarized the overall mood at the White House Correspondents Association dinner in one sentence. At the dinner on Saturday night, Chernow shared, "We now have to fight hard for basic truths that we once took for granted." He also honored journalists with a history lesson.
He was well received by the audience and smoothly switched from telling clever jokes to a call to arms for democracy. Chernow, who is the author of the Alexander Hamilton biography that inspired the hit musical 'Hamilton', only took President Donald Trump's name once but his "enemy of the people" slogan (which he has called the media) was often repeated.
President Donald Trump decided to snub the event for the third year in a row and had also instructed administration officials and aides to not attend the event. However, a small fraction of Trump aides which included POTUS' counselor Kellyanne Conway was seen attending some of the events before Saturday night's dinner.
Chernow shared, "When you chip away at the press, you chip away at our democracy." He also added that all those who were present were a part of "Team USA, not members of enemy camps." Recently, in Green Bay, Wisconsin, the POTUS ranted about how journalists are "fakers" while the crowd shouted "CNN sucks" in the background.
Chernow said, "We now have to fight hard for basic truths that we once took for granted."
He also spoke about how the first president George Washington also felt misunderstood by the media but never made that it his personal vendetta. "Relations between presidents and the press are inevitably tough, almost always adversarial, but they don't need to be steeped in venom," Chernow continued.
The second president John Adams had used laws to crack down on the media which cost him his re-election campaign in 1800. "Campaigns against the press don't get your face carved into the rocks of Mount Rushmore, for when you chip away at the press, you chip away at our democracy. The tribunal of history does not deal leniently with presidents who punish the free press," Chernow added.
Chernow paid tribute to journalists and said, "Donald J Trump is not the first and won't be the last American president to create jitters about the first amendment. So be humble, be skeptical and beware of being infected by the very things you're fighting against."
Given how Ida B Wells was able to expose the horrors of lynching to Bob Woodward and Carl Bernstein reporting on Watergate, Chernow shared, "this is a glorious tradition, you are folks are part of it and we can't have politicians trampling on it with impunity." All those present in the ballroom at the Washington Hotel rose to their feet and gave Chernow a standing ovation.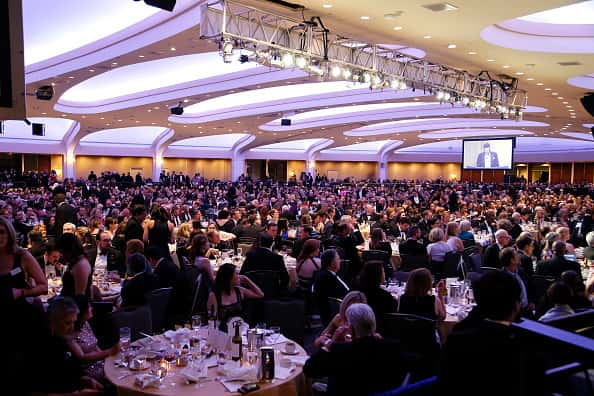 "As we head into election season, I leave you with one last gem from [Mark] Twain: 'Politicians and diapers must be changed often and for the same reason,'" Chernow concluded.