'The next Bond': Fans drool as Roger Federer rocks dark suit during surprise appearance on Centre Court Despite missing a year of tennis due to a knee injury, Roger Federer stated on Sunday, July 3, that he expects to play Wimbledon 'one more time.' "I hope I can come back one more time. I've missed it here," The eight-time winner admitted when he arrived in a dark suit at a special event to celebrate Centre Court's 100th anniversary. The 20-time Grand Slam champion, who is 40 years old, hasn't competed since losing in the tournament's quarterfinals in 2021.

The Swiss tennis star said, "I've been lucky enough to play a lot of matches on this court. Feels awkward to be here today in a different type of role, but it's it's great to be here with, like Novak said, with all the other champions. This court has given me my biggest wins, my biggest losses. One of my highlights of course, in 2001 and walking out here with Pete Sampras, who I would like to give a big shout-out to. He's also one that has inspired a lot of us to play and just be tried to also be successful here. And represent the sport well. I hope I did that and I hope I can come back like you said one more time."
RELATED ARTICLES
Roger Federer responds to Greta Thunberg's criticism, says he has 'great respect' for climate activists
Serena Williams and Roger Federer to play against each other for first time EVER
"Of course, I've missed being here. I would have loved to be here [for 2022]. I knew walking out of here last year it was gonna be a tough year ahead. Maybe didn't think it was gonna take me this long to come back but the knee has been rough on me. But I've been happy. I've been happy at home. It's been a good year, you know, regardless of tennis or not. The kids are fine, my wife's great. We're happy at home. I didn't know if I should make the trip but I'm happy standing right here. Right now. "[Memories that stand out] 2001 the match against Sampras and then, of course, my first win in 2003. You remember what it meant to me. [To Sue Barker] Don't do that again!" he added.
Many on social media were happy to see their star appear in front of the camera once again. One person wrote, "Rafa and Roger are and will always be both kings of this sport! True gentlemen and sportsmen as well as massive players of course. We have been so lucky to live their active age!" "There won't be any moment in Wimbledon this year which will be better than this one ❤ Great to have you here Roger ☺️" another added.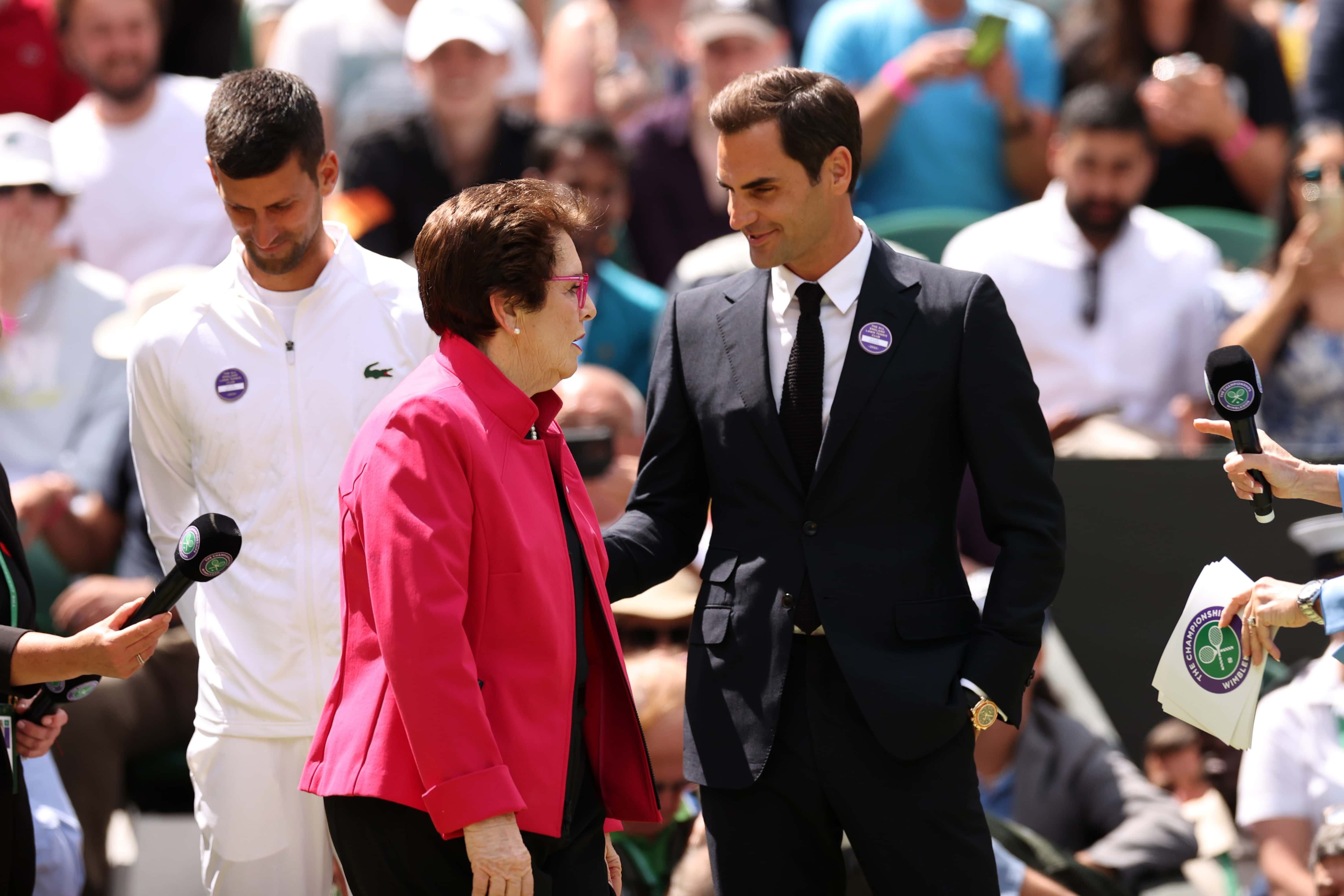 Someone wrote, "Wimbledon cannot be Wimbledon without the presence of Roger Federer. Let it be like a player or a guest, the king needs to be near his throne every single year." "And outside the courts, the distance is even greater. His relevance and importance to tennis are gigantic. Compared only to Jordan in basketball and Pele in football," yet another person remarked. One fan said, "Real GOAT .. He raised the bar of Tennis to next level. I had always loved him like no other .. there may be Stronger Rafa, consistent Joker .. but my all time favourite is Roger Federer.. Fan forever".
According to Daily Mail, the legendary victory over Pete Sampras at Wimbledon in 2001 marked the Swiss star's breakthrough, and two years later, he won the first of his eight championships. Federer, who was wearing a dark suit, was one of many Wimbledon champions present at the ceremony that came before the middle Sunday match schedule, which was made a regular occurrence starting this year. Federer was joined at the ceremony by two other tennis superstars and his all-time rivals at tennis, six-time champion Novak Djokovic and two-time winner Rafael Nadal.
Djokovic, who will be back on Centre Court for his last-16 tie against Tim van Rijthoven said, "I feel more nervous now than when I'm playing. This court has been truly special from my childhood and the first image of tennis I've seen, when I was four or five years old I saw Pete Sampras winning his first Wimbledon. This is where dreams come true and I was blessed in 2011, probably the highlight of my career, to win the tournament and so when I step out on this court I relive these memories. Truly an honor."