Anti-eviction Squad members rake in cash from RENT! Rashida Tlaib made over $50k in 2020 Going against financial interests may seem like a big no for politicians, but 'Squad' members Rashida Tlaib and Ayanna Pressley wanted to do just that in 2020. New financial records show the duo made over $50k each from rental income in 2020 when they were pushing for rents to be canceled nationwide. Of course, that never happened, but Tlaib and Pressley have continued to press for extending the moratorium, and other measures, that would have seen their incomes take a drastic cut.
Last year, we reported on landlords who took advantage of out-of-work female tenants and demanded sex in lieu of rent. Barring a few caring landlords, like one we reported on in Maine, most continued to demand a rent even though people were out of work and living off benefits. Eventually, the federal government stepped in with a rent moratorium, and support but it wasn't enough. A March 2021 report noted that rent was still a major headache for small businesses, and 78% were still feeling the effects of the lockdown.
READ MORE
NY real estate market crumbles as tenants fail to pay rent, companies violate lease agreements amid lockdown
Rashida Tlaib called 'FRAUD' for dancing maskless at wedding among large crowd in viral video
Rent relief has been hard to come by for thousands of Americans, leading many politicians from working-class communities to push for nationwide cancelation. So far, neither Donald Trump or Joe Biden endorsed the idea, instead offering to cover rent as part of their stimulus packages. That meant rent money still flowed in, with landlords raking in the cash. Two of those who benefitted from the decision are Tlaib, and Pressley, who managed to make quite a bit from their tenants.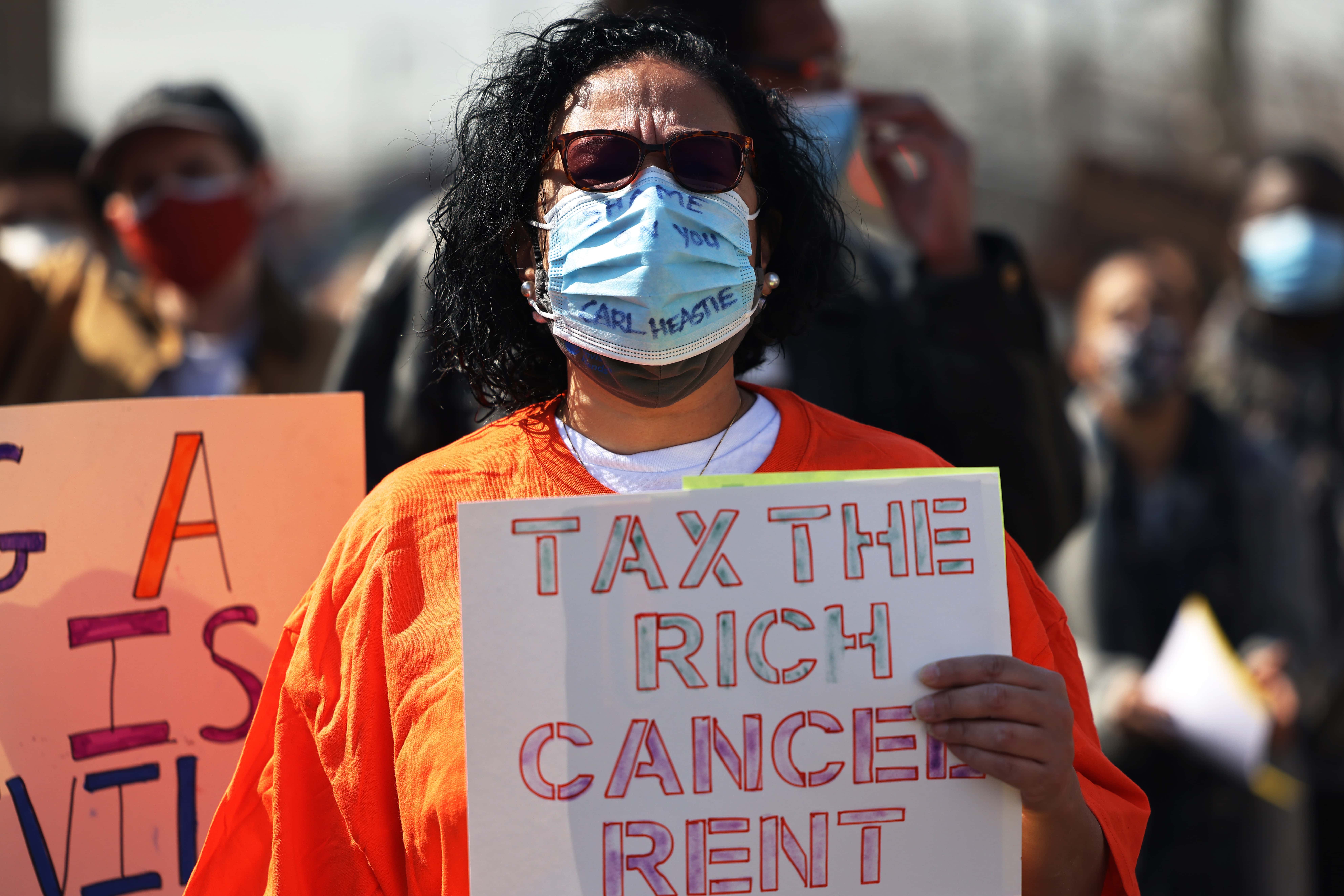 Tlaib, Pressley rake in the cash
The Daily Mail​ analyzed both Democrats' financial records and found that they made good money during the pandemic. Reportedly, Tlaib disclosed between $15,001 and $50,000 from a Detroit property, while Pressley disclosed between $5,000 and $15,000 from a Boston property. It's unclear how much other 'squad' members made, including Reps Alexandria Ocasio-Cortez and Ilhan Omar. The sums are quite significant, given that they were probably receiving less income due to the pandemic than they normally would have.
It is also interesting to note that both Tlaib and Pressley were keen on canceling rent nationwide. In April 2020, the 'squad' co-sponsored a bill that would institute a nationwide cancellation of rents and home mortgage payments, as long as the pandemic lasted. "With the economic impact of the pandemic worsening and the threat of eviction and homelessness looming large for families nationwide, we must take every measure possible to keep families safely housed, forgive all rental debt, and ensure that the credit scores of hard-hit families are not forever tarnished," Pressley said on the matter in a press conference at the time.
Had that bill passed, it wouldn't have meant that Tlaib and Pressley would've lost all their income. The bill called the Rent and Mortgage Cancellation Act would establish a relief fund for landlords and lenders. That way, the duo would've still seen the money flow in, albeit more slowly and over a larger period of time. As of March 2021, the bill was introduced in the House of Representatives but never came up for a vote.
Nonetheless, both Tlaib and Pressley remain vocal supporters of rent relief and have been actively pushing to extend the moratorium on evictions. On August 3, the CDC issued an extension after pressure from a sit-in led by Rep Cori Bush. The extension will end on October 3, meaning families must once again face an uncertain future if the Biden administration doesn't act fast. Whatever they do, Tlaib and Pressley will benefit, just as they did in 2020.