Portland protesters burn Bible, American flag outside courthouse amid increasing clashes with federal agents PORTLAND, OREGON: Demonstrators in Portland, Oregon burned a Bible and an American flag on Saturday, August 1, sparking outrage amidst a time when the unrest in the region appeared to be coming to an end. Protesters, including Black Lives Matters demonstrators, "Wall of Moms" and a "Wall of Vets," have clashed with federal agents in the city. The violent protests were brought to national attention as authorities blasted demonstrators with tear gas, and the latter in turn responded with throwing objects at them.
Although protests appeared to be peaceful on Friday night, July 31, suggesting a close to the chaos in the region, marchers, just after midnight, however, were reportedly caught on video lighting the American flag and Bible on fire and making bonfires outside the federal courthouse, which has been the prime point of the protests. The demonstrations ensured shortly after an unarmed black man, George Floyd, died in police custody in Minneapolis on May 25. Anti-racist protesters across the country, since then, have demanded police reform and have demonstrated against systemic racism in the country.
A Twitter user posted a video of a Bible and an American flag being burned on Twitter on Saturday and wrote: "Left-wing activists bring a stack of Bibles to burn in front of the federal courthouse in Portland." The post, since then, has gone viral and has been viewed over 1.9 million times.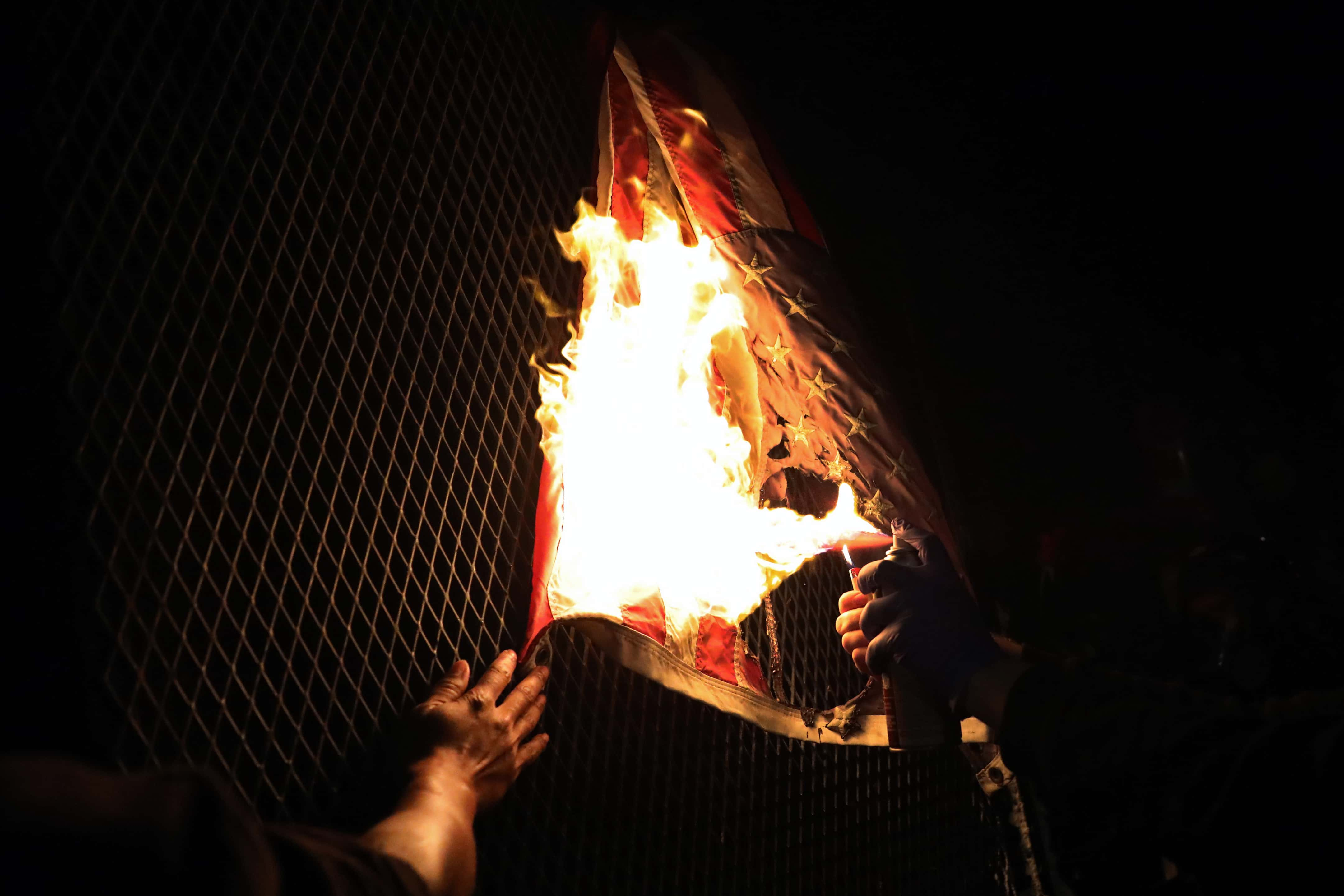 President Donald Trump's son, Donald Trump Jr., also commented on the tweet on Saturday, writing: "Now we move to the book-burning phase. I'm pretty sure ANTIFA doesn't actually stand for what they say it stands for. Maybe just remove the anti part of [their] name and it's perfect."
The fire lit by protesters was later put out by members of Moms United for Black Lives Matter. KOIN 6 reported that the members used bottles of water and stomped on the burning embers to put out the blaze.
The incident comes days after 53-year-old US Navy veteran was reportedly beaten up and maced by federal agents during a protest in Portland. The veteran later opened up about the assault which was captured in a viral video. Chris David said that he went to the protest on, July 18, after seeing horrifying footage of federal officers driving in Oregon in unmarked cars, snatching protesters off the street, and spraying tear gas on them.
David said that as a former service member, he wanted to talk to the agents about why they were blatantly violating their oath to protect and serve. However, when he approached a group of federal agents outside a Portland courthouse, one officer began beating him with a baton, while another sprayed him with chemicals, David said. The assault broke the veteran's hand in two places. "I wanted to ask them: 'Why are you guys not following the Constitution?'" he told Reuters. "But we never got there. They whaled on me like a punching bag."
President Donald Trump, last week, had threatened to punish the protesters defacing statues on federal land with a prison sentence. However, just two days before his announcement, a video from Eugene, Oregon, had showed a 14-year-old girl being tackled to the ground by four police officers on July 25 during a riot downtown.
Share this article:
Protesters burn Bible American flag court tensions rise in Portland BLM Donald Trump Jr Oregon