Harry skips Queen's birthday and returns home to be with pregnant Meghan Markle amid unresolved family conflict
Harry was believed to have planned to stay for the Queen's birthday, despite reports claiming he was 'conflicted' about the decision and wanted to get home to Meghan Prince Harry skipped Queen Elizabeth's 95th birthday (Getty Images)
Looks like he didn't stay back after all. Prince Harry has reportedly returned to sunny California to reunite with his pregnant wife Meghan Markle and their two-year-old son Archie, according to the Daily Mail on Tuesday, April 20.
The 36-year-old royal is thought to have arrived at Los Angeles International Airport on an American Airlines flight shortly after 1.30 pm. This comes at a time when it was being widely reported that Harry had delayed his return ticket home to spend time with his grandmother, the Queen, on her birthday, which is on April 21.
RELATED ARTICLES
Will Harry stay in UK for Queen's 95th birthday? Inside the royal family's plans after Prince Philip's funeral
How long will Harry stay at Frogmore Cottage? Prince Charles to 'spend time' with son and walk around Windsor
Did Harry skip Queen's birthday?
Because of Harry's reported return to the United States, he will be unable to attend the Queen's 95th birthday celebrations on April 21. The Queen is still in mourning over her husband Prince Philip's death, but will resume official duties on Friday, April 23.
Images released by the Daily Mail show a black SUV with tinted windows pulling away from the private LAX terminal. Only the driver and a suit-clad passenger, both are wearing face masks, are visible through the car's windshield. The pictures show the car turning into a Montecito driveway.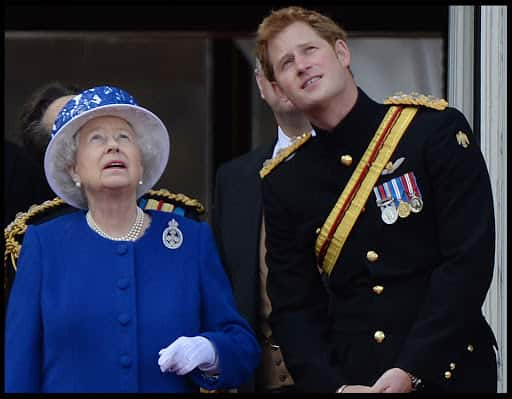 Harry was widely believed to have planned to stay for the Queen's birthday, despite reports claiming he was 'conflicted' about the decision and wanted to get home to a pregnant Meghan, who stayed at home on the advice of her doctor. An earlier report by the Daily Mail had revealed that sources had told them that Harry was expected to return to his £11M Montecito mansion ($15.3M) on April 19.
Prior to this, the Prince was said to have left his return flight to Los Angeles open while self-isolating at Frogmore Cottage at Windsor. The Queen turns 95 on April 21, after which Harry was expected to return to his home in California, which he shares with pregnant wife Meghan, 39, and 23-month-old Archie.
Charles, William to give Queen's birthday a miss
However, it isn't just Harry who will be absent from the birthday ceremony. Prince Charles will also be absent at the event because he is in Wales. Harry's elder brother Prince William is also unlikely to pay the Queen a visit on her special day, the report stated.
Harry's return to the United Kingdom for the Duke of Edinburgh's funeral was his first visit home in a year. He will now begin a second 10-day quarantine, which is required for foreign travelers entering the US, but is not obligatory, as it is in the UK.
The Sussexes are expecting the arrival of their first daughter this summer.
Disclaimer : This is based on sources and we have been unable to verify this information independently.