The true cost of Prince Harry's and Meghan Markle's upcoming wedding
Prince Harry's and Meghan's Markle's wedding on May 19 will draw billions of viewers worldwide, but how much did it cost the taxpayer to set it up? Prince Harry and Meghan Markle (Source:Getty Images)
The UK royal weddings still hold a sort of magical charm. A charm that catches hold of every person, irrespective of race, religion, gender et al, and forces them to stop and take notice.
The wedding of Charles, Prince of Wales, and Lady Diana Spencer on July 29, 1981, was widely billed as a 'fairytale wedding,' and the 'wedding of the century.' Organized at a cost of close to $140 million, the wedding garnered an estimated global TV audience of 1 billion people.
Similarly, on April 29, 2011, Princess Diana's eldest son, Prince William, the Duke of Cambridge, wed his longtime partner and girlfriend Catherine Middleton in an arresting ceremony at Westminister Abbey in London. Prince Harry was the best man. Declared a public holiday in the United Kingdom, close to 2,000 guests attended the occasion and television audiences similarly peaked at over a billion worldwide.
Now, just over seven years later, Princess Diana's youngest son and Prince William's younger brother, Harry, is set to marry TV star and girlfriend Meghan Markle in what many are terming as a tradition-defying ceremony. The couple will tie the knot and say the magical words on May 19 at St. George's Chapel in Windsor Castle, and as is with royal weddings, millions are expected to tune in from around the globe.
Royal weddings are not a cheap affair. As we mentioned previously, Princess Diana's wedding to Prince Charles cost close to $140 million; Prince William's wedding another $35 million. So, how much will Prince Harry's wedding empty the coffers, and how much will be earned back in tourism? CostFigures.com broke down the expenses and possible streams of revenue, and the figures are quite staggering.
Security ($42 million/93.67% of budget)
The cost for the security for Harry's and Meghan's wedding will be shouldered by the nation's populace and taxpayers. The quoted figure is an estimate that was derived from that of William's wedding in 2011, but certain mitigating factors will mean that there is a good chance that the figure should be inflated by a couple of million pounds further.
Harry's background in the military - he underwent officer training at the Royal Military Academy Sandhurst, is a licensed military helicopter pilot, and served for over 10 weeks in Helmand, Afghanistan, in 2007-08 - will mean that he is a high-value target for extremists and militants who could use the royal wedding to send a message.
It's also an open-secret that Meghan is disliked by the traditionalists who feel that her biracial identity and her previous divorce disqualify her from being worthy of the royal family. There's also the not-so-small-matter of her acting career; her portrayal of the adulterous Rachel Zane in 'Suits,' as well as the numerous other times she has acted in steamy scenes on the big screen has left a sour taste in a small but significant portion of the public.
Their background combined with the rumors that they might be riding in on an open-top carriage after the ceremony necessitate the highest order of security. Army snipers at every rooftop, undercover street cops, counter-drone systems, automatic plate recognition technology, and no granting of weekend leave requests are just some of the measures put in place thus far.
Catering ($670,000/1.48% of budget)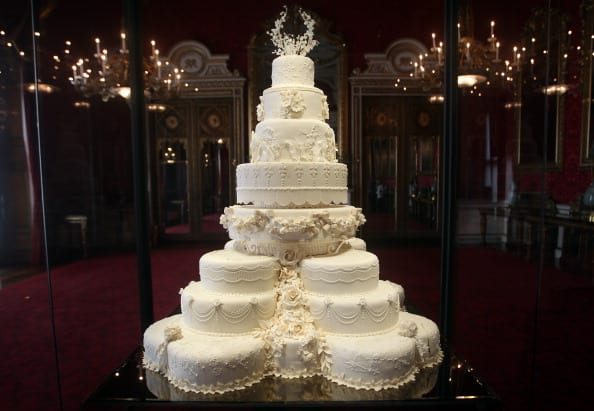 While security takes a staggering 93.67% of the budget, catering eats up a relatively paltrier 1.48%. However, the $670,000 outlay still represents quite the significant investment, and wedding-goers can expect a spectacular array of food and drinks.
Food ($400,00)
It's been rumored that the caterer for the royal wedding will be Table Talk, who also notably served during William's wedding in 2011 and Kate's younger sister Pippa's wedding in 2017. Every single one of the 2,640 guests will be served sausage rolls and tea at an approximate cost of $14 per head, adding up to a notable outlay itself.
Drinks ($200,000)
An estimated 17,000 glasses of coveted liquor will be served during the wedding and there will be some choice champagne of both Harry's, as well as Meghan's liking. The Bollinger is the drink of choice of the royal family and has been for several generations, while the bride is not a dilettante in the department either. Her personal favorite is reportedly the Tig. Prince Harry, on the other hand, has much more rudimentary tastes - his favorite Red Bull vodka cocktail costs just $20.
Cake ($70,000)
Harry's and Meghan Markle's wedding cake will be made by California native pastry chef Claire Ptak, who owns the London-based Violet Bakery. While the initial rumors suggested that Harry wanted a tradition-defying 8-tiered banana cake, it has now been confirmed by Kensington Palace that the wedding will be graced by Ptak's 6-tiered lemon elderflower cake.
Program ($650,000/1.44% of budget)
The cost of the program for the wedding includes that for the music, trumpets, entertainment, and photography and videography, and will take up 1.44% of the total budget.
Music ($425,000)
The music for William's wedding consisted of performances by Sir Peter Maxwell Davies ("Veni Creator Spiritus" and "Farewell to Stromness") as well as with works by J.S. Bach, Benjamin Britten, Frederick Delius, Edward Elgar, Gerald Finzi, Charles Villiers Stanford. In contrast, some of the rumored performers for Harry's wedding are Sir Elton John and the Spice Girls, Ed Sheeran, Sam Smith, Coldplay, and Rihanna.
Trumpets ($125,000)
While most of the other aspects of their wedding will see them depart from tradition and embrace the new and the bold, one aspect of the royal wedding that they will not forgo are the trumpets. Around 20 silver-plated fanfare trumpets stamped with the Royal Coat of Arms - the same acquired for William's wedding and the 2012 London Olympics - have been requested from the Ministry of Defense and will be playing on full blast come May 19.
Entertainment ($75,000)
Entertainment for the wedding will primarily consist of shows and public displays by the Royal Air Force, as well as fireworks that will be lighting up the sky to celebrate the union.
Photography and Videography (($75,000)
The photographs from the royal wedding are iconic and trend-setting and will be talked about for the decades to come. So, no expenses were spared when it came to hiring the very best to take snapshots of Harry and Meghan as they say 'I do.' Amongst the photographers expected to be commissioned at the wedding are Dorset-based Millie Pilkington - who took pictures for William's wedding as well - and experienced royal photographer Tim Rooke, who famously worked alongside Diana in the 90s.
Venue ($490,000/1.09% of budget)
The venue for the royal wedding next month has already been decided as the St. George's Chapel in Windsor Castle, and the costs for accommodating the guests will take up 1.09% of the budget.
Luxury Glass Marquee ($490,000)
Harry's and Meghan's wedding ceremony will be taking place at St. George's Chapel in Windsor Castle, with their opulent evening reception taking place a further two miles away at the Frogmore House. Since both properties are owned by the royal family, there is no outlay here, meaning that the $490,000-odd will be spent entirely on the luxury glass marquees to house the thousands of guests comfortably.
Church Fees ($189)
This is the figure that every citizen of the United Kingdom or member of the Church of England has to shell out to celebrate their wedding at St. George's Chapel. And no, despite his royal lineage, Harry will not be exempt from the fee.
Attire ($465,000/1.03% of budget)
The attire is what immediately catches the eye and considering the scale of the wedding and the reach across the world, expect everyone to look their dazzling best.
For the bride:
Bridal Dress ($421,000) and Hair and Makeup ($15,000)
Millions and possibly billions of eyes will be on Meghan when she walks down the aisle on May 19, so she will have to be at her marvelous best. Of course, this means that she will need a memorable wedding dress and rumors suggest she has her eyes on a $465,000 gown. But the taxpayers will not be losing too much from their own pockets, with Meghan and her mother set to cover over 90% of the costs.
Meghan is also reportedly uncompromising on how she wants to be styled for the big day. She is said to want a laid-back appearance that makes her freckles stand out.
For the groom:
Groom's Wear ($12,000) and Wedding Rings ($8,500)
While the groom traditionally presents himself in a formal soldier's outfit, it's likely that Harry's military background will mean that he will spare no expense in looking his best. Expect the young prince to go all out on a custom, tailor-made Royal Air Force uniform.
As far as wedding rings are concerned, they will not be skirting tradition. In a tradition dating back to the 1923 royal wedding of his great-grandparents, the Duke and Duchess of York, Harry will be placing a wedding ring fashioned from Welsh gold on Meghan's finger come the big moment.
For the entourage:
Bridesmaids' Outfits ($7,000) and Young Entourage Outfits ($2,000)
The women rumored to be Meghan's bridesmaids are currently Indian actress Priyanka Chopra, tennis star Serena Williams, Jewish designer Misha Nonoo, and Canadian stylist Jessica Mulroney. It is not known whether the fifth and final member is Kate's younger sister Pippa. Each of their gowns is expected to cost upwards of £1,000.
The principal page boy and flower girl will be Harry's nephew George and niece Charlotte, who Meghan is supposedly smitten with.
Design ($335,000/0.75% of budget)
The budget for the design will cover the costs of the flowers and numerous decorations that will welcome guests as they arrive at the wedding.
Decorations ($180,000)

$180,000 for decorations seems quite steep, but when you take into consideration the fact that the next royal wedding is another two-odd decades away, it becomes more than just another wedding; it becomes a celebration.
Bridebook reports that London-based agency HRP Solutions Limited has been awarded the contract for the momentous occasion and will handle the ins and outs of every single minute aspect of the wedding. On the other hand, the Lord Chamberlain's House and Harry's private secretary Edward Lane Fox will be overseeing the other major developments regarding the much-awaited ceremony.
Flowers ($155,000)

Philippa Craddock has been appointed in charge of the floral displays for the royal wedding and will be assisted by a team of florists from Buckingham Palace and St. George's Chapel. To complement the color theme of the ceremony, which will be white and green, birch, beech branches, foxgloves, and white roses will adorn the setup. But it has been whispered that it will be the humble peony which will take center stage as the wedding's principal bloom.
Every flower and stem will be sourced from the gardens of Windsor Great Park and The Crown Estate, with the royal park rumored to dot the venue with pollinator-friendly wild plants.
Stationery ($350,000/0.78% of budget)
It's not a royal wedding without invites being sent to selected members of the public and VIPs known to the bride and groom. Invites have been sent out to a total of 800 guests for the ceremony and reception, 600 delegates for the private dinner, and a further 2,640 members of the public at a cost of $350,000.
Public Invitations ($280,000) and VIP Invitations ($70,000)

A history of royal calligraphy tradition meant that the soon-to-be royal couple has chosen London-based fine printing and book-binding specialist Barnard and Westwood Prints to design their invitations. The firm has not disappointed, brilliantly portraying the marriage of two distinct cultures by advertising their craftsmanship as 'using American ink on English card.'
Honeymoon ($170,000/0.37% of budget)
William and Kate did not depart for their honeymoon immediately after their wedding. Instead, he returned to his work as a search-and-rescue pilot, with the couple eventually departing 10 days after their wedding. There has been a constant speculation as to whether Harry will whisk away his bride after they tie the knot and according to the Daily Telegraph, there is a very high chance that the location will boast a scenic beach. Considering the UK's gloomy weather, who can fault them?
Here are some of the locations they have been theorized to have considered across the world:
Africa: Botswana, Malawi, Rwanda, Seychelles
Asia-Pacific: Hawaii, Philippines, Turkey
Americas: Barbados, Brazil, Mexico, Nevis
Europe: Italy (namely Salermo and Tuscany)
Others ($54,000/0.12% of budget)
The last part of the budget has been allocated to an admittedly less luxurious side of the wedding, but still represents an outlay that is more than the entire cost of a normal wedding.
Restroom ($50,000)

When 4,000-odd guests will be traveling down to the city for the big day, there will no doubt be a shortage of restrooms to accommodate patrons if they feel an urgent desire to commit some rudimentary bodily functions. No worries, the planners have taken the possibility into consideration and used $50,000 to set up sophisticated luxury restroom trailers for use if the need ever arises.
Wedding Favors ($4,000)

The lowest part of the wedding budget will be the wedding favors, i.e the gifts that Harry and Meghan have decided to distribute to guests who attend the ceremony. If Harry's eclectic tastes are anything to go by, the guests are sure to leave with a valuable and sentimental piece of memorabilia.
As for gifts to the bride and groom, the couple has requested that any guest wishing to do so by donating money directly to one of their charitable foundations.
Boost to the economy
While the wedding will empty a significant chunk of the taxpayers' money, do not be under the impression that the ceremony does not earn anything back for its country. Royal weddings are rare events and because of the British empire's all-encompassing influence on hundreds of countries in centuries past, even those from the most remote corners of the globe will be waiting to tune in to see Harry and Meghan tie the knot.
This generates millions in TV revenue alone, with official merchandise, coins, stamps, and other memorabilia pounced upon by the general populace also contributing considerably to the economy. As the country's key and principal figures and flagbearers to the rest of the world, there is a considerable socio-economical impact that accompanies royal weddings which are not easily visible at first glance.
Tourism ($450 million)
The royal wedding coincidentally falls on the same day as the FA Cup final between Manchester United and Chelsea. While the wedding is a special occasion, the FA Cup is the world's oldest and most prestigious competition, meaning it will draw a crowd of 100,000 to the iconic Wembley stadium all by itself. For those who are fans of the royals and football, its practically two birds with one stone. Expect hundreds of thousands to descend on the city on the big day.
UKinbound reported that the UK's annual tourism net income was around $167 billion but Brexit meant that the value of the British pound took a fall. Tourism incomes have been on a decline since but the hope is that Meghan's American heritage will attract visitors from across the Atlantic, as well as tourists from commonwealth states like Australia, Canada, and New Zealand. VisitBritain predicts a total of 41.7 million visits in 2018, an increase of $38.5 billion in yearly tourism income.
Celebrations ($250 million)
During William's and Kate's wedding in 2011, food and grocery retailers accounted for roughly $500 million of nationwide consumer spending, with there expected to be a similar outlay from fans of the couple this time around; tradition in many parts of the country dictate that families sit down and watch the televised ceremony together.
Pubs will also host crowds eager to catch the ceremony and with most of them around the country expected to keep their doors open until 1 am, millions will be splurged in celebratory drinks.
Free Advertisement ($200 million) and Royal Merchandise ($100 million)
According to Money CNN, this upcoming wedding will be the best free advertisement of the UK as a tourist destination, especially with 2.5 billion viewers expected to tune in. The wedding also has a considerable impact on the fashion industry - Kate reportedly earned the British economy $205 million by setting her own fashion trend and when her two children, George and Charlotte, modeled for the kid's wear industry, they generated $239 million. Expect Meghan to have a similar effect.
The New York Times reported as early as December 2017 that one-tenth of the earnings from the royal wedding will come from merchandise sales. Indeed, British ceramics manufacturer Emma Bridgewater sold out commemorative mugs worth $27 a piece online within 24 hours of putting them up. Halycon Days, one of the 14 British luxury gift manufacturers that possess royal warrants, similarly expect a 15% increase in sales.
Total Cost: $45,184,000
Total Earnings: $1 billion
The Royal Wedding, a boon or a curse? We will let you decide for yourself.