Trump repeats unfounded claim that Ilhan Omar married her 'brother' to secure US citizenship
After Trump said this, the crowd at his North Carolina rally began chanting "send her back" following the president's series of attacks against Omar at the event. President Donald Trump, on Wednesday, repeated unproven claims that Congresswoman Ilhan Omar committed immigration fraud by illegally marrying her brother.
Trump made the statement while addressing a question from a reporter before leaving for a campaign rally in Greenville, North Carolina.
One America News Network reporter Emerald Robinson asked the president "if the administration was looking into possible immigration fraud committed by Ilhan Omar for possibly marrying her brother."
Trump responded with: "Well, there's a lot of talk about the fact that she was married to her brother. I know nothing about it. I hear she was married to her brother. You're asking me a question about it. I don't know, but I'm sure there's somebody who will be looking at that," the New York Post reported.
Shortly after his controversial claim, the crowd at his Wednesday night rally began chanting "send her back" following Trump's series of attacks against Omar at the event.
The claim that Omar had illegally married her brother to gain American citizenship first emerged in conservative blogs in 2016, the Democrat at the time was running for the Minnesota state legislature.
Omar had subsequently released a statement that year, calling the claims "baseless rumors" that "are absolutely false and ridiculous." The Democrat had then said that she married her current partner, Ahmed Hirsi, as per Muslim tradition in 2002. However, she never legally married him and their relationship ended in 2008.
Omar then legally married Ahmed Nur Said Elmi in 2009, however, they separated in 2011. "Insinuations that Ahmed Nur Said Elmi is my brother are absurd and offensive," she said at the time.
Of the claims, independent fact-checking website Snopes wrote in February 2019: "We found no public records or credible sources contradicting Omar's account of her past, nor any substantive evidence corroborating claims that Elmi is her brother or that their marriage was otherwise fraudulent. In addition, some of the claims offered in support of the rumor don't seem to add up."
Omar eventually reconciled with her first husband Hirsi and the couple legally married in 2018. They are still together.
Trump's claims against Omar come amid his continuing feud with four freshman congresswomen, popularly known as "the Squad" in Washington. Trump, on Sunday, took to Twitter to slam the four Congresswomen—Alexandria Ocasio-Cortez of New York, Ilhan Omar of Minnesota, Rashida Tlaib of Michigan and Ayanna S. Pressley of Massachusetts— in a series of racist remarks and asked them to "go back and help fix the totally broken and crime-infested places from which they came."
The president made the comments despite knowing that all four Congresswomen are American citizens, AOC was born in the Bronx to parents of Puerto Rican descent, Pressley, who is black, was born in Cincinnati and raised in Chicago, Tlaib was born in Detroit to Palestinian immigrants, and Omar, who is a refugee from Somalia, was granted American citizenship at the age of 17.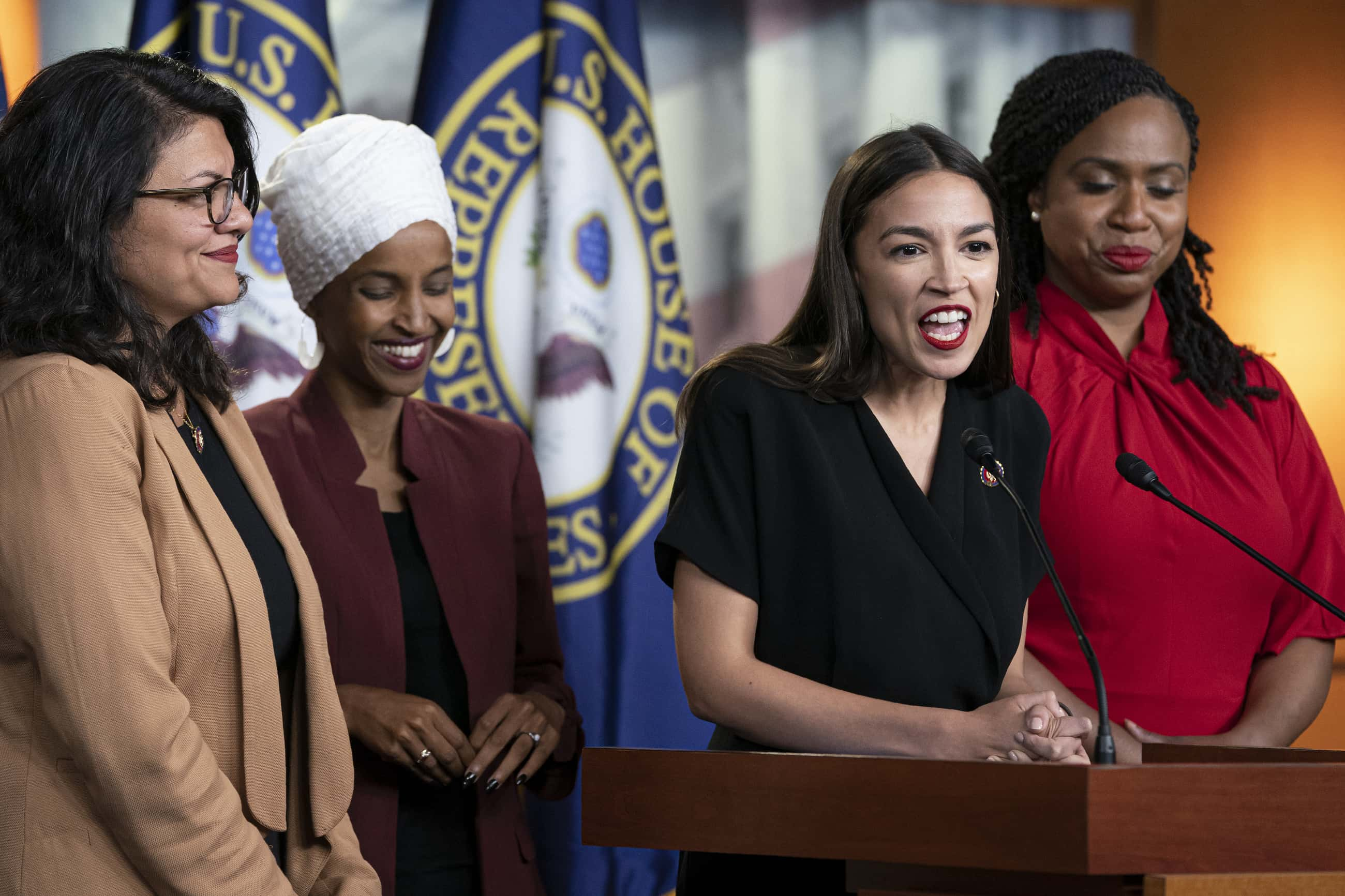 Trump's tweet also resulted in House Democrats adopting a resolution to condemn the president's statement as "racist."
The North Carolina rally's racist "send her back" chants also resulted in a reaction from social media as thousands of people took to Twitter to support Omar with the hashtag "#IStandWithIlhan" as a message of solidarity.
Over 153,000 tweets had been sent with the phrase as of Thursday morning, including that of top politicians like Vermont Senator Bernie Sanders.
"Trump is stoking the most despicable and disturbing currents in our society," Sanders wrote on Twitter. "And that very hatred and racism fuels him. We must fight together to defeat the most dangerous president in the history of our country."
Share this article:
Trump repeats unfounded claim that Ilhan Omar married her 'brother' to secure US citizenship