When the three American hostages were released by North Korea, President Trump was there to greet them
Three American men who had been held by North Korea touched U.S. soil once again early Thursday, where they were greeted by President Trump. President Donald Trump (Source: Getty Images)
Early Thursday, three American citizens who had been held by North Korea were released back to U.S. soil where President Trump greeted them. The commander-in-chief has attributed the winning of their freedom to his diplomacy with Kim Jong Un, the North Korean leader.
Kim Dong Chul, Tony Kim, and Kim Hak Song landed at about 2:40 am ET on Andrews Air Force Base just outside of Washington, D.C. The now-free men, who were held by North Korea on charges of espionage, were then taxied to the meeting area and were greeted with a huge American flag over the tarmac, reported NPR.
A motorcade also waited to take the three Korean-American detainees to Walter Reed National Military Medical Center for physical examinations.
Before the trio alighted the plane, the president along with the first lady boarded the aircraft to greet them personally. They emerged out with the president to a roar of cheers and applause from military personnel at the base, smiling and waving at them. They appeared tired but in excellent spirits, flashing peace signs as they emerged from the aircraft. However, their families were not present at the ceremony.
"I want to thank Kim Jong Un," Trump said on the tarmac.
"I'm very honored to have helped the three folks," he said.
Trump acknowledged the gesture of goodwill on the part of Kim Jong Un, saying it was "nice" of him to let the men free before a summit that is scheduled to take place between the two leaders in a few weeks.
Trump welcomed the three heroes and called it "a special night for these three really great people." Trump told reporters as he stood on the tarmac. On the U.S. relationship with North Korea, Trump said, "We're starting off on a new footing."
Kim Dong Chul spoke for the trio, saying "It's like a dream and we are very, very happy."
Dong Chul was then asked how they were treated in North Korea, he responded by saying, "in many, many ways. For me, it was labor, but when I was sick, they treated me," using the help of an interpreter.
"We would like to express our deep appreciation to the United States government, President Trump, Secretary Pompeo, and the people of the United States for bringing us home," the three said in an earlier statement released by the State Department.
Kim's decision to grant freedom to the three Americans came at the "official suggestion" of the U.S. president, according to North Korea's official news agency, KCNA.
Before their landing, the man who negotiated the release, Secretary of State Mike Pompeo arrived in another official plane. All the heroes were greeted by the president and first lady Melania, and further welcomed by Vice President Pence and second lady Karen Pence who stood at the foot of the stairs.
While Kim Dong Chul had been detained back in 2015, the other two were held just over a year ago in North Korea. Their arrests were widely seen as politically motivated and degraded the dire state of U.S.-North Korea relations over the peninsula's nuclear weaponry.
"My proudest part of this will be when we denuclearize North Korea," the president said.
Speaking of the North Korean leader, Trump said: "I really think he wants to do something," adding, "I really think a lot of progress has been made."
Trump gave us an inkling of their impending release in a tweet last week. He said that "the past Administration has long been asking for three hostages to be released from a North Korean Labor camp but to no avail. Stay tuned!"
However, Tony Kim and Kim Hak were detained during Trump's presidency.
---
President Trump successfully convinced North Korea to release American Otto Warmbier just last year. Warmbier was a university student who was on a five-day tour of the country when he was detained at the Pyongyang airport back in January 2016. He was convicted of stealing a propaganda poster and sentenced to 15 years of hard labor. Upon his release in June 2017, Warmbier was gravely ill and in a coma. Unfortunately, he died soon later.
On Thursday, Trump informed that he and Pence had spoken to the family of Warmbier and extended their condolences while appearing with the freed Americans.
"I must tell you that I want to pay respects to Otto Warmbier, who was a great man who really suffered," he said.
Due to increased tensions over North Korea's nuclear and ballistic missile programs, a barrage of insults ensued between the Kim Jong Un and Trump. In recent months, the two have even blatantly threatened war.
Later, Pyongyang softened its demeanor in a sudden move which gave way to rare talks between Kim and South Korea last month. The flurry of diplomacy that followed even resulted in a Kim-Trump summit planned this year.
Several pundits have attributed the warming relations between the two countries to Trump's hardline stance with Pyongyang and touted it has a diplomatic victory.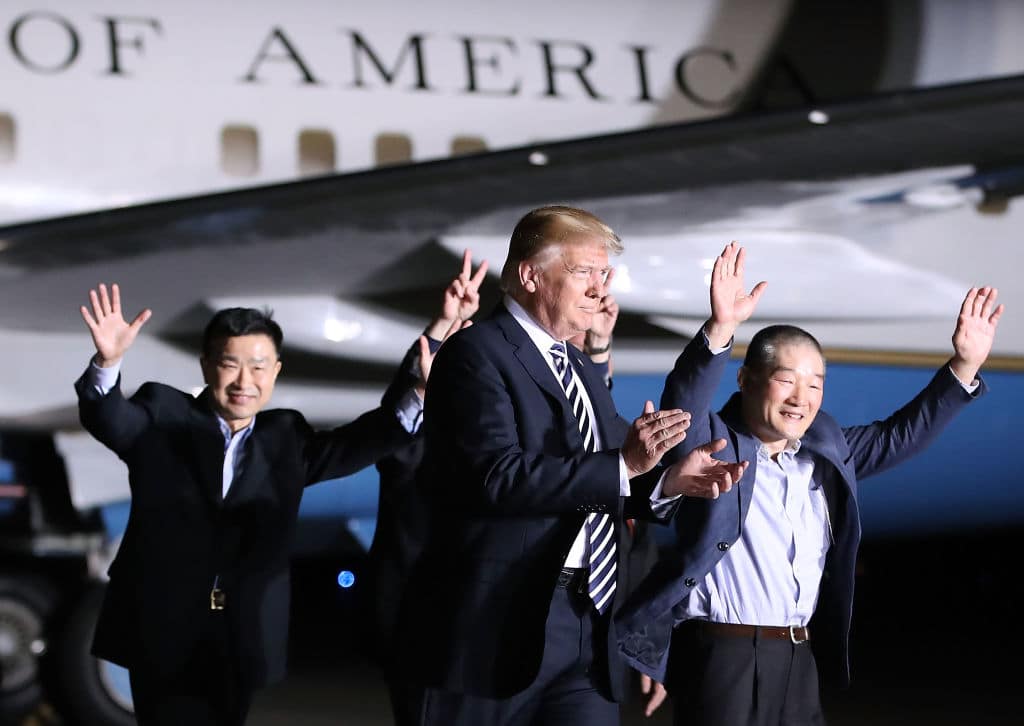 The president confirmed the release of the three detainees on Wednesday morning, informing that the trio was already on their way back.
Post the meet and greet, Trump said during a Cabinet meeting that the three Americans seemed to be in a healthy state and that he found them "fine people". He added, "I appreciate Kim Jong Un doing this and allowing them to go."
This visit to North Korea was the second surprise trip for Pompeo in recent weeks. He had traveled to visit Jong Un in April before he was confirmed as the secretary of state and was serving as the CIA director. According to The Associated Press, Pompeo met with the North Korean leader for a duration of 90 minutes.
According to sources, Singapore is the likely host of the summit that is scheduled to take place this month or early June as Trump gears up to reach an agreement on the denuclearization of the Koreas.