'I've waited 47 years for this moment': Pregnant 'RHOA' star Kenya Moore talks about motherhood after IVF
Pregnant Kenya Moore talks about becoming a mother through IVF at the age of 47 and how she had been waiting for it all her life. Kenya Moore (Source: Getty Images)
Kenya Moore surprised the fans on The Real Housewives of Atlanta reunion after making the announcement that she and husband Marc Daly are expecting a baby. Talking to People, Kenya revealed that the announcement wasn't something she had planned earlier.
"It was the first thing [host Andy Cohen] asked me, and I was really thrown off guard. The reunion usually goes on for 16 hours, so I figured it might come up. But not that soon. I felt stuck!" she told the magazine. Kenya who is going to have a baby with the help of IVF said that pregnancy had been something she was waiting for a long time and when it finally happened, her happiness could not be measured.
"I've waited 47 years for this moment," she said. "I didn't really want to announce it too soon because I feel it's very early on in our pregnancy. But I have suffered so much in my life when it comes to wanting a family around me. So this is the day I've been waiting for my entire life. It's a dream come true." The reality star has often spoken about the struggles she has had in life.
One of the things that have deeply affected her is from the time when she was abandoned by her mother. "No one really knows what it's like to feel rejected and abandoned by someone who gave birth to you and who treated you so badly and who hoped you would fail," she said. "For me to have a family of my own, to me, that's what makes me feel like I'm at the pinnacle of happiness."
While Kenya cannot wait to hold her baby in her arms, Marc is also counting days till he can see their baby. "He's thrilled! He's just so happy," she said. "He gave me a big hug and a kiss and then he started to just kind of make jokes. That's just his personality. He's a fun-loving, happy person." In fact, the family of the couple is also eager to meet this new addition to the family.
"Everyone is excited. My dad is so happy. And two of my aunts told me they envisioned that I was going to be with child before I confirmed it!" she added. "Everyone in my life, they tell me I'm a nurturing person and going to be the most awesome mother. They see something in me that they know what's going to be true."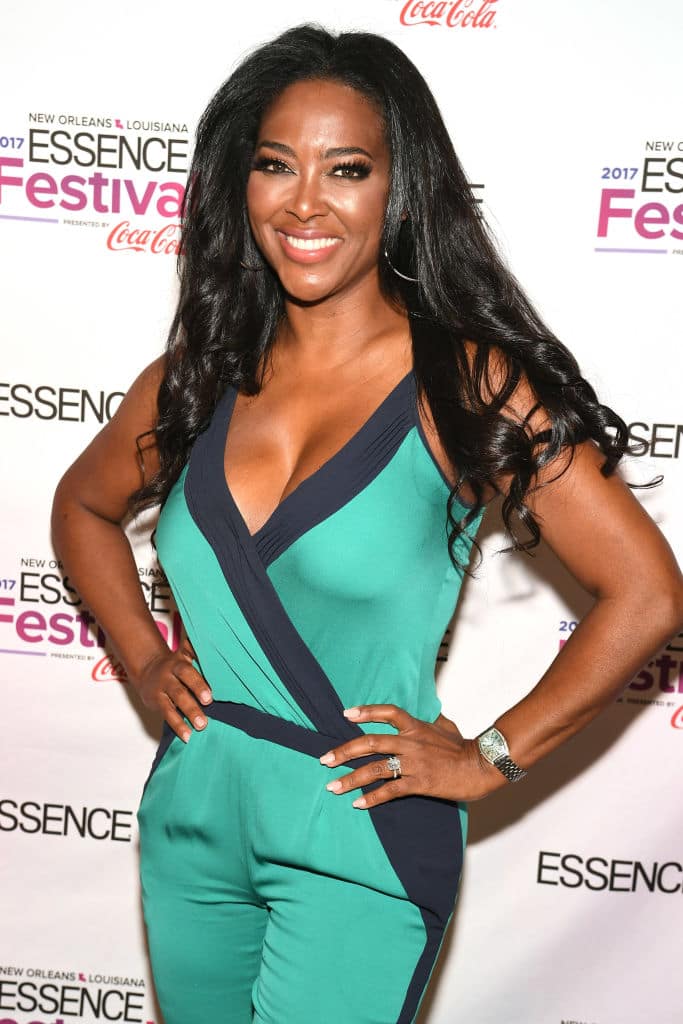 Along with the love from the family, the baby is also expected to receive a lot of affection from Kenya's fellow co-stars. For instance, Kandi Burruss has offered to pass along some hand-me-downs from her 2-year-old son Ace Wells. "We all know how expensive a kid can be, with cribs, car seats, etc.," she shared. "She was kind enough to say she'll save some stuff!"
In the end, Kenya added that she cannot wait to begin this new chapter in her life and with a positive attitude she believes everything will work out in their favor. "I've always used positive visualization to get what I want," she explained. "I remember months before I got married, I did a vision board. And I put an image of a beautiful couple being married, a beautiful wedding, a baby, a house, [happiness], harmony, love, peace — all of those things were on that vision board. I carried that vision board with me wherever I went. And within six months, I met my husband."
"They definitely work!" she added. "I did something similar when I was competing for Miss USA. I visualized that I was already Miss USA. I had everyone referring to me as 'Kenya Moore, Miss USA 1993.' And for whatever reason, however, the universe is designed, it worked. It just does. The power of the universe will work for you. So I don't think of things in a negative way. I just ask that they work out and they always do. There may be struggles along the way, but they always work out."