America's pivotal Pete Buttigieg moment: Why voters should unite behind the gay millennial beacon "I have more experience in government than the president of the United States," the Mayor of South Bend, Indiana Pete Buttigieg responded on national television when asked whether he was really qualified to be president with just a two-term mayoral reign of a small city. The 37-year-old Democratic presidential candidate has started creating ripples in the political arena as he caught national limelight on Sunday jumping to the third place in a poll of the 2020 Iowa causes, just behind former Vice President Joe Biden — who is yet to officially announce his candidacy— and Senator Bernie Sanders.
The prominence of the small-city mayor, who even left Democratic party heavyweights like Elizabeth Warren and Kamala Harris behind in the polls, has America asking 'Who is Pete Buttigieg?'
Liberal Democrats see Buttigieg as a candidate who is a polar opposite of President Donald Trump and provides a stark contrast to the Republican both in style and substance. When asked during a CNN Townhall on how he hopes to stand up to Trump, he responded with: "I'm a gay man from Indiana. I know how to deal with a bully," drawing instant applause.
Born near the beginning of the millennial generation in 1982, Buttigieg is a Harvard graduate who won a Rhodes scholarship to further study philosophy, politics, and economy at Oxford. Son of a Maltese immigrant father, the intellectual went on to work as a consultant at McKinsey and Company, a management strategy consulting firm, and later enlisted in the military — as a gay man — in 2009 even before the discriminatory law "don't ask, don't' tell" was repealed. Buttigieg, in 2011, was elected as the Mayor of South Bend at the age of 29 — the youngest mayor of an American city with at least 100,000 residents.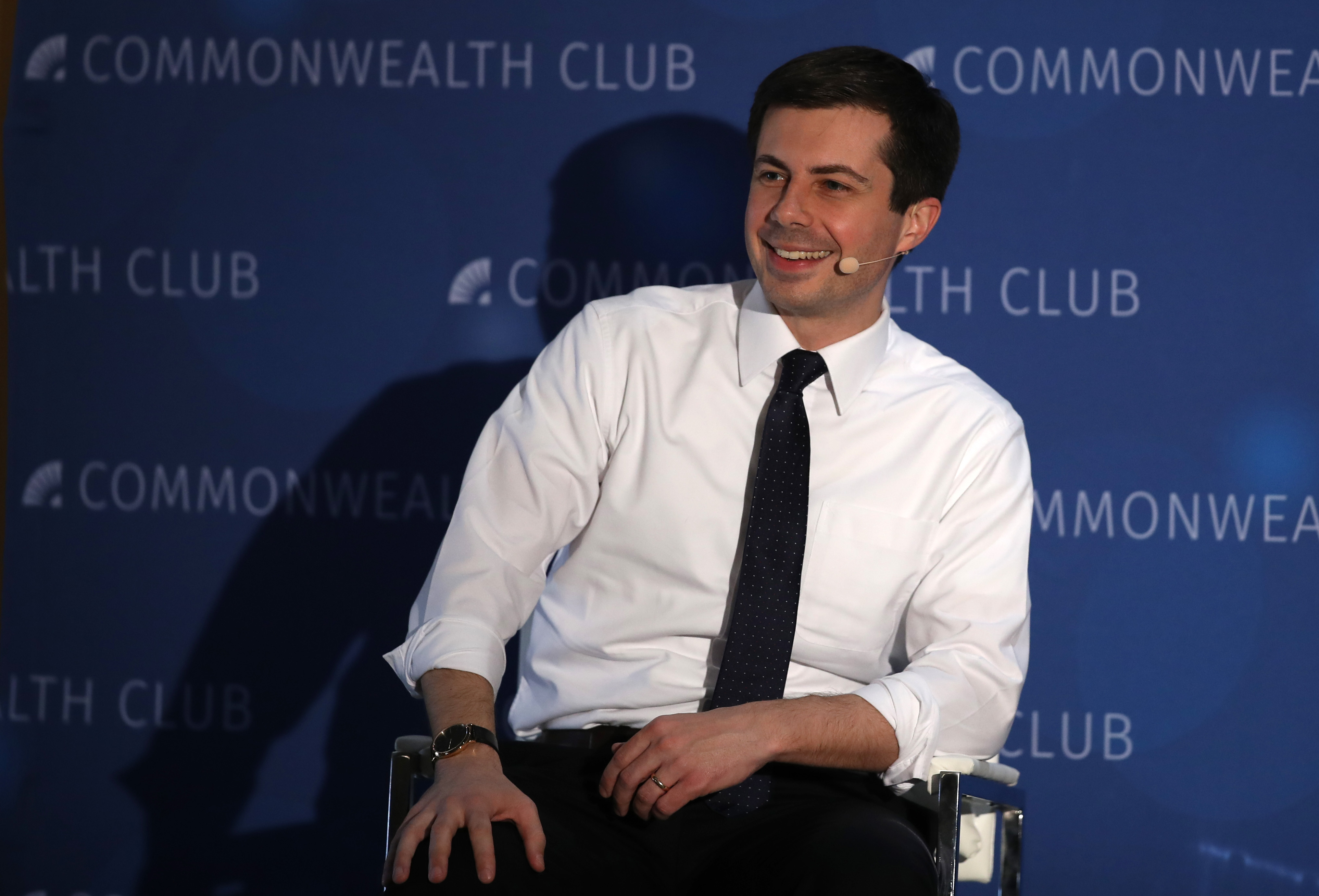 The devout Christian took a leave from his civic duty for seven months when he was deployed in Afghanistan in 2014 as a Naval intelligence officer. He left Deputy Mayor Mark Neal in charge until he returned to resume his position later that year. The South Bend Mayor won consecutive two terms and remained a lieutenant in the Naval Reserve until 2017. Buttigieg, who is a polyglot and can speak seven different languages including Spanish, Italian, Arab, Maltese, French and Dari, reportedly taught himself Norwegian for the sole purpose of reading a book by an author in Norway whose work has not yet been translated in English.
Known to his constituents as "Mayor Pete", Buttigieg had been making waves even before the central media got a whiff of him. When President Barack Obama was asked during an exit interview in November 2016 who the future leaders of the Democratic Party might be, and who could realistically challenge Trump in 2020 polls, the Democratic president then surprisingly named the little-known mayor of South Bend — Pete Buttigieg.
A former chairman of the Democratic National Committee (DNC), Howard Dean, who endorsed Buttigieg during his second mayoral term, believes that the presidential hopeful is a force to be reckoned with, especially against Trump: "He's able to say Trump is a jerk without using that word. That's going to be an essential quality of the nominee – to not get trapped by Trump's 'me, me, me, everybody look at me' problem."
Buttigieg, who raised a significant $7million in his first quarter, while appearing on Morning Joe appealed for a "generational change," and said: "My face is my message." The South Bend Mayor, at the age of 39, would be the youngest president in American history if elected, and also the first millennial. Buttigieg's potential candidacy win could also see him making history as the first openly gay president of the United States.
The Democrat supports universal background checks for guns, recognizing and addressing climate change to protect the environment, labor unions, the Deferred Action for Childhood Arrivals program (DACA), giving women the freedom to make their own reproductive choices, and passing a federal law banning discrimination against LGBT people. He has previously also taken a strong stance for the eradication of racial bias in the police force. Buttigieg has endorsed a single-payer health care system and has said that the Green New Deal is a "sound framework" for battling climate change. The Democrat has also called for a withdrawal of American troops from Bangladesh. The South End Mayor, like Senator Elizabeth Warren, supports abolishing the Electoral College. However, his most intriguing proposal is to radically overhaul the Supreme Court.
"One solution that I've been discussing in recent weeks is structuring it with 15 members, but five of whom can only be seated by a unanimous consensus of the other 10," he said during an interview with the Intercept's Mehdi Hasan. "Anything that would make a Supreme Court vacancy less of an apocalyptic ideological struggle would be an improvement."
Buttigieg has not formally launched a presidential campaign yet, and in an interview with Fox News stated that he set up an exploratory committee in January to test the waters and gauge voters' responses "to the idea of a midwestern millennial mayor entering the conversation for president". Although he said he hasn't made a concrete decision yet but "all of the signs are pointing in the right direction".