'Perpetual Grace LTD' episode 1 and 2 is a slow start to Ben Kingsley's crime drama 'Perpetual Grace LTD' just as the name suggests is about a couple who have turned religion into business. It seems like pastor Byron Brown (Sir Ben Kingsley), who the locals refer to as Pa and Lilian Brown (Jacki Weaver), the ma, are out to help people in the community. Their church in New Mexico is a safe haven for many old people in town who visit the church for spiritual well-being. But here's the thing. They are, of course, not as innocent as they seem. They are swindlers and their son Paul Allen Brown (Damon Herriman) clues us into the kind of parents that they are pretty much at the beginning of the show.
The Epix show is not for you if you are one for instant gratification as it takes its own time to build up. Even towards the end of the second episode, the energy of the show is pretty tenuous. The lack of quick pace might initially put you off of the show, but once you get over the hurdle there are some fascinating details about the show that is worth spending time on.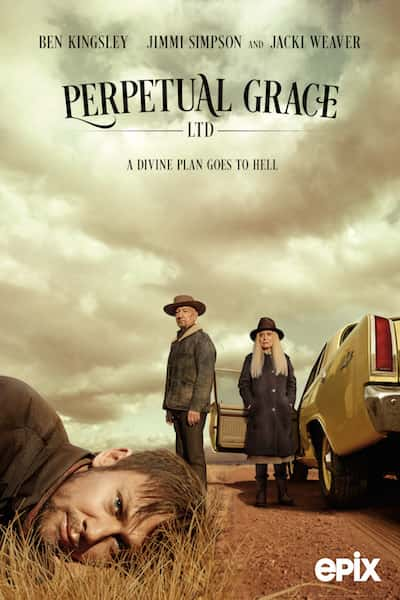 The plot of the show is how the son of a pastor wants to con his parents who themselves are con artists and to achieve that he finds a disillusioned man, James (Jimmi Simpson), to help him carry out the plan. Paul is certain that he doesn't want to hurt his parents are even give them a hint that he has such a plan up his sleeve. He wants to be able to go home one day and that is only possible if his parents think that he is innocent. He meets James at a dive bar where he sells his sob story about parents who con innocent people and do not want their son around to witness the truth about them. He gets James, who himself has gone through a traumatic experience to empathize with him, so that James would end up helping Paul.
All James needs to do is get hooked on drugs, because Pa and Ma can tell if someone is faking a drug addiction, He will then coincidentally appear on their everyday travel route and have them showing him mercy, taking him to the center where they help other people who go through drug abuse. The catch here is the fact that James is not really addicted, and he befriends Ma and Pa to sneakily convince them to go across the border into Mexico where the two can be held in jail long enough to be pronounced dead. For someone who doesn't want to hurt his parent, Paul has come up with a pretty elaborate plan.
James, who is running away from his own demons agrees to help and that's the beginning of a complicated set up which is surely set to go wrong every which way possible. Especially after Byron's transformation in Mexico and the resulting information that James unearths, we are certain that Paul's father is no ordinary man. Just when Paul gets overwhelmed with all the planning and scheming, he also gets picked up by a Texas ranger Tom Walker (Terry O'Quinn) on suspicions of murder. He is now on a tight leash with his ankle bracelet in place.
Meanwhile, he has successfully managed to lure Ma and Pa into what he thinks is a trap - a cell in Hermosillo, Mexico. Only, Pa has a lot of tricks up his sleeve and to see it all unravel is a fascinating process. Especially when you are looking at Kingsley build his character layer by layer.
If you have an entertainment scoop or a story for us, please reach out to us on (323) 421-7515.