Every 'Peaky Blinders' fan needs to watch Cinemax's upcoming show 'Warrior'. Here's why
Both shows are set in the periods surrounding the First World War, and the war's looming hysteria is quite prominent in the storylines. Men in waistcoats and tight suits, women in fancy hats and slender sleeves, and crime which is always sugarcoated with justifiable reasons behind their execution are just the perfect ingredients of a crime drama. However, what adds charm to all those edgy scenes and heart-stopping action, is a periodical background, and let's just say BBC One's 'Peaky Blinders' has it all. Creator Steven Knight's crime drama, which talks about gang wars, illegal gambling, prostitution, and a ready defiance of the law, has for the longest time ruled as a kind of its own. However, pretty soon Cinemax is about to drop its own bombshell, coming from creator Jonathan Tropper and based on Bruce Lee's writings, 'Warrior'. 
A lot like 'Peaky Blinders', 'Warrior' sees characters who are set against the pre-world war America, a time when the nation was just building itself up. It was also a time when there was an influx of immigrants from all over the world, who had made their way to the new world in order to make a fortune for themselves. However, with white supremacy crawling into the nation's diplomacy, immigrants were sidelined as mere slaves, but that is not what 'Warrior' is about. 'Warrior' tells the story of fearlessness, virtue transforming to violence, and above all, the show finding its roots in the infamous Tong Wars of the late 19th Century Chinatown. So what is so similar between the show representing Chinese immigrants in America and the show representing Irish immigrants in England?
---
#Warrior is set during the times of the Tong Wars in Chinatown, San Francisco in the late 1800s. Besides kickass martial arts scenes that reference the skill & swagger of Bruce Lee, audiences get a rare glimpse of Chinese American history. This is revolutionary. pic.twitter.com/4FZCoW2ASk

— Nancy Wang Yuen (@nancywyuen) December 11, 2018
---
Well, here are a few reasons why every 'Peaky Blinders' fans would love to watch Cinemax's 'Warrior', which is set to release in April: 
1. The Lone Wolf
In spite of being the second son of the Shelby family, there is no one quite like Thomas Shelby (Cillian Murphy). He is a lone wolf who fights his own demons and does not really like to involve his family unless he needs an ally to erase his rivals. The quiet, clever, yet sensitive man is perhaps the most acute depiction of an anti-hero on the screen right now...but so is Ah Sahm (Andrew Koji) from 'Warrior'. Ah Sahm might be the character the show tries to follow but in the end he is a man who is mostly invisible for those around him due to his quiet, unsung nature. However, once Ah Sahm begins to come out in the field and involve himself in a battle, his skill as a swift and fluid fighter does not go unnoticed.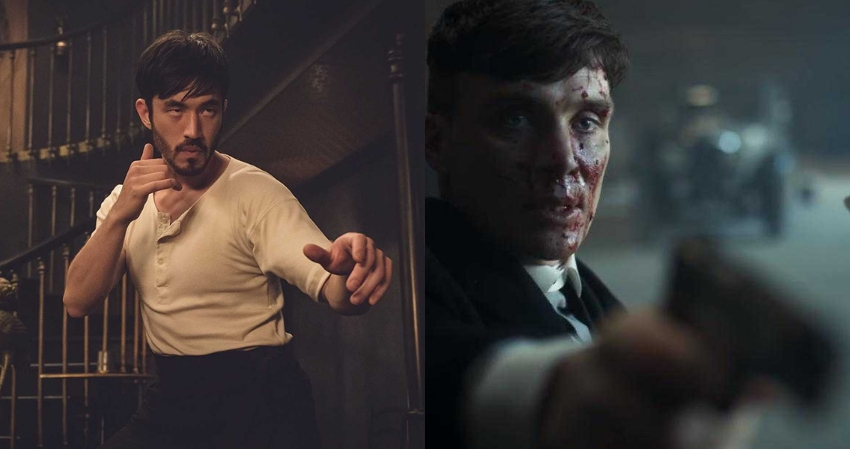 Both Thomas and Ah Sahm have one thing in common, they are the men of the night who silently get their job done without letting anybody know. Other than a chosen few nobody really knows much about Thomas or Ah Sahm but their words are counted as the final thought, and once these two men decide on laying their hands on something, there is not a soul in this world who can change their minds. 
2. War of the Gangs
'Peaky Blinders' has prepared us for just how brutal and vile gang wars can be. These gang wars center around illegal commodity including opium, prostitution, and gambling, and it only takes one bad word to get the gangs up on their feet and sling out their guns. However, not all gangs functioned the same way. While the Peaky Blinders and their accompanying gangs choose to slit their enemies' eyes with the blades stuck to their caps and later simply shoot them at point-blank range, the Tong gangs took it to a whole different level with martial arts. The Peaky Blinders liked to get over with all the killing as quickly as possible and concentrate on the business, but for the Tong gangs killing the enemy was nothing less than a feast. 
There are actually scenes on the show where the gangs fight each other, and the sheer enjoyment of watching their enemies die is clean on their faces. Unlike the Birmingham gangs, killing is a job for them and not the end of a dispute, hence they put in all their skill, their dexterity, and their ability to wipe out the very existence of their enemies. 'Warrior' has proven to be the very gory face of the Tong wars and to be honest, the Peaky Blinders seem merciful when compared. 
3. Women as the Mastermind
Polly Grey (Helen McCrory) has time and again proved that while the boys take care of the dirty business, nothing can pass the desk without her approval. While on one hand, she is an estranged mother who would not like her son to join the gang, on the other hand, she is a woman who can easily pull the strings of any man to get her work done. Polly is the only person who knows Thomas in and out, and she is only woman to whom all the Peaky Blinders pay their undivided respect. Quite similarly, we have Mey Ling (Dianne Doan) in 'Warrior', and while Polly is a diplomat by nature, Mey Ling is a warrior by birth. She is interested in the opium business as much as she is interested in slitting the throats of men who try to touch her. 
She holds a powerful place in the Tong Wars, and even when the traditional Tong leaders try to persuade her to maintain peace, just like Polly, Mey Ling does not waste a moment in sending off her men to war. However, unlike Polly, Mei Ling's influence and power goes unseen but maybe that is the way she wants it to be. 
'Warrior' premieres on Cinemax on April 5, and if you are a person who likes to see how the 19th-century men and women got their hands dirty in gang wars, this is the show you will have to watch.