'Outlander' season 5: Fans speculate a face-off between Murtagh and Jamie in the upcoming season Just because it is 'Droughtlander,' does not mean 'Outlander' fever has vanished. In fact, it is buzzing more than ever as fans have taken to online platforms to not only discuss the story potential of season 5 but also reminisce about season 4 and come up with their own baffling theories to navigate where the show is headed next.
Forget the books for now, because the story has already diverged from it in a rather massive way, thanks to the character of Murtagh Fitzgibbons (Duncan Lacroix), who was supposed to be dead by now but isn't. If that wasn't enough, he serves as an important arc in season 5 since season 4 concluded with Jamie Fraser being ordered by Governor Tryon to execute the prime regulator -- Murtagh Fitzgibbons aka his godfather and confidant, and now a lover to Aunt Jocasta.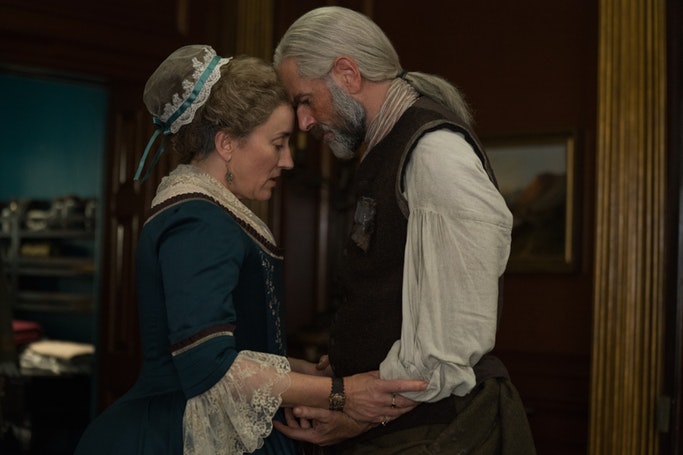 With such an important role to play in the upcoming season, even fans who have read the book cannot guess or fathom what is going to happen to the fan-favorite character.
Hence, the need to come up with fan theories, with many opining that there are only two possibilities: Murtagh and Jamie will go against each other over their political differences and respective duties or they will continue to remain on good terms, after all, as Murtagh had promised to his mother on her deathbed that he will protect Jamie.
If we are to weigh both the possibilities, conflict is highly likely as even the tightest of bonds will be tested. Many fans opine that since Murtagh is a Regulator who threatens the government Jamie works for, they will eventually go to war. Murtagh may even surrender himself after a conflict to keep his promise and take away his own life or run away to a faraway land, or perhaps time travel if he can.
However, a few fans remain positive thinking that nothing will come between their strong bond and Jamie will not hesitate to lie to the governor while assisting Murtagh. But in season 4, Jamie had made it clear to Murtagh that he will not assist the Regulators, but will not come in their way as well, so chances of him letting them slide are also high, now that even Fergus Fraser is in Frasers Ridge.
The upcoming season or the season after that may also explore Fergus' ancestry because we are still clueless about this French emigrant adopted by the Frasers. In Diana Gabaldon's book, 'An Echo in the Bone,' Percy Beauchamp tells Lord John Grey that he thinks Fergus is the son of Amelie Beauchamp and Comte St. Germain, which could be possible; and if he is, would be distantly related to Claire Fraser, since her maiden name is also Beauchamp.
While these are all fun fan theories, it should be taken with a grain of salt since 'Outlander' does not necessarily go by popular opinions. There are always surprises in store and there's always room to keep the audiences guessing.