'Outlander' Season 5, 6: Release date, plot, cast, trailer, news and everything else about Starz's time-traveling show
Filming has begun for the upcoming two installments which will feature 12 episodes each and here's everything you need to know about what's in store for the Frasers Even before season 4 started airing, 'Outlander,' was renewed for season 5 and 6 at a go.
"Fans can rest assured their beloved Claire and Jamie will be back facing new challenges, adversaries and adventures in seasons 5 and 6 as we delve into American history and continue the story of the Frasers as they settle in the New World," Starz president and CEO Chris Albrecht said in a statement in May 2018. And at New York Comic Con in October on 2018, showrunner Ronald Moore confirmed that additional seasons have been approved. "That is a fact," he said when asked about seasons 5 and 6.
Release date
It has been confirmed that season 5 of 'Outlander' will premiere on Sunday, February 16, 2020.
Plot
The coming two seasons will be based on the fifth and sixth books of Diana Gabaldon's 'Outlander' series, 'The Fiery Cross' and 'A Breath of Snow and Ashes.' Each season will have about 12 episodes and will explore the storylines beyond the books, mainly because the Starz's show has deviated from Gabaldon's story, and Murtagh Fitzgibbons is not only alive, but is also the central character for the coming season as Jamie Fraser has been ordered by Governor Tryon to find and execute Murtagh, the regulator, who also happens to be Jamie's godfather.
"Every year we approach it fresh," Executive producer Ronald D. Moore told EW in March of last year. "Should we keep it a book a season? We've done that up until now. But we've talked about splitting books, and we've talked about combining them. We want to be free in the writers' room to pick and choose and do what feels most comfortable that year."
Almost a year after that interview, Maril Davis, the co-executive producer of the show shared that they are already knee-deep with season 5.
---
Can't believe we've reached the final Outlander weekend of S4. This season has gone so fast!! Thankfully we're already knee deep into S5 #FieryCross Want to take the opportunity to thank our Cast, Writers, Producers, Fans & most importantly, our fabulous CREW #UnsungHeroes pic.twitter.com/zYm6PnWzSN

— Maril Davis (@TallShipProds) January 26, 2019
---
Added to that there was an assurance that unlike season 4 where the OG couple, Jamie and Claire got comparatively lesser sex and screen scenes, season 5 will have more on-screen time. However, expect more of Brianna's and Roger's story to be explored since Sophie Skelton, who plays Brianna Fraser in the time-traveling drama, shared "They haven't really sat down and had any conversations yet," the actress said, adding: "They left on a big fight, and they haven't even talked that out, and now they've got a baby to think of, too… They could put everything that happened aside, or it could complicate things and make things harder."
The books have helped us in guessing what's coming next, so taking a cue from Gabaldon's publisher, Penguin Random House, here's how 'The Fiery Cross,' has been described.
"The year is 1771, and war is coming. Jamie Fraser's wife tells him so. Little as he wishes to, he must believe it, for hers is a gift of dreadful prophecy—a time-traveler's certain knowledge. Born in the year of Our Lord 1918, Claire Randall served England as a nurse on the battlefields of World War II, and in the aftermath of peace found fresh conflicts when she walked through a cleft stone on the Scottish Highlands and found herself an outlander, an English lady in a place where no lady should be, in a time—1743—when the only English in Scotland were the officers and men of King George's army. Now wife, mother, and surgeon, Claire is still an outlander, out of place, and out of time, but now, by choice, linked by love to her only anchor—Jamie Fraser. Her unique view of the future has brought him both danger and deliverance in the past; her knowledge of the oncoming revolution is a flickering torch that may light his way through the perilous years ahead—or ignite a conflagration that will leave their lives in ashes…"
Cast
Core and fan favorite characters including Caitriona Balfe, Sam Heughan, Sophie Skelton, Richard Rankin, and John Bell will reprise their roles as Claire Fraser, Jamie Fraser, Brianna Randall Fraser, Roger MacKenzie, and Young Ian, respectively. Murtagh, Aunt Jocasta, as well as Lord John Grey will be played by Duncan Lacroix, Maria Doyle Kennedy and David Berry.
Ed Speleers, who plays the villainous role of Stephen Bonnet may comeback as fans believe he is still alive and escaped the bombing of jail in Wilmington.
Director/Writer
The show based on a series by Diana Gabaldon, 'Outlander,' was first published in 1991. Prior to being an author, she was the founding editor of Science Software Quarterly in 1984 at Arizona State University, and in the mid-1980s, she went on to explore her writing skills with software reviews, popular-science articles and comic books for the Walt Disney Company. She was a professor with an expertise in scientific computation at ASU for 12 years before leaving to write full-time
News
Caitriona Balfe and Sam Heughan are producers, expect more screen time for the OG couple: Claire and Jamie Fraser will not only take up the role of grandparents in season 5, but will also step behind the camera and wear producers' hats.
Author Diana Gabaldon has received a special award for services to Scottish tourism as the country witnessed a meteoric rise in tourists following Starz's 'Outlander' series.
Trailers
Season 5 and 6 have no trailer yet but you can check the space for updates.
Where to watch
'Outlander' airs on Starz.
Season 4 recap
Season 4 finale witnessed Young Ian triumph as the ultimate 'Man of Worth,' as he heroically sacrifices himself to save Roger from the Mohawks. The good news is that Ian finds a place for himself among the Mohawks as he passes their grueling test to qualify as one of the tribesmen. Roger and Brianna unite in Aunt Jocasta's River Run, while Jamie Fraser receives a telegram order that he ought to kill Murtagh, who is his godfather.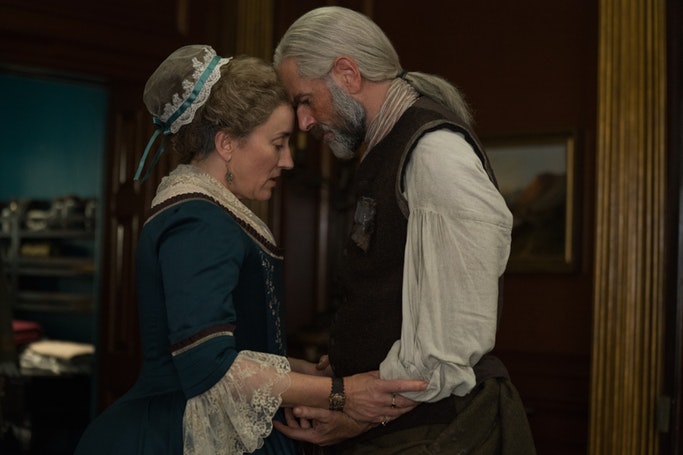 Significant highlights include Brianna giving birth to a son before reuniting with her parents and later, Roger. The baby may or may not be Roger's but the season ended with Roger accepting the child. Season 5 is bound to bring more family drama, not to mention the political divisions from the unavoidable Revolutionary War.
If you liked this, you'll love these:
Timeless, Travelers, DC's Legends of Tomorrow, Game of Thrones, Under the Dome