Man with knife attacks schoolgirls in Japan; 3 dead, including suspect who stabbed himself Update 1: 55 a.m. ET: Japan's Prime Minister Abe Shinzo has described a fatal stabbing spree near Tokyo as harrowing, adding that he is outraged and will take all necessary measures for children's safety. Abe said: "It was an extremely harrowing incident in which many small children were victimized, and I feel strong resentment... I will take all possible measures to protect the safety of children."
---
In a terrifying incident in Japan, a man attacked at least 19 people with a knife, killing two on Monday. According to Associated Press, he was heard screaming, "I will kill you" before he attacked a group of schoolchildren waiting near a bus stop. The incident injured 15 children and killed a sixth-grade elementary school girl. The second casualty in the attack was a man in his 30s while the third death is of the knife-wielding man. Police have yet not been able to confirm the number of deaths in the incident.
The attacker, who stabbed himself after the knifing spree has died from his injuries and his identity is unknown at this point The motive for the attack is unknown. The attacker was said to be someone in his 50s and attacked the kids in Noborito Park, Kawasaki, a city near Japan's capital Tokyo. Most of the victims attended a school founded by Soeurs de la Charite de Quebec, an organization of Catholic nuns in Quebec City in Canada.
According to reports on NHK, the police said that the driver of a bus saw the attacker with a knife in each hand coming towards the vehicle. He is said to have started stabbing kids after. Another eyewitness reportedly saw that he tried to get on the bus forcefully as well. A witness told the Mainichi newspaper that he heard children shrieking after walking past a bus, and when he turned around, he saw a man wielding a knife in each hand, screaming "I will kill you" and that several children were on the ground.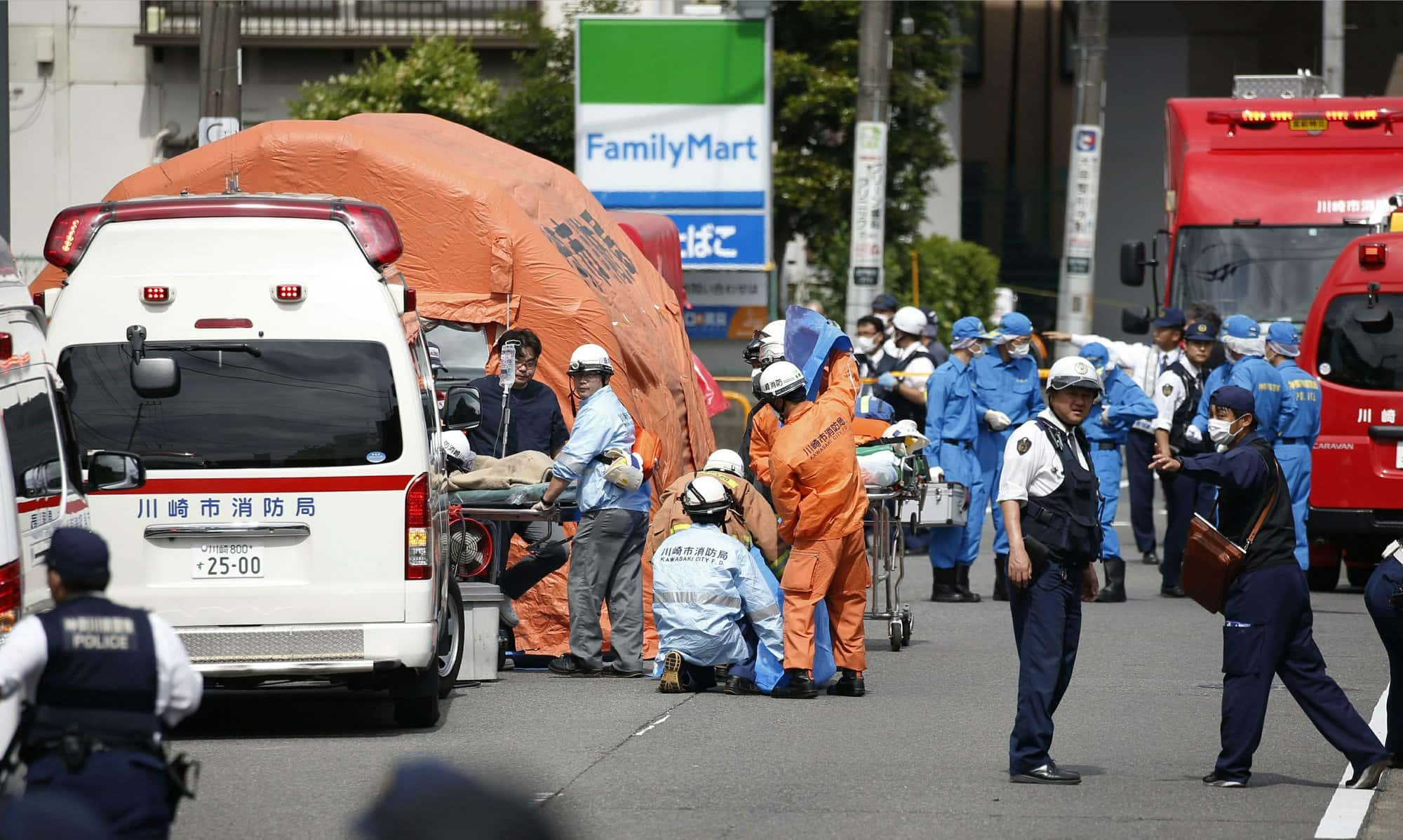 While Japan is known for its lower crime rates, this attack is reminiscent of the 2016 attack where a former employee at a disabled home allegedly killed 19 and injured more than 20 others. A spokesman for the Kawasaki Fire Department told AFP news agency that an emergency call was received at 7:44 local time on Tuesday (22:44 GMT Monday) about the attack. "I saw a man holding a knife... I couldn't see clearly, but he apparently stabbed himself in the neck," one eyewitness told public broadcaster NHK.
The spree has occurred during the time of US President Donald Trump's Japan visit.
Trump said that Americans "stand with the people of Japan" and offered his "prayers and sympathy to the victims of the stabbing attack" and that Americans "grieve for the victims and for their families".
If you have a news scoop or an interesting story for us, please reach out at (323) 421-7514.