Once Upon a Time in Hollywood: New trailer, premiere at Cannes, plot, and everything you need to know about Quentin Tarantino's next 'Once upon a time in Hollywood' is the upcoming Quentin Tarantino film starring Brad Pitt, Leonardo DiCaprio, Margot Robbie and the late Luke Perry among others. The film has gone through many ups and downs since its announcement in July 2017. This marks Tarantino's first film where he is not associated with Harvey Weinstein after cutting off all ties with him in the wake of sexual harassment charges made by many women in 2018. The film also received backlash over its lack of diversity in casting in June 2018 after first pictures and cast announcements were made.
Release date:
The film is slated to release on July 26 in the US. The film will release between July 26 and August 29 across the world. The film was originally slated to release on August 9 to coincide with the Tate-LaBianca murders.
Plot:

The film is set in 1969 when actor Rick Dalton, played by DiCaprio, who is way past his golden days tries to find his way back into Hollywood along with his stunt double, Cliff Booth played by Pitt. While their story is fictional, the Charles Manson family murders that took place at this time is based on true events. Actor Sharon Tate, who was married to filmmaker Roman Polankski was one of the victims of the killings that took place. In the film, Dalton is Tate's neighbor.
Cast:
Al Pacino: Marvin Shwarz
Al Pacino, will play the role of washed-up actor Rick Dalton's agent in the film. 'Once upon a Time in Hollywood' marks his first collaboration with Tarantino. Pacino's casting announcement was officially made on June 7, 2018, almost a year after the film was announced.
Brad Pitt: Cliff Booth
Brad Pitt plays the role of Cliff Booth, actor Rick Dalton's body double and longtime best friend in the film. Booth and Dalton try to crawl back to fame in the end of Hollwood's global era - the 1960s. Pitt has previously worked with Tarantino on the critically acclaimed 2009 film 'Inglourious Basterds'. The film also has a cult following among followers and critics of Tarantino.
Leonardo DiCaprio: Rick Dalton
Leonardo DiCaprio plays the role of actor Rick Dalton, who is now out of favor in the golden era of Hollywood. His claim to fame was his role in the western television series 'Bounty Law', which aired from 1958 to 1963. He attempts to transition to movies, however, this doesn't work leading to him playing guest roles in films. His only card to try to get back to stardom is his neighbor Sharan Tate.
Margot Robbie: Sharan Tate
Actor Margot Robbie, who is collaborating with Tarantino for the first time will play the role of Sharon Tate, Rick Dalton's neighbor and one of the victims of Manson family killings.
Damon Herriman: Charles Manson
Australian actor Damon Herriman plays the role of a serial killer-cult leader who ordered the death of actor Sharon Tate and her friends, which was carried out by his followers, who he referred to as his family. This is Herriman's first lead role in an American film having starred in a minor role in 2011 film 'J Edgar'.
Other cast members
Late actor Luke Perry: Wayne Maunder, an actor who worked on television series 'Lancer'.
Emily Hersch: Jay Sebring
Damian Lewis: Stevie McQueen
Bruce Dern: George Spahn, the man who rented his farm out to Charles Manson and his followers in the months preceding the murder of Sharon Tate.
Dakota Fanning: Lynette "Squeaky" Fromme, a member of Charles Manson 'family'
Austin Butler: Charles 'Texas' Watson, one of the three members who was involved in Tate murder
Mike Moh: Bruce Lee
Lorenza Izzo: Francesca Capucci
Rafal Zaweirucha: Roman Polanski
Trailer
The trailer of Quentin Tarantino's ninth film was released on Wednesday, March 20. The trailer features Rick Dalton and his double Cliff Booth's equation in the film in the form of a black and white interview set in the 60s at the peak of Dalton's career.
The trailer also features Margot Robbie as Sharon Tate, the actor who was murdered by the Manson family. The trailer doesn't give away much about the film, and Al Pacino is also missing from action. To know more, we will have to wait for the film to come out in July.
The second trailer of Tarantino's film was released ahead of the Cannes film festival premiere. The new video tells us more about who Dalton is. How popular he was, which was further reiterated by his agent - played by Al Pacino - his path to destruction and how he has now become a 'has-been'. How will this affect Rick's body double Booth and how will their paths cross with Sharon Tate is something that we cannot wait to watch.
Director-Writer: Quentin Tarantino
The film is written and directed by Quentin Tarantino who is well-known for his films including 'Pulp Fiction', 'Kill Bill' series, 'Django Unchained', 'Inglourious Basterds' and 'The Hateful Eight' among others. Tarantino has been in the eye of many controversies especially for the portrayal of violence in his films, the use of racial slurs in Pulp Fiction and most recently, his ties to filmmakers Harvey Weinstein and Roman Polanski - two Hollywood icons who were accused of sexual harassment. Tarantino did cut off all ties with Harvey Weinstein. An audio of the filmmaker defending Polanski by calling the victim a party girl surfaced in 2018, for which he apologized.
News
Since its announcement in 2017, the film has been in the news for various reasons including lack of diversity in the casting of the film. This arose after pictures and announcements of the cast were made in June 2018. There was a big hue and cry about Tarantino's cast being all-white while many did note that the film is set during the Manson family murders, which happens to consist of mainly white players.
The first official poster of the film was shared on social media on March 18.
Both DiCaprio and Pitt, along with director Tarantino and other cast members, appeared on the red carpet together at Cannes on May 21.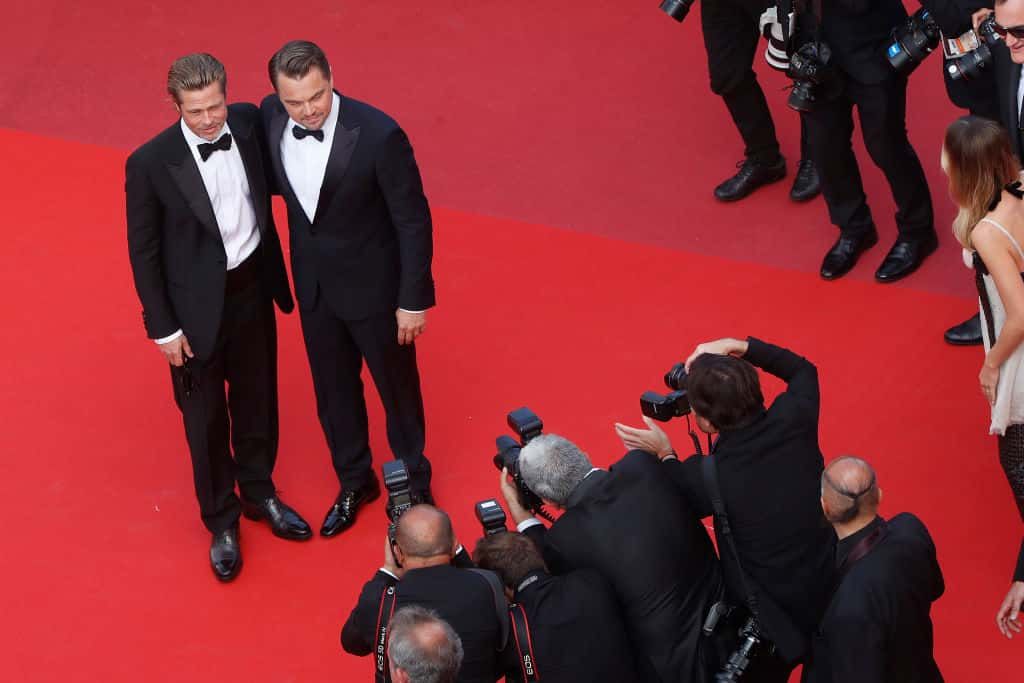 If you liked this, you'll love these: Django Unchained, Pulp Fiction, The Inglourious Basterds, Kill Bill Vol 1, Kill Bill Vol 2.