Who is Nasir Ahmed? Real love story of Indian-American engineer on 'This Is Us' who is credited for .jpg algorithm It is 1963. On a moonlit night in ​Albuquerque, New Mexico, out walks a dainty young girl from the international students wing. With a cigarette in one hand, she trots in her heels and walks up to a lonesome man sitting on a ledge. "What are you and do you have a light?" she asks. "I'm Nasir from India," he replies.
Introducing herself, she says, "I'm Esther from Argentina... And I need a light." The poignant first scene is like a puzzle that makes you wonder: Who really is the Indian man and this outspoken lady and more so what is their connection to the Pearsons or 'This is Us'? We have the answers.
RELATED ARTICLES
'This Is Us' Season 5 Episode 8: Who is the Indian man and his lady love? Here's how they helped Pearsons connect
'This Is Us' Season 5 Episode 8 'In The Room' Full Cast List: Meet Abhi Sinha, Katie Sarife and rest of the actors
Why was Nasir Ahmed introduced on 'This Is Us'?
In the 1970s, Nasir Ahmed led a team of researchers who developed the Discrete Cosine Transform. This technique is still used by companies as part of their image and video sharing technology. The epilogue on 'This Is Us' continued, "You don't know his name, but Nasir and his team are responsible got keeping us connected today. He and his wife Esther recently celebrated their 56th anniversary."
The beloved NBC show paid a tribute to the beautiful love story and the heroic tale of Nasir whose accomplishments help us stay connected
According to his bio, Nasir played a pioneering role in the development of orthogonal transforms for compressing video data. The leading author of the Discrete Cosine Transform (DCT), his paper was published in the IEEE Transactions of Computers in 1974. Currently, DCT is the most widely used transform in numerous research and commercial applications. So, if you want to thank someone for those FaceTime calls, it's him.
Who is Nasir Ahmed?
Born in 1940 in Bangalore, India, Nasir Ahmed is an alumnus of the Bishop Cotton Boys School. After getting his BS degree in Electrical Engineering from the University Visvesvaraya College of Engineering, Bangalore, India, in 1961, he went to study in New Mexico and got his MS and PhD degrees in Electrical and Computer Engineering from the University of New Mexico in 1963 and 1966.
It was there that he locked eyes with Esther Pariente-Ahmed who did her PhD from the University of New Mexico in 1994. To know more about their love story, click here. The couple had a son named Michael Pariente, who is now a Las Vegas Criminal Defense Attorney.
After graduation, Ahmed worked as the Principal Research Engineer, Honeywell, St Paul, MN from 1966 to 1968, he was a professor at the Kansas State University till 1983 and then went on to be a part of the University of New Mexico till 2001.
What is Discrete Cosine Transform?
Discrete Cosine Transform or DCT was first developed by Nasir and his team while working at the Kansas State University. "This was in early 1972, and I wrote a proposal to the National Science Foundation (NSF)," Nasir narrated his journey in a paper.
He continued, "Much to my disappointment, NSF did not fund the proposal; I recall one reviewer's comment to the effect that the whole idea seemed 'too simple'. Hence I decided to work on this problem with my PhD student Mr T Natarajan and my friend Dr Ram Mohan Rao at the University of Texas at Arlington."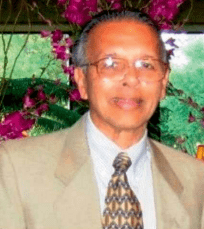 Where is Nasir Ahmed now?
Having authored two books, namely 'Orthogonal Transforms for Digital Signal Processing' and 'Discrete-Time Signals and Systems', Nasir is happily married to Esther and they recently celebrated their 56th wedding anniversary.
Not only did Nasir was credited for DCT, but is also known as the investor of the .jpg file format for photos, according to the College of Graduates in Economic Sciences of Tucumán (CGCET). Moreover, the book 'The Order of the Crest' also said that Nasir's work helped them not only access Zoom meetings and FaceTime calls but also in the creation of DVDs, digital cameras and high-def TVs.