Hank Aaron dies at 86, here's how MLB star lived through death threats and racism to break Babe Ruth's record
Major League Baseball player Hank Aaron died on Friday at the age of 86 as confirmed by his daughter. 'Hammerin Hank' as he is well-known among fans held the record for hitting the most home runs Hall of Famer Hank Aaron (Getty Images)
Major League Baseball player Hank Aaron's death was confirmed by his daughter on Friday. 'Hammerin Hank' was 86 years old at the time of his death. The baseball player was known for fighting the odds as one of the eight children and when he had begun to play baseball, he did not have enough money to even buy the bat that he would need. He had reportedly begun honing his baseball skills by hitting bottle caps with sticks. In 1949, Aaron had his first tryout with the Brooklyn Dodgers and he was 15-years-old. While he did not get selected, he did reportedly make an impact.
He began his stint as a baseball player two years later in the minor league with Indianapolis Clown's organization of the Negro League. After this, Aaron chose to sign with the Boston Braves over the New York Giants, because the Braves offered $50 more a month. He was all of 21-years-old when he made the first of his records -- 21 All-Star selections and his record 25 All-Star appearances.
In 1966 the Braves moved to Atlanta, a bigger city that also happened to have a strong Civil Rights Movement connection. Speaking about how he came out of it a leader, Aaron had told Channel 2, "Honestly, I was scared coming to a high-profile city like Atlanta," and added, "Knowing that Dr. King was here, Andy Young and some of the other great civil rights leaders that made their home here, and I'm coming from Milwaukee where there was no activity at all ... It makes you start thinking about what it is, what can you do, what role you can play. And makes you feel like you kind of shortchanged everybody really, you didn't do your job."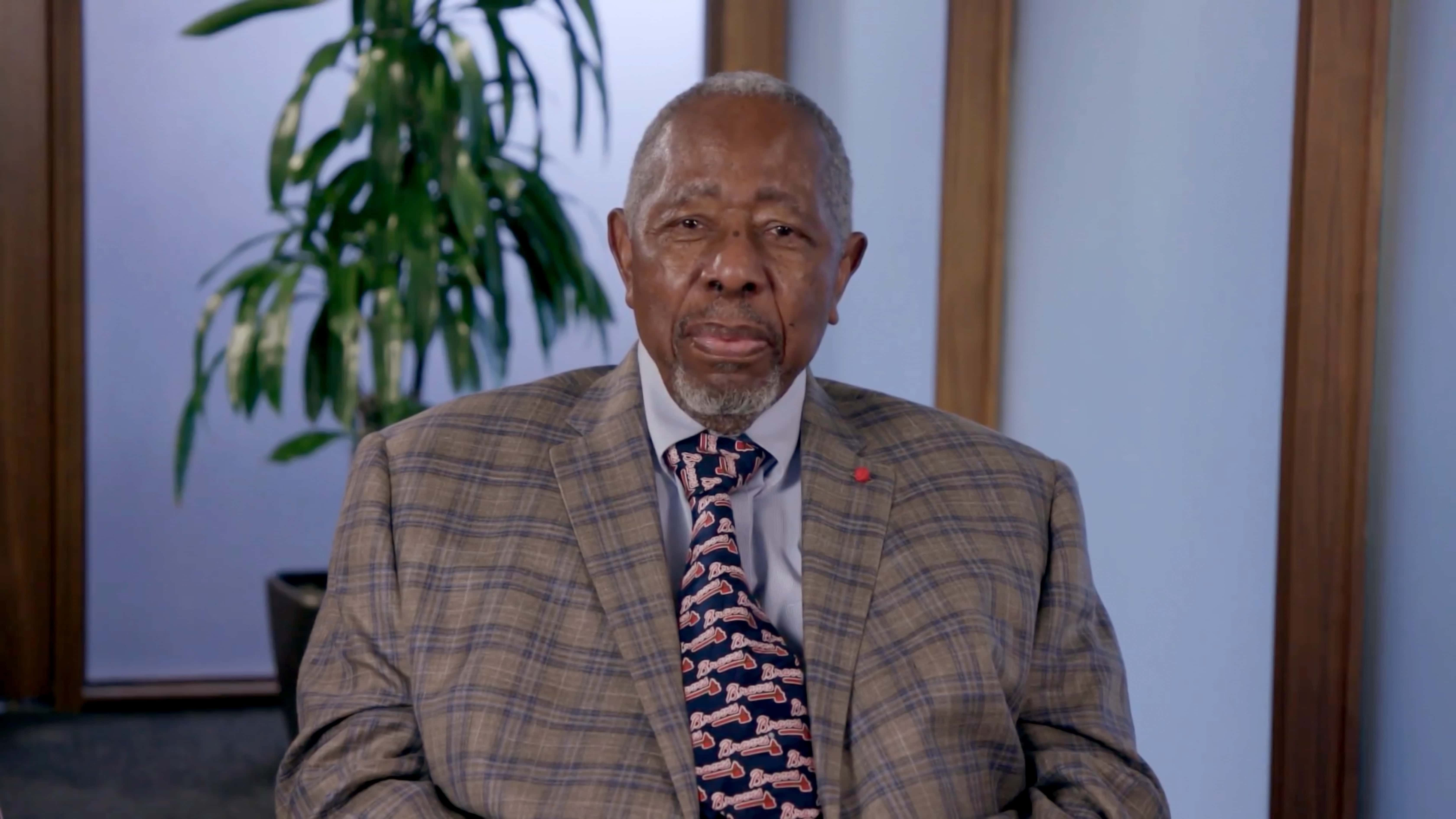 He had also said, "To be honest with you, I felt a little ashamed of myself, because I was so far back in the sticks, in the woods, that I didn't know what was going on. It kind of made me start thinking, realizing that, regardless of what I achieved in life, no matter whether it's baseball, football, basketball, life, lawyers, whatever it may be, that I still had a role to play." Aaron was 37 when he set a new career-best in slugging percentage in home runs, with 47 of them, and at the age of 39, he was just one run short of equalling Babe Ruth's major league record. He recorded his eighth 40-homer season and finished that year with 713.
It was at this time that the baseball player had been hit with death threats because he was perched to overtake Babe Ruth. Some of the hate mail he received as he neared Ruth's record was also exhibited at Emory University. One of the handwritten letters had read, "Dear Hank Aaron, Retire or DIE!!! The Atlanta Braves will be moving around the country and I'll move with them." When he had felt unsafe even at his home because of all the threats that had come his way to stop him from overtaking Babe Ruth's record, it was at the ballpark that he had felt safe and he said, "The greatest protection I had for myself, regardless to whatever I was doing, even when I got all of the threat letters that I got, is that the greatest moment I had, and the safest moments for me, were right here at the ballpark. For some reason I always felt like I was safe in this ball park."
Even as the pressure built ahead of the 1974 campaign, Aaron had tied with Babe Ruth's record in his first at-bat with his very first swing of the season. He broke Babe Ruth's record and hit 715 in the presence of 53,775 spectators and a national TV audience. However, his family was not a part of the spectator crowd as the threat against him and his family loomed big. Having retired in 1976, Aaron had said, "My hope is one day people will judge me by character rather than by the context of my color. And I think when that day comes, that's the day I'm going to say 'Hallelujah'."