"Starring in a Marvel project is what an actor dreams of": Miles Mussenden gets candid about his big 'Cloak & Dagger' break
Come June, and this British-born American star will be taking on a role that could very well become the highlight of his career. Miles Mussenden (Source : Getty Images)
A familiar face on TV - having previously wooed fans with appearances on 'Army Wives' and 'Queen Sugar' - Miles Mussenden is, currently, aboard a big Marvel roller-coaster.
Come June, and this British-born American star will be taking on a role that could very well become the highlight of his career. Mussenden has been cast in Freeform's forthcoming series 'Cloak & Dagger' as Otis Johnson, the father of a superhero-to-be - Tyrone aka Cloak, starring Aubrey Joseph. And while this is not his first tryst with the ever-expansive franchise, it sure is an opportunity that, in his own words, an "actor dreams of".
What lends Mussenden's character an added charm in 'Cloak & Dagger' seems to be his emotional baggage. As the actor told Meaww ahead of the show's June 7 premiere, Otis loses his son under some "questionable circumstances" and the aftermath of this arc continues to have its effects felt as far as Mussenden's part is concerned.
All in all, a relatively darker plot combined with Marvel's Midas touch - it's not hard to foresee Freeform's YA audience falling in love with this show, the teenage heroes, and Mussenden-played Johnson.
The actor spilled some secrets as I recently joined him for a candid chat about his Marvel character, his 2018 line-up and more.
With Cloak & Dagger, you will officially be becoming a part of the Marvel Cinematic Universe, how is it like joining an expansive franchise?
It's like I dated and flirted with Marvel on a few projects. As the universe would have it we loved each other. So when the right project came to the right guy at the right time it was magic. For a while it was surreal, I couldn't tell anyone and my head was spinning. I didn't get back to reality until Jeph Loeb [Marvel's Head of Television] called to welcome me and said 'this is an opportunity to do your best work'. Once I heard that the world got quiet and I got focused on the work.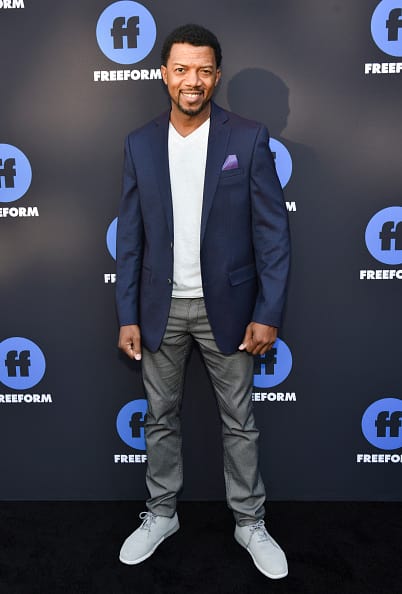 Given that there's a devoted fan following of the comics, is it challenging to bring such a beloved role to life on screen?
Well, I enjoy reading comments from the fans whenever we post teasers and stuff. I wanted to feel where they were coming from so I got into the comics. I found sparse info on Tyrone's/Cloak's dad. That was okay because, from the audition, I felt I knew the character intimately. So when playing him I work off instinct.
How was the experience of working with Aubrey Joseph and Olivia Holt? Were there moments when you would advise these promising youngsters?
LOVE working with them, both extremely talented! I feel like Aubrey's my long lost son. Advice to him was off the set. After the pilot wrapped he was eager to get back to finish the season. I encouraged him to enjoy the time of just being Aubrey with his family and friends because once the show premieres he'd be larger than life and everything would change. Lastly, protect Cloak like a magician protects his methods.
Olivia was naturally warm and approachable. She already had the swagger of a seasoned-pro because she'd been doing it for so long. They both had the right temperaments to bring the characters to life.
You will be filling in the shoes of a superhero's dad, is it additional responsibility? As a father yourself, did you find yourself relating to a real-life situation at any point in the plot?
Actually, I felt an additional responsibility to be the father that has suffered a traumatic loss (Otis Johnson, the character) and to live the aftermath, honestly, in the open for the world to get a bird's eye view. As a father, I related to much of it. I could identify with the need to shape my child's behavior in an effort to keep him safe and have the best chance at success.
---
The character, Otis Johnson, himself has quite a complex history. Will we see any resolution to his story arc in season 1?
Otis lost his son under questionable circumstances and he lived for years in NOLA prior to what we see in season 1, there is trauma here. It's sort of like when fixing up an old house, sometimes you leave some things well enough alone because opening things up inevitably leads to more problems. So although we get some resolution, we also get more challenges.
How's the chemistry between you and your on-screen wife, played by Gloria Reuben?
I'm in awe of her work. Turns out that that's helpful to my character since Adina Johnson (Reuben) seems to always be on top of her game. I think we have great chemistry, however, if you pay attention there are some challenges bubbling beneath the surface.
What is the hardest part of being associated with a superhero franchise?
With my first TV role on 'Army Wives', random people would approach me hurt or angry about how my character handled notifying the family of their kid's death on the show. I would get caught off guard a lot, not realizing they were fans of the show. I can imagine that type of thing being exponentially more frequent with Marvel fans. Currently, it's working on outside projects. I have to navigate what conflicts with the show and what projects make sense to take on.
Marvel has proven that there's an audience for the not-so-well-established comic characters as well. What is your expectation from Cloak & Dagger after June's premiere?
That Freeform's YA audience will tune in and fall in love with Tyrone and Tandy. Also that Marvel fans of all ages will kick the tires, be intrigued by the grit, authenticity and the cinematic feel enough to keep watching and then get hooked.
All eyes will certainly be on you once the show is on air and from what it looks like, it's the longest time you have been associated with a character. How are you preparing for the attention from Marvel loyalists?
So far, online, I've gotten good at recognizing and tuning out the trolls. The only other thing I've been doing is learning more about the MCU so I can speak their language when we meet. If you have any suggestions I'm all ears...
What are your takeaways from playing this character?
Pay close attention to the people I care about and listen at a level that's beyond the spoken word.
Presuming that the show would be returning for a second season as well, what are your expectations? Please tell us Otis will be there for round 2.
If I answered that question I guess that would be a spoiler, so I'll just say, I certainly hope so.
Cloak & Dagger seems to be a pretty great addition to your acting career. But what about your other passion, music? Are you doing anything on that front?
Starring on a Marvel project with great writers, cast and crew is the type of opportunity an actor dreams of. This is my passion at the moment. With so many musically gifted artists on our cast, I suspect I'll get inspired to create in the future.
What's next on the list for you in 2018?
I had to decline several projects last year due to scheduling conflicts. However, I did do an Indie film called 'Heather' that should be completed by this year. I was also in talks to do a couple more episodes of Queen Sugar. Other than that I'll be spending time with the family while being on the lookout for the next great opportunity on a film.