Censorship, controversy and self-imposed exile: The strange case of rapper M.I.A. unveiled in new documentary
The Sri Lankan provocateur, activist and rapper's illustrious life and works unfold in the gripping new documentary which is now available to stream online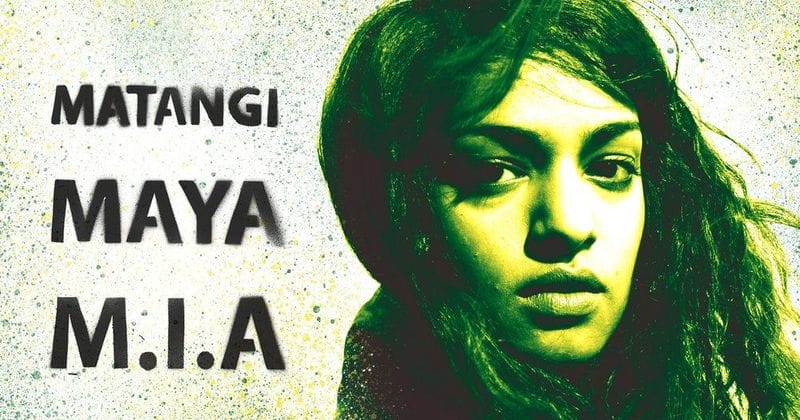 'MATANGI / MAYA / M.I.A.' is a gripping new documentary that tells the story of the life and career of Sri Lankan/British rapper and artist M.I.A. - one of the most fascinating and, at times, controversial pop stars of the last two decades. The film won the World Cinema Documentary Special Jury Award at this year's Sundance Film Festival, received a short theatrical release earlier this September and is now available for streaming online via iTunes, Google Play, Amazon Prime and VOD.
Directed by Steve Loveridge and featuring music by Dhani Harrison and Paul Hicks, 'MATANGI / MAYA / M.I.A.' chronicles the incredible story of the pop star, including a childhood spent surviving civil war in Sri Lanka, emigrating to England, and finding her voice as a musical artist. Throughout her journey, her political activism is stifled by calls for censorship, with the press and public labeling her a terrorist.
The documentary arrives online just a couple of months after M.I.A. officially announced her retirement from music, citing censorship as the main reason, and tells a story that has been suppressed time and over again, just like her attempt to draw the Tamil issues into Western public consciousness. 
It's an eye-opening tale that will leave you equal parts mesmerized and frustrated and has garnered rave reviews for its earnest and unfazed narration. But before you go check out the documentary, here are 10 things about the provocateur pop star and activist that you should know:
1. Her stage name comes from a film she made about her missing cousin
Mathangi Arulpragasam assumed the stage name M.I.A. and most people rightly assumed that it stands for "missing in action" as a reference to her days as a Tamil Sri Lankan immigrant in Britain. But the story runs deeper than that. In her 2012 self-titled biography, M.I.A. wrote: "M.I.A. came to be because of my missing cousin. I wanted to make a film about where he was since he was M.I.A. (Missing in Action) in Sri Lanka. We were the same age, went to the same schools growing up. I was also living in Acton at the time. So I was living in Acton looking for my cousin missing in action."
2. She was afraid her dyslexia would prevent her from touring
M.I.A. has admitted that she suffers from dyslexia and in her early days as a singer, she was worried it would make her unable to tour.
She expressed her fears during a 2005 interview with Stylus Magazine: "When I was trying to take my show on the road, in the beginning, it was really nerve-racking because I'm dyslexic, and I have issues with remembering my own lyrics. When I was writing my songs and making the album, I was thinking that I was going to get someone else to sing it the whole time. I never thought I could actually present it live."
3. She's the only artist in history to be nominated for an Oscar, Grammy, Brit Award, Mercury Prize and Alternative Turner Prize
M.I.A is the only artist in history to be nominated for an Academy Award, Grammy Award, Brit Award, Mercury Prize and Alternative Turner Prize, and the first artist of Asian descent to be nominated for an Academy and Grammy Award in the same year. In 2008, her hit song 'Paper Planes' scored a Grammy nomination for Record of the Year. The same year, she composed a song for the soundtrack of Danny Boyle's Oscar winning film 'Slumdog Millionaire' for which she also bagged an Academy Award nomination for Best Song.
4. Oprah apparently labeled her as a terrorist
M.I.A. has long been accused of being a terrorist sympathizer, possibly due to her father being a political activist for the Tamil people and his association with the controversial Liberation Tigers of Tamil Eelam (a.k.a. Tamil Tigers). According to the star, Oprah Winfrey even called her a terrorist once. She recalled an exchange where she met Oprah for a 2015 Rolling Stone feature.
M.I.A explained: "In 2009, Time nominated me for one of the most influential people of the 21st century or something and I met Oprah at that party. And I was like, 'Hey, people are gonna f**king die in my country. Like, please pay attention.' And she was like, 'You're shit because you were rude to Lady Gaga and I'm not talking to you. And I'm gonna interview Tom Cruise jumping on my sofa, so f**k off.'"
When the reporter asked if Oprah really reacted in that manner, the rapper confirmed saying, "Yeah, she didn't talk to me. She shut me down. She took that photo of me, but she was just like, 'I can't talk to you because you're crazy and you're a terrorist.' And I'm like, 'I'm not. I'm a Tamil and there are people dying in my country and you have to like look at it because you're f**king Oprah and every American told me you're going to save the world.'"
5. She was briefly on the U.S. Homeland Security Risk List
Speaking of terrorism, it wasn't just Oprah who labeled her, so did the U.S. government. In fact, M.I.A.'s breakout album 'Kala' could have turned out a lot different if the government hadn't thought she was a potential threat. The pop star was supposed to record her sophomore album in America with Timbaland, but visa issues didn't allow her a long-term work permit. The reason for denial? Her brief presence on the U.S. Homeland Security Risk List in 2006 for her politically charged lyrics.
6. She called the NSA's online spying three years before Edward Snowden made it public
In 2013, leaks of secret documents from Edward Snowden revealed the National Security Agency (NSA) was spying on our phone calls, texts, Google history, Facebook profiles and more. Well, M.I.A. sang about this on the 'Maya' highlight 'The Message' three years ago in 2010. The lyrics include lines like, "Your headphones connected to your iPhone / Your iPhone's connected to the Internet / The Internet's connected to the Google / The Google's connected to the Government."
But the song was dismissed as a paranoid rant by reviewers. "'The Message' is about as effective as someone in a dorm room ranting about the CIA inventing AIDS," Pitchfork wrote, while Uncut called it a "combination of would-be narcissism and paranoia." But when the whistleblowing came to light, M.I.A. didn't hold back as she took aim at her harshest critics.
7. She lashed out at her critics on more than one occasion
M.I.A.'s relationship with some media outlets has been controversial to say the least. Apart from the above-mentioned feud with Pitchfork, she alleged the publication's mechanisms was sexist and racist, as possible reasons for misattribution of some of her work in her career.
In 2010, M.I.A. tweeted "F**k the New York Times," after they published a critical article by Lynn Hirschberg about M.I.A. and the conflict, which portrayed the musician as politically naive and hypocritical. Hirschberg later published a correction, apologizing for reporting quotes made by the artist. Some believed Hirschberg's incorrect quotes were a deliberate effort to defame the artist.
8. She was a supporter of Wikileaks and Julian Assange even opened for her show once
In her book, M.I.A. wrote regarding WikiLeaks: "So obviously I love WikiLeaks because, after I'd gone through the whole backlash, they were the first news information site to confirm any news on the Sri Lankan war in the truest form..." In 2013, she even had Julian Assange open one of her New York City concerts when the controversial WikiLeaks founder appeared via Skype, speaking from London's Ecuadorian embassy, where he was granted asylum. Assange gave a 10-minute speech about Edward Snowden, politics, the media and other things to set the tone for a politically charged gig. A year earlier, M.I.A. even stood by Assange's side as he was successfully granted political asylum by Ecuador in August 2012 and she even defended him when he was faced with charges of rape and molestation.
9. She was nine months pregnant when she performed with Kanye and Jay-Z at the 2008 Grammys
M.I.A's smash hit 'Paper Planes' was sampled on T.I. and Jay-Z's 'Swagger Like Us' and was featured in the trailer for the film Pineapple Express. In 2008, she was nominated for a Grammy for Record of the Year for the song. She took the stage with Jay-Z, T.I., Lil Wayne, and Kanye West to perform the song while she was nine months into her pregnancy. In fact, she gave birth to her son, Ikhyd Edgar Arular Bronfman, just three days after performing at the Grammy Awards and had to cancel her performance at the Oscars because of the same. Now that's hardcore!
10. This is not the first time she has called it quits from making music
M.I.A. recently announced her effective retirement from music, saying that her 2015 record 'AIM' will be the last one, citing reasons of censorship in an interview with House of Strombo. But this isn't the first time she has teased retirement.
In 2008, after the release of her sophomore album 'Kala,' Maya announced she was retiring at Bonnaroo only to later decide that it was her last show ever and that she might record another album. She instead has recorded three more albums and played countless more shows. Regardless of whether she's able to produce another record again, at least we have 'MATANGI / MAYA / M.I.A' to tell us the against-all-odds story of her life and works, as well as the Tamil plight that she has worked so hard to make visible to the West.