Met Gala 2019: Cardi B bleeds style on the red carpet in celebration of the 'female form' Cardi B was quite a vision at the Met Gala red carpet on Monday as she sported a daring oxblood red gown designed by Thom Browne.
However, aside from the color of the gown, to the feathered edges and the flow of the train all made it look like Cardi B was a walking uterus. In addition to this, the folds in the front of the 'Bodak Yellow' singer's dress look a lot like a vagina. The folds which arise from her hips and flow down to the floor, seem to resemble a labia. Overall, the designer of the dress did say that his dress was inspired by the female form.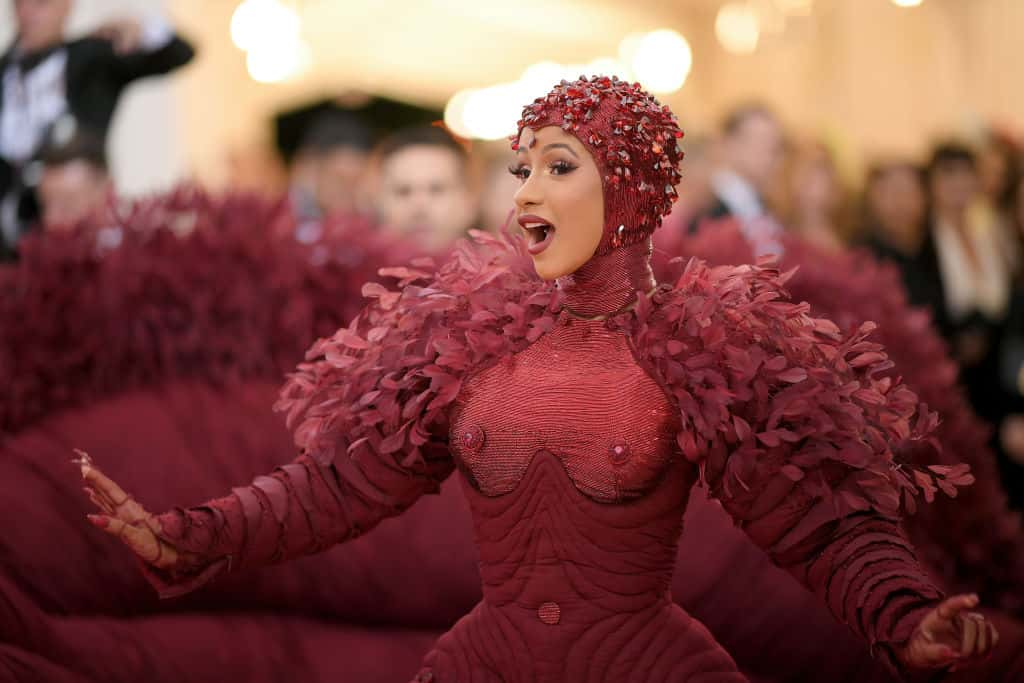 Thom Browne spoke to Vogue and shared, "I designed this dress for Cardi specifically because she has the ultimate beauty in a woman's body, and that is what the dress is about for me: taking advantage of that beauty."
The 26-year-old rapper was seen with beaded nipples which were also seen on her belly. The outfit featured a thick quilted burgundy fabric which had concentric circles which were inward from the hem. She also wore a skintight headpiece which looked like a scuba hood. Cardi's husband Offset tweeted a snap of his wife's outfit and wrote, "WIFEY IS THE TRUTH SHE JUST KILLED THE MET GALA THAT DRESS IS WOW !!!!!"
However, many fans and followers took to social media to call out Cardi's ensemble. One such fan wrote, "Does Cardi B low key look like the embodiment of menstruation? " while another added, "Read a comment that said Cardi B looks like the inside of a uterine wall during a menstruation cycle... And now I can't un-see it." A third user shared, "why cardi b look like my pad when I sneeze on my period."
It was just last week that Cardi B told Entertainment Tonight that she had surgery on her breasts after delivering her daughter Kulture last year. She shared, "I just got my boobs redone. My daughter f***ed me up. She did! She sure did."