First Lady Melania Trump reused Obama-era pamphlet for her new anti-cyberbullying campaign
The 27-page document appeared to copy certain sections word-to-word from a FTC pamphlet which was published for "Net Cetera" campaign launched by former President Barack Obama It appears that the First Lady Melania Trump's fascination with the Obamas has not worn off yet, the recent example being her new anti-cyberbullying campaign pamphlet reported mostly recycled from an Obama-era 2014 publication.
The first lady was previously accused of plagiarizing a part of the former first lady Michelle Obama's 2008 convention speech on the first day of the Republican National Convention in 2016. 
Melania Trump, on Monday, launched her "Be Best" initiative, in an effort to promote children's health, focusing on well-being, social media, online activity, and opioid addiction. Reports state that she and the Federal Trade Commission (FTC), as part of the initiative, released a brochure outlining her plans to assist parents in talking to their children about creative a safe online environment.
The 27-page document, however, appeared to copy certain sections nearly verbatim from an FTC pamphlet which was published as part of the agency's "Net Cetera" campaign in 2014, and was launched in 2009 under former President Barack Obama.
Reports state that the White House uploaded the new document titled "Talking With Kids About Being Online" on its website after tweaking some language and graphics and adding an introduction from the first lady. 
The First Lady's spokesperson, Stephanie Grisham, said, "As it is clearly related to the social media portion of Mrs. Trump's initiatives, it is a good resource to include with some of our Be Best materials. It was updated and edited to reflect today's event and we were happy to be able to provide the children in attendance with such a resource," BuzzFeed News reported.
The updates in the brochure, however, appeared minimal and it caused social media users to point out that Trump was against plagiarizing from the previous administration for her latest initiative.
---
I just wanted to thank Michelle and Barack Obama for their phenomenal booklet, taken credit for by Melania Trump yesterday. She apparently is ok with plagiarism. And cyber bullies. And cheaters. Really great influence on kids. Just like the rest of the Trump crime family. SAD!

— Scott Dworkin (@funder) May 8, 2018
---
---
.@FLOTUS ripped it off from the Obama administration. Do you Trump people not have an original thought in your heads? Can Melania do anything other than plagiarize? Plagiarism is uncool, lazy, and a terrible example to set for children.https://t.co/1kPbOxtYkv

— Lori Sirianni (@4AnimalLife) May 7, 2018
---
Reports state that the cover page of the brochure showed the graphic for a mobile phone which was slightly altered to show a more modern device, and some headlines were also changed but the underlying content was left untouched.
For example, the 2014 pamphlet's headline for discussion on "Sexting" was updated to "Sexting: Don't Do It" in the Trump's version of the brochure.
The FTC associate director, Nat Wood, said that the agency had worked with the first lady to update and redistribute the 2014 edition. Wood also added that several organizations also modify and reprint its materials and that the FTC, apart from revising the booklet, was not involved in any other Be Best effort.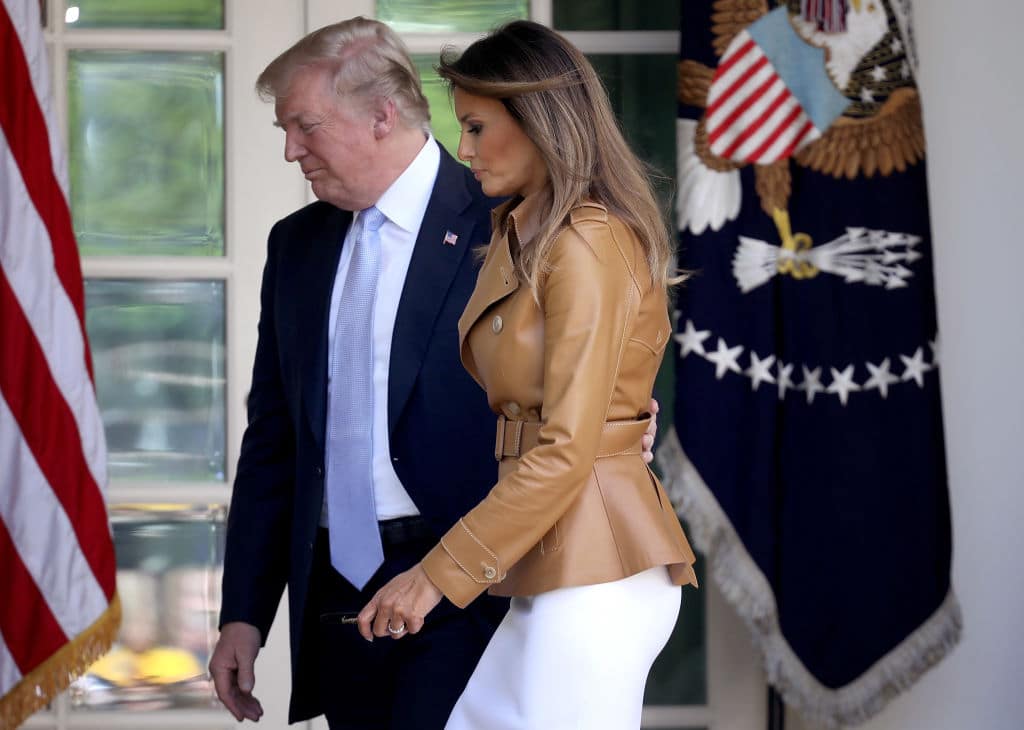 After receiving criticism for plagiarism, the White House, on Tuesday, released a statement slamming the "opposition media" for its "baseless accusations towards the First Lady and her new initiatives."
"After giving a strong speech that was met with a standing ovation and positive feedback, the focus from opposition media has been on an education booklet, "Talking with Kids About Being Online" produced by the Federal Trade Commission (FTC) in 2009. Mrs. Trump agreed to add Be Best branding and distribute the booklet in an effort to use her platform to amplify the positive message within," the statement read.
The White House statement concluded by urging the media to "Be Best" in their own professions, according to reports.