Meghan Markle gave birth in luxurious $25k labor ward with champagne and lobsters on the menu Prince Harry and Meghan Markle's royal baby was born at 5.26 am on Monday morning and weighed 7lb 3oz, and it was reported that both the mother and the newborn boy were doing well. The Duchess of Sussex had hoped to have a natural birth at her and Harry's home at Frogmore Cottage in Windsor but it is reported that she was taken to the Portland Hospital in London with her security team in order to deliver her first son.
These plans were believed to be so secret that even senior members of the royal family were not aware of the move to the hospital.
Meghan had been a week overdue and initial rumors suggested that the couple had chosen NHS Frimley Park Hospital in Surrey for the birth. However, it seems the couple chose the much more luxurious venue of the Portland Hospital's maternity ward — where an average birth costs approximately $25,000 (£20,000).
Several celebrities including Victoria Beckham, Jerry Hall, Kate Winslet, and Emma Thompson have had their children in the Portland Hospital.
Harry and Meghan weren't the first royals to have their baby delivered at the hospital — Sarah Ferguson and Prince Andrew had their first child Princess Beatrice at the Portland.
The hospital boasts of suites that feature sitting rooms and fridges which are stocked with champagne. Patients are also at the liberty to choose the doctor that they want and can also opt for a cesarean. Doctors are also always available with medicine to stop milk coming and the hospital has a nursery to look after your baby 24/7 until the patient is ready to leave the ward.
As reported by Mirror, the chief executive of the American-owned establishment, Janene Madden, said, "I have seen somebody spend £500,000. We have princesses from the middle east who deliver here quite regularly. We have celebrities and individuals of very high net worth and they used to getting what they want. And if they want 10 additional rooms or 20 additional rooms we will provide it."
"As long as that woman or husband can pay for what they are requesting we will do our best to provide that. What I can advocate here is it is like having a holiday, when you deliver at the Portland you get to use the nursery and your baby is only bought back for feeding time so you absolutely after two to three nights you leave here fit and well and ready to face the challenges of motherhood," Madden added.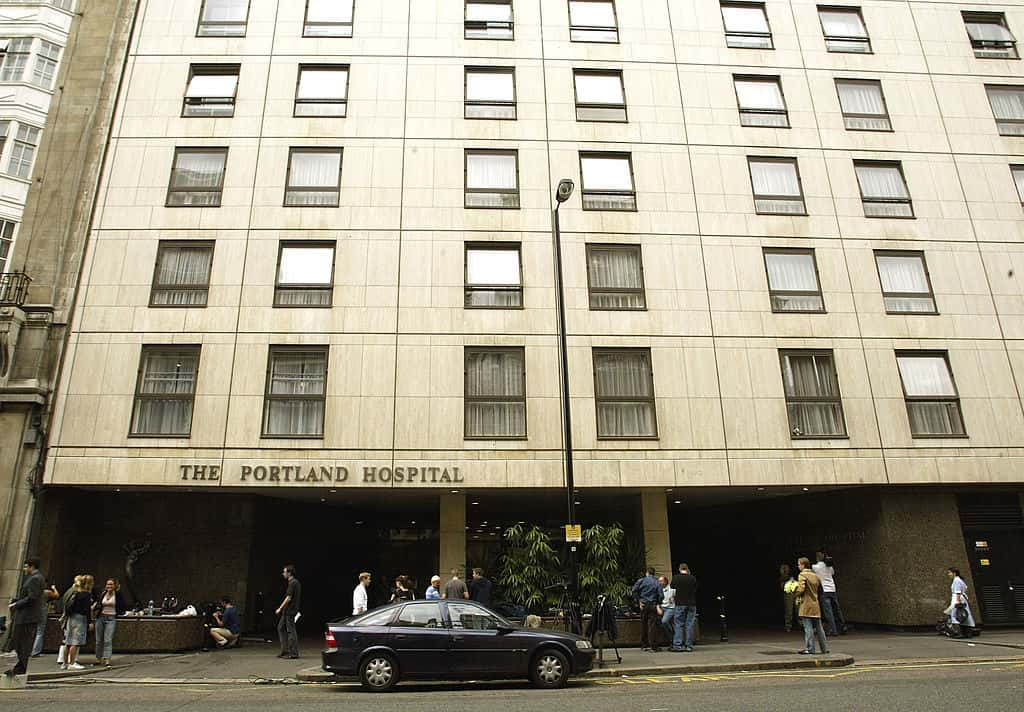 There is certainly no shortage of midwives at the hospital, with a team of around 50 on hand for mums-to-be, and it also provides a range of high end facilities to guests at it's 36 rooms
The maternity care ward has a private in house photography company for pictures of the babies while the gift shop offers goodies like having silver and bronze casts of babies feet. Portland also has a team of 13 who prepare any dish that mothers may desire.
One cook shared, "We can get foie gras, lobsters, and oysters if people want they, we have fantastic champagne, Dom Pérignon if people want it."
The cheapest maternity package starts at £15,000 while some parents have reportedly spent up to $650,000 (£500,000) to make sure that their child is born into luxury.
Just a few hours after the baby was born, Harry released a statement saying, "I'm very excited to announce that Meghan and myself had a baby boy this morning, a very healthy baby boy."
"I haven't been at many births. This is definitely my first birth — it was amazing, absolutely incredible. I'm so incredibly proud of my wife. And as every father and parent would say, your baby is absolutely amazing," he continued.