Have you ever wished you could un-read a book or un-see a movie so that you could relish it all over again? 'Mean Girls' is one of those movies that you don't get bored of but would love to see it anew.
Good news for Mean Girls fans, the legendary chick flick is now a Broadway show.
The 2004 movie was so influential that screenwriter Tina Fey and producer Lorne Michaels figured, why not a musical? Fourteen years later, it's opening on Broadway. The musical adaptation will officially open April 8 at the August Wilson Theatre. The show features music by Jeff Richmond, lyrics by Nell Benjamin, and a script by Tina Fey.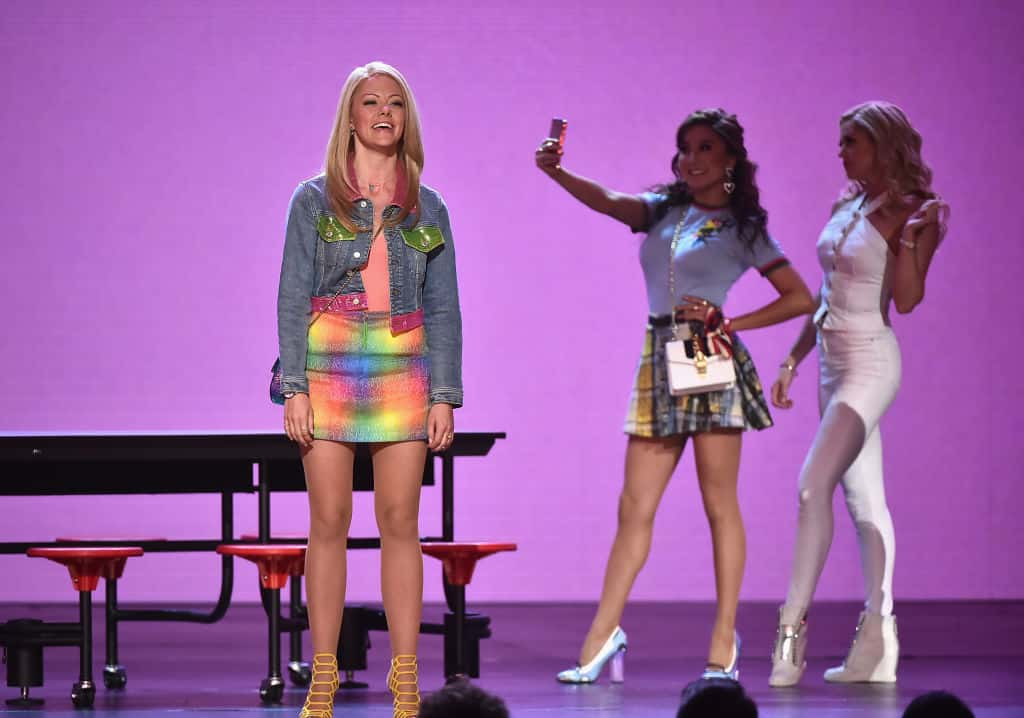 In the early 2000s, Tina Fey came about the idea of teenage girls and their dysfunctional friendships, where the struggle for power was real. Fey was struck by the power some girls wield over others.
In an interview to NPR, Fey said; "the thing that I was so drawn to was they were insidious in their intent, but also so fascinatingly clever. ... You had to kind of admire the intelligence and power of it. At the same time, it has to stop. It was like a book full of Bond villains."
In the 2004 drama, the meanest of the mean girls was Regina George, the hot blonde who everyone wants to impress, despite her evil streak. Queen bee Regina and her wannabees are in a clique known as the Plastics and follow strict rules to wear pink every Wednesday.
Cady is the new girl who wants to be in the circle while she originally strikes a friendship with Janis, the revolutionary in the story, who was hurt by her one-time friend Regina and wants nothing to do with the girls who wear pink.
Tina Fey admits to being each one them in high school and says she was a little bit of each character. "I was a good student, active in choir and editor of the newspaper and played one sport. But at the same time, I was consumed with jealously of people who I thought had a life better than what I had. And I think that it is self-poisoning in that way, and I think I didn't really fully understand that, and that my kind of poisonous sense of humor probably stressed out other people. I didn't understand that until I was about 30 years old."
And the very reason the plot of Mean Girls appeals universally is that older women and teens both see themselves playing out their worst behavior through the characters, Fey believes.
The music for Mean Girls was composed by Fey's husband, Jeff Richmond, who also had to get in touch with his inner teenage wannabe. He played the sax in a marching band and still remembers a particular group of girls, he says.
In the Broadway adaptation of Mean Girls, lyricist Nell Benjamin addresses Gretchen's fragility. Gretchen is a Plastic who is desperate to please Regina after she snubs her. Her helplessness is described as being "aware that things are not right with the relationship you're in, but you don't know how to fix it."
In the show, Gretchen stands outside a locked door and sings a song to Regina called "What's Wrong With Me?":
Tell me what's wrong with me,
My body, face, my hair.
Tell me all my many faults,
Tell me like you care.
When we both know you're cruel,
And we both know you're right,
I could listen to you like a fool all night.
"The song is just an exploration of how do I make myself better?" Benjamin says. "How do I make my friend like me? And the answer is, of course, if they don't like you, they're not your friend. But in high school, who knows that?"
Fey says the song captures the female experience, and she credits Richmond and Benjamin with pulling it off. "[He] and Nell talked about it being a love song not unlike 'It Had To Be You' — if you listen to 'It Had To Be You,' it's about a terrible relationship. ... I'm not happy with you, but it had to be [you]. And so those early friendships, when they break up, are devastating."
It has been 14 years since Mean Girls first came out — in the movie. Fey has been working on the musical version for the past five years, before the #MeToo movement really took off. She says there's still a lot of work to do. "As great as things are going, you still have sometimes people going, 'I don't believe her,' or 'I don't like the way she did it,' and 'She should have spoken up sooner.' And we're still finding a way to blame other women for the actions of men."
Leading the cast is Erika Henningsen (Les Misérables) as new girl in school Cady Heron (played on screen by Lindsay Lohan). The Plastics are played by Taylor Louderman as queen bee Regina George, Ashley Park as Gretchen Wieners, and Kate Rockwell as Karen Smith.
The company also includes Tony nominee Kerry Butler as Ms. Norbury, Grey Henson as Damian, Cheech Manohar as Kevin Gnapoor, Kyle Selig as Aaron Samuels, Barrett Wilbert Weed as Janis Sarkisian, and Rick Younger as Mr. Duvall.
The Broadway show of Mean Girls will offer tickets both in-person and digitally for each performance.
Additionally, day-of rush tickets will be sold for Wednesday performances only to those wearing pink (as the Plastics dress code rules). Those wearing a pink, visible article of clothing or accessory can purchase up to two tickets at $42.50 each, subject to availability, once the box office opens at 10 am.
Share this article:
'Mean Girls' is now a musical and they still wear pink on Wednesdays movie broadway