10 wild conspiracy theories of Marjorie Taylor Greene: Hillary Clinton's satanic ritual to Jewish space lasers US Rep. Marjorie Taylor Greene's opening term in Congress has been fueled by multiple controversies. From filing provocative articles of impeachment against President Joe Biden to letting go of a reporter from a town hall in Dalton to renewed scrutiny of inflammatory Facebook posts, Rep. Greene is in the media spotlight. In recently uncovered social media posts, it looks like she reportedly supports a galactic and anti-Semitic conspiracy that Jewish-financed laser beam ignited wildfires in California. Greene has also found herself in another media battle after reading a question that asked about holding the "liberal bias media accountable for their incessant lies and slander" that reportedly came with a recommendation of the electric chair.
Greene has become the first backer of the QAnon movement to be elected to Congress. Several political experts started to trend #ExpelHerNow on Twitter. Where one wrote, "We're only beginning to fight." Marjorie Taylor Greene said, the day after the Capitol riot #ExpelHerNow." Another wrote, "The whole CIVILIZED part of America agrees that Marjorie Greene is a deranged insurrectionist and should not be in Congress. DO YOU AGREE? #ExpelHerNow."
---
The whole CIVILIZED part of America agrees that Marjorie Greene is a deranged insurrectionist and should not be in Congress.

DO YOU AGREE?#ExpelHerNow

— BrooklynDad_Defiant! (@mmpadellan) January 30, 2021
---

Greene has a long history of backing debunked conspiracy theories and making highly suggestive threats on social media. As the Republican Party faces backlash over Greene's remarks, let's look at some of the most bizarre controversies supported by the Georgia lawmaker.
'Ruth Bader Ginsburg was replaced by a body double'
The latest QAnon theory from Greene suggested that the late former Associate Justice of the Supreme Court of the United States, Ruth Ginsburg, was allegedly replaced by a body double years before her death. Greene has appeared on a streaming program for the pro-Trump website, UniteAmericaFirst.com in February 2019, where a caller asked about photos of Ginsburg walking through Ronald Reagan Washington National Airport.
In the interview with host Will Johnson, Greene responded, "I do not believe that was Ruth. No. I don't think so." According to a conspiracy theory, Ginsburg had died years earlier, but her death was kept hidden. She was replaced by a body double who would hold onto the Supreme Court seat until after Donald Trump was removed from office.
'Jewish Space Lasers caused 2018 California wildfire'
Earlier on Thursday, January 28, 2021, an old Facebook post reposted by Media Matters revealed another one of Greene's conspiracy theories. She allegedly stated that the lasers controlled by Jewish people caused the deadly 2018 California wildfires.
In a now-deleted Facebook post, Greene wrote that there were too many coincidences to ignore regarding the 2018 California wildfires. In the post, she talked about the Rothschilds -- a wealthy Jewish family frequently mentioned by Nazis, teamed up with PG&E and California's government to deliberately cause the fires using the laser from space because they wanted to clear out land to make a high-speed railway line.
Right after the news surfaced that Greene reportedly believed that the Jewish Space Lasers caused the California wildfires, several Twitter users made fun of her statements. One user wrote, "Look, non-Jewish friends, I want you to understand that yes, the space laser thing is funny and ridiculous and a lot of Jews are joking about it but it's also hella scary that an elected US leader is out there preaching antisemitic conspiracy theories and hasn't been recalled."
---
Look, non-Jewish friends, I want you to understand that yes, the space laser thing is funny and ridiculous and a lot of Jews are joking about it

but it's also hella scary that an elected US leader is out there preaching antisemitic conspiracy theories and hasn't been recalled

— Jessica Price (@Delafina777) January 29, 2021
---
'Sandy Hook Elementary School Shooting was staged'
The 2012 Sandy Hook elementary school shooting caused the death of 27 people, including 20 children. However, many, including Greene, thought that the entire shooting incident was staged. Greene received heavy media backlash after she reportedly liked a Facebook comment that talked about the conspiracy theory behind the school shooting. Following the event, two parents of children who lost their lives in the shooting released a statement of Greene's appointment onto the House Education and Labor Committee.
"Having a Sandy Hook and Parkland denied on the House Education, and Labor Committee is an attack on any and every family whose loved ones were murdered in mass shootings that have now become fodder for hoaxers...hateful conspiracy theories and suggestions that our children's violent deaths never happened have no place in our society," the statement said.
'9/11 was an inside job'
In a 2018 video unearthed by Media Matters, Greene says, "We had witnessed 9/11, the terrorist attack in New York and the plane that crashed in Pennsylvania and the so-called plane that crashed into the Pentagon. It's odd there's never any evidence shown for a plane in the Pentagon. But anyway, I won't—I'm not going to dive into the 9/11 conspiracy. But 9/11 had happend. Our country was very much into a war."
---
GOP-backed QAnon House candidate Marjorie Taylor Greene is also a 9/11 conspiracy theorist.

In previously unreported remarks, Greene claimed that "it's odd there's never any evidence shown for a plane in the Pentagon." (In reality, there is evidence.) https://t.co/drmTgMtkv4 pic.twitter.com/uNx7ThXcue

— Eric Hananoki (@ehananoki) August 13, 2020
---
Greene tweeted in August 2020 in response to reports about her previous 9/11 comments, "Some people claimed a missile hit the Pentagon. I now know that is not correct. The problem is our government lies to us so much to protect the Deep State, it's hard sometimes to know what is real and what is not."
'Hillary Clinton took part in satanic ceremony'
One of Greene's controversial conspiracy theories includes an outlandish claim that Hillary Clinton took part in a satanic ceremony where a girl was murdered and had her face chopped off. Later, the ritual participants wore the severed face and drank the blood of the murdered child. Greene seemingly signaled her approval of the theory when commenting on a reply to an image she posted of ex-POTUS Donald Trump with the mother of an NYPD detective who was murdered in 2020, reports Newsweek.
"This is the mother of an NYPD officer who watched a horrific video seized on Anthony Wiener laptop of huma and Hillary filleting a child's face," a Facebook user commented on Greene's post. Greene responded by saying: "Yes Familia, I post things sometimes to see who knows things. Most the time people don't. I'm glad to see your comment. I've decided it's time to start doing a lot more videos and engage further in the fight. Most people honestly don't know so much. The msm disinformation warfare has won for too long!"
'2017 Las Vegas Shooting was a plot from gun control activists'
Sixty people lost their lives from fatal gunshot wounds after Stephen Paddock opened fire on the crowd of concertgoers attending the Route 91 Harvest musical festival in 2017. Greene has reportedly suggested that the 2017 Las Vegas Shooting, which was one of the deadliest shootings on American soil, targeted a mostly conservative audience of country music fans since it was a part of a plot from gun control activists.
Greene, who is a prominent defender of Second Amendment rights, said in a resurfaced video where she asked how people who support the Second Amendment can give up their guns and go along with anti-gun legislation.
"Maybe you accomplish that by performing a mass shooting into a crowd that is very likely to be conservative, very likely to vote Republican, very likely to be Trump supporter," Greene said earlier.
Pizzagate Theory
In one of her posts from 2017, Greene linked to a blog post from a conspiracy website that speculated about the "pizza gate" theory. The debunked conspiracy theory claimed there was a satanic, child sex-trafficking ring at a Washington pizza restaurant.
"It tells as if Seth Rich is speaking from the dead saying all the horrible things are true. That Hillary rigged the election against Bernie Sanders. That John Podesta had him murdered. That John Podesta is a pedophile and pizza gate [sic] is real," Greene added in November 2017.
Greene also embraced a theory that suggested how Trump has been secretly fighting to bring down a cabal of satan worshipping pedophiles that have infiltrated the US government and other institutes.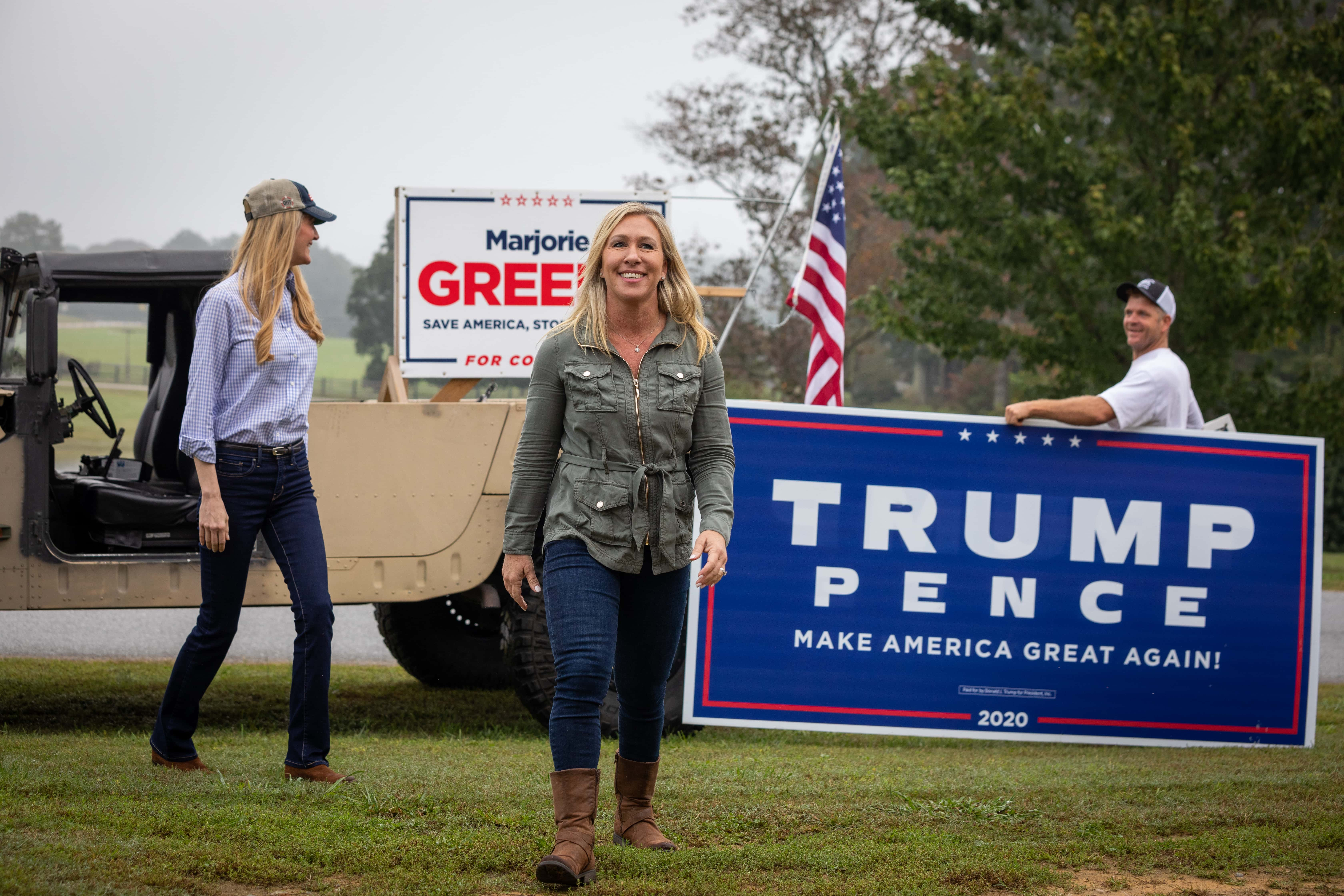 'Islamic invasion in White House'
Greene has also faced backlash among Republican leaders following a report where she alleged that Muslims do not belong in government. She alleged that "an Islamic invasion into our government offices" and added that Black People "are slaves to the Democratic Party" reports Independent.
Murder of Seth Rich
Democratic National Committee staffer Rich was killed in 2016. His murder remains an unsolved murder as police believe it may have been a botched robbery. However, Greene reportedly believed that the DNC staffer was allegedly murdered by the Obama administration's order using the MS-13 gang.
'Replacing White Population'
In 2018, Greene shared a video titled 'With Open Gates: The Forced Collective Suicide of European Nations', which alleged that Zionists were pushing migration into Europe to replace the white population.
This article contains remarks made on the Internet by individual people and organizations. MEAWW cannot confirm them independently and does not support claims or opinions being made online.